Aaron Rodgers' Critics React to His Post-Game Look
The fate of the 2021 Green Bay Packers is up in the air. While they managed to rout the Detroit Lions in Week 2, their Week 1 self-destruction against the New Orleans Saints still looms large. Aaron Rodgers looked like he'd seen a ghost in the postgame press conference, and hasn't quite shaken that uncharacteristic demeanor. The man looks exhausted in a way he never has before, and social media critics were all over him for it.
Aaron Rodgers and the Packers had a rough start after a controversial offseason
Ignore Rodgers' wardrobe in the above tweet, if you will, and take note of his expression. This is the look of a man who knows that, after a fraught offseason, he couldn't have returned to the NFL in a worse way. He knows what this looks like. Months of missed practices and preseason games culminated in the Saints embarrassing Green Bay in a 38-3 blowout.
Rodgers had few to blame but himself. He went 15/28 for 133 total yards, he and gave up two interceptions. As the score implies, touchdowns were a no-show for the entire game. After all the drama, the one-time top QB in the NFL looked like a shadow of his former self. In fact, that phrase might be a bit more literal than it first seems, given his bizarre styling after the game.
Aaron Rodgers' 'prison chic' postgame look matched up with his bad performance
The haunted look and the slicked back hair were a combo that led to a wave of hilarious social media reactions, Larry Brown Sports reports. Twitter user "Fantasy Football Musings" had the most to-the-point take on the harried QB's new look: "Why does he look like he steals catalytic converters?"
Rodgers stumbled off the gridiron for his postgame lashing from the press looking like Steve Buscemi's ex-jailbird character from The Sopranos. Or perhaps more accurately, as one NFL fan tweeted, like one of the more grimy Peter Stormare roles. That actor, the go-to choice for serial killers, supervillains and sociopaths of all stripes, probably hasn't been a go-to comparison for Rodgers. Yet it's spot on here.
It'd be wrong to try to dig out too much meaning from one appearance. But Rodgers, who is dating actress Shailene Woodley and spent the summer posting vacation shots where he looked as vital as ever, seems dragged down by getting back on the NFL grind. It does call into question whether he is mentally present enough for his "last dance" season in Green Bay to wrap up positively.
After defeating the Detroit Lions, are the Packers back on track?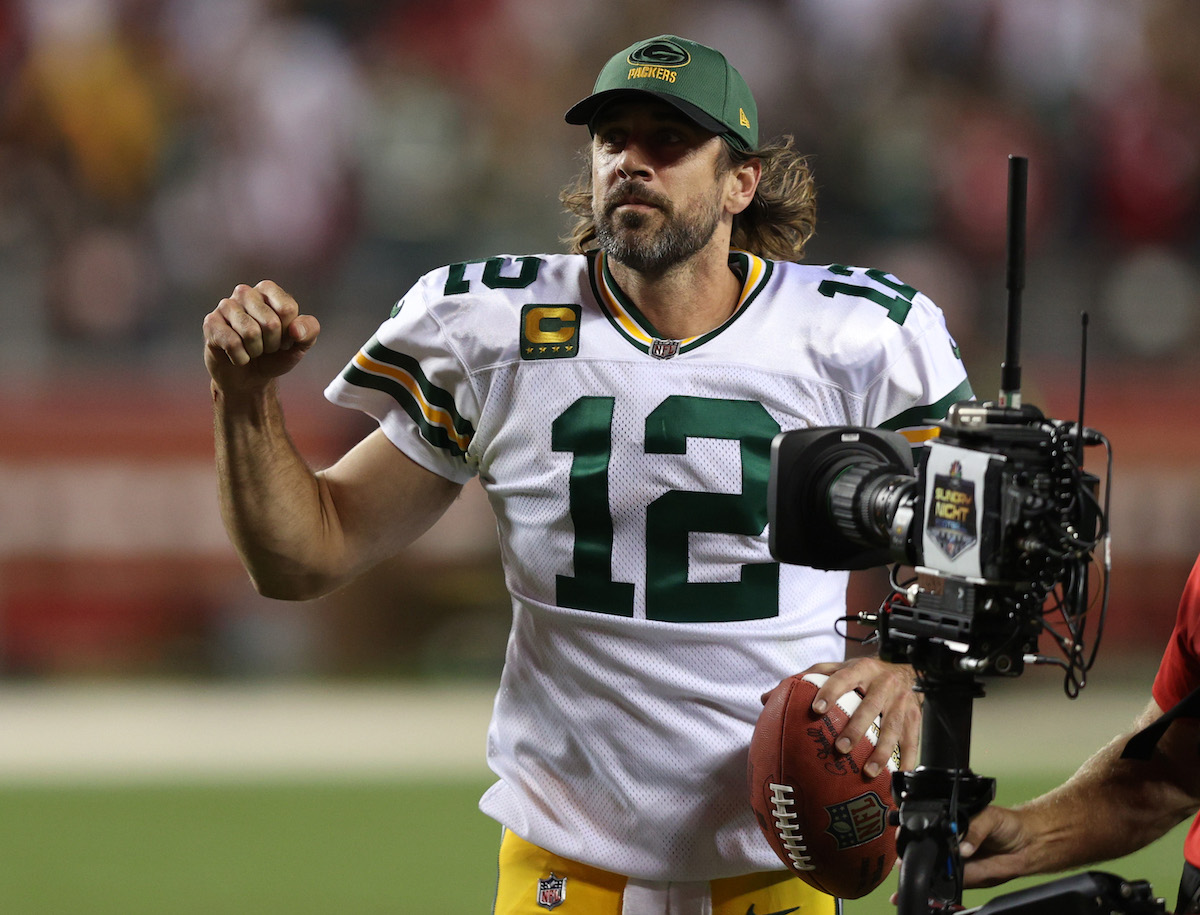 Rodgers apparently made enough adjustments to turn things around against the Lions, Sports Illustrated reports. Four TD passes made up for his total goose egg in that category against New Orleans. Given that the Packers trailed at half time, the turnaround toward the win had the kind of late-game push that Rodgers — and any top-tier QBs — are expected to pull off regularly.
The go-to target was running back Aaron Jones, who carried all four TDs in. The plan was to find something that works, and stick to it until it broke. That moment never came.
Week 3 will be a bigger challenge for Rodgers. Going in as road underdogs against the San Francisco 49ers will be a different beast altogether. Much of the game may play out on the other side of the ball, with Niners head coach Mike Shanahan likely taking every advantage he can of a weak Packers defense. If another loss is coming for Rodgers, let's hope he can manage to walk off the field without looking like he's on the FBI's most wanted list.
RELATED: Aaron Rodgers Finally Clears the Air About Pushing the Packers to Bring Back a Franchise Icon Who Officially Needs to Retire