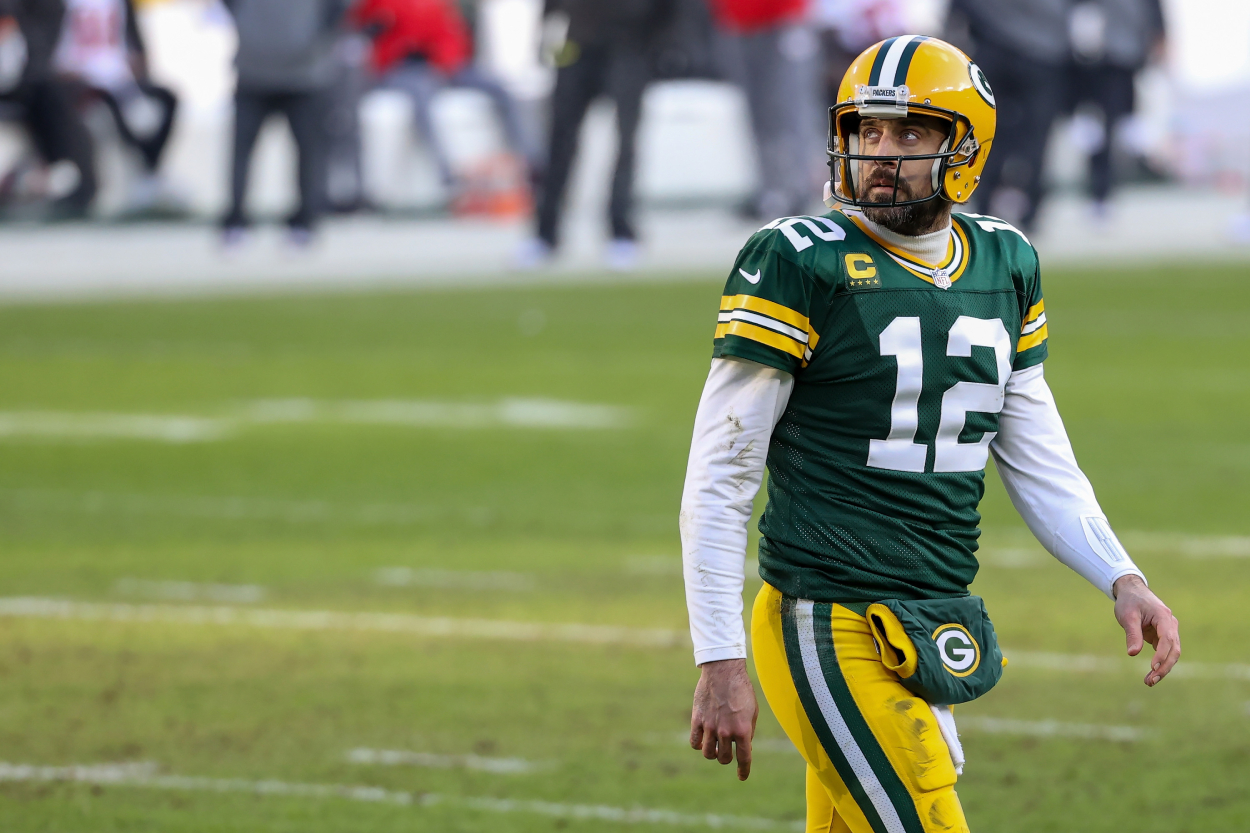 Aaron Rodgers Already Has an Indianapolis Colts Legend Trying to Recruit Him to Indy
Aaron Rodgers could soon leave the Green Bay Packers. This led to an Indianapolis Colts legend recently trying to recruit him to Indy.
Aaron Rodgers has proven to be one of the most talented quarterbacks of all-time. However, ever since the Green Bay Packers drafted his replacement in the 2020 NFL draft instead of drafting talent to put around him, Rodgers' future in Green Bay has been questioned. He has since added fuel to that fire with the comments he made after losing to the Tampa Bay Buccaneers in the NFC Championship Game. So, could Rodgers be on the move? Well, an Indianapolis Colts legend has already tried recruiting Rodgers to Indy — Robert Mathis.
Aaron Rodgers could be moving on from the Green Bay Packers
Aaron Rodgers has led the Packers to back-to-back NFC Championship Games the past two seasons and four conference title games in the last seven seasons. However, instead of drafting talent to put around him to help get Rodgers to the Super Bowl, the Packers drafted Jordan Love, his potential replacement, in the first round of the 2020 NFL draft. This led to many people wondering about Rodgers' future in Green Bay.
In response, Rodgers ended up having the best season of his career this year. He led the Packers to a 13-3 record for the second consecutive season and, as mentioned above, another NFC title game. Rodgers ultimately threw for 4,299 yards, and a league-leading 48 touchdown passes, the most he has thrown in a season in his career. He also completed 70.7% of his passes — his highest mark since becoming a starter for the Packers — and only threw five interceptions. Rodgers ended up leading the NFL in interception percentage, too, for the third consecutive season.
In the NFC Championship Game, though, Green Bay lost to the Tampa Bay Buccaneers, 31-26. Many people have ultimately questioned Packers coach Matt LaFleur's decision to go for a field goal with a little over two minutes left and his team down eight, too, instead of keeping the ball in Rodgers' hands on fourth down.
After the game, Rodgers then said this.
"[The Packers have] a lot of guys' futures that are uncertain — myself included," he said, according to ESPN. "That's what's sad about it, most, getting this far. Obviously, it's going to be an end at some point, whether we make it past this one or not, but just the uncertainty's tough and finality of it all."
So, could Rodgers be on the move?
The Indianapolis Colts need a quarterback
Andrew Luck forced the Indianapolis Colts to scramble after announcing his shocking retirement before the 2019 season. The Colts then went 7-9 in 2019 before signing Philip Rivers for 2020.
Rivers then had a nice season with the Colts this past season. He threw for 4,169 yards, 24 touchdowns, and 11 interceptions. Rivers also completed 68% of his passes, his third-highest completion percentage of his career. The Colts also ultimately went 11-5 in 2020, and Rivers helped lead them to the playoffs. Indy ended up barely losing in the wild-card round to the Buffalo Bills, though, 27-24.
Rivers has since announced his retirement, which puts the Colts in the market for a quarterback again.
Robert Mathis has already tried recruiting Aaron Rodgers to the Colts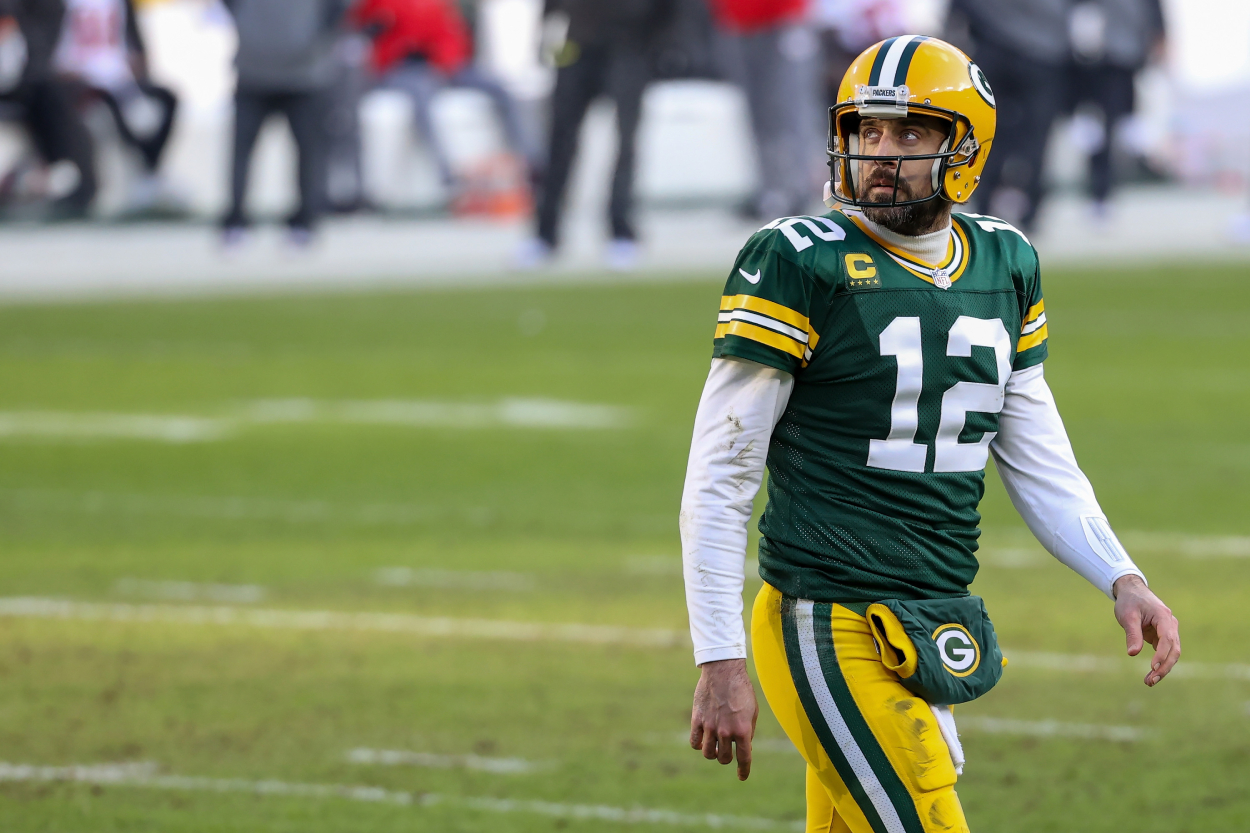 Robert Mathis is an Indianapolis Colts legend. He was a five-time Pro Bowl selection, earned First-Team All-Pro honors once, and is the Colts' all-time leader in sacks. Mathis also later became a full-time member of the Colts' coaching staff but is now just a pass-rush consultant in Indy.
Following Rodgers and the Packers' loss to the Buccaneers, Mathis tweeted this: "Yea I'm jumping out there…. I want #AR12."
So, how would Rodgers fit on the Colts?
He would be a great fit. The Colts have a great offensive line and one of the best running backs in the NFL in Jonathan Taylor, who ran for 1,169 yards this past season. Indy will also (most likely) have T.Y. Hilton and a couple of talented young receivers in Michael Pittman Jr. and Parris Campbell. This is all in addition to having a top 10 defense, too.
Rodgers is under contract through 2023, so the Colts would have to trade for him, but many teams would sell the farm for Rodgers. If there's a chance that he's available, Indy must try anything possible to acquire him.
The Indianapolis Colts are built to contend for Super Bowls; they just need a quarterback. Aaron Rodgers could ultimately be that QB to lead Indy to its first Super Bowl title since the 2006 season.
Stats courtesy of Pro Football Reference