Aaron Rodgers and Danica Patrick's Relationship: The Question Fans Have Going Into the Regular Season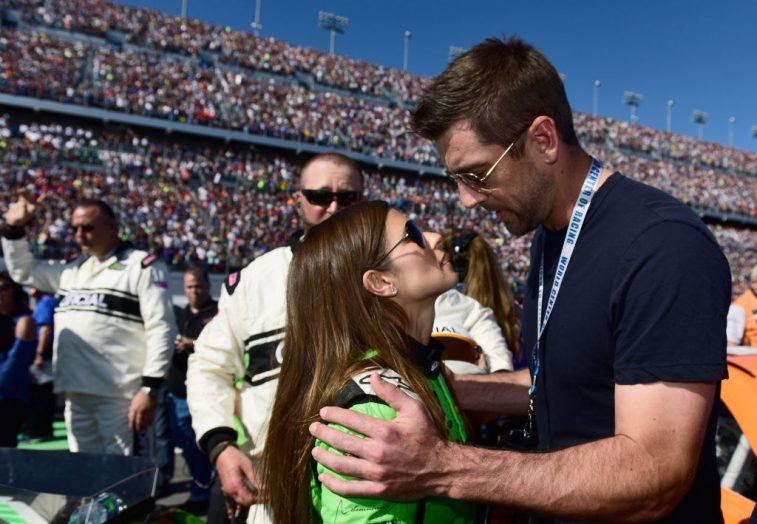 When Aaron Rodgers and Danica Patrick first started dating many people thought the relationship news might have just been a publicity stunt to keep the NASCAR driver's name out there as she competed in the final races of her career. However, months after her retirement, everyone can see that the two are still going strong. There is one question though that NFL fans have about Rodgers' lady and her loyalty.
Here's more on that and a few things you may not have known about the pair.
Patrick was married when they first met
The Green Bay Packers quarterback and former race car driver actually met each other years before they began dating.
Patrick told the Associated Press that she and her beau were first introduced at the ESPY Awards in 2012. At the time, she was married to personal trainer and physical therapist Paul Hospenthal. The two wed in 2005 but just four months after the 2012 ESPYS Patrick announced that they were ending their marriage.
In 2013, she started seeing fellow racing driver Richard Stenhouse Jr. Not long after that Rodgers got together with actress Olivia Munn. Each of their relationships ended in 2017 and by early 2018 reports swirled that they were a couple.
She likes to make Rodgers waffles
In May, Patrick spoke to Jenny McCarthy on her SiriusXM show and talked about dating the Super Bowl-winning quarterback. The host asked Patrick to reveal something special and romantic she does for him.
"I like to make waffles on Sundays, and we eat waffles on Sunday. That's cute, right? … I make em from scratch," she said, adding that the recipe is straight from her health, fitness, and wellness book titled Pretty Intense.
They really enjoy comedy shows
Another thing they really like to do is laugh. The pair posed for a photo with comedian Jim Gaffigan, and several other Packers players, after they watched his show in April.
Rodgers has been known to check out comedy shows in around Green Bay from time to time. He attended Bill Burr's at the Meyer Theatre in 2017 and caught Kevin Hart's show at the Resch in 2015.
Packers or Bears?
The question Packers Nation had for Rodgers' girlfriend going into the 2018 NFL season is which team would she root for now since she grew up a die-hard Chicago Bears fan? Well, it seems that dating the starting quarterback of a division rival is what it took to turn Patrick into a cheesehead.
During an appearance on Jimmy Kimmel Live! in July, she stated that she is now, in fact, rooting for her man's team and called herself "the biggest Packers fan."
Rodgers converted her sister too
Not only did Rodgers convert his lady into a Packers fan, but he converted her sister as well.
In August, Patrick posted a picture with her sibling, Brooke, at Lambeau Field watching the team's family night scrimmage on Instagram. "Change of venues…..look at all the people, and this is only practice. #lambeaufield @packers," she captioned the photo.