Aaron Rodgers and Patrick Mahomes Have More in Common Than You Think
If you polled football fans, coaches, players, and media members on who was the best quarterback in the NFL, the lists would vary. It depends on what each individual person looks for in a quarterback. One thing's for sure, though: every list would have both Aaron Rodgers and Patrick Mahomes in their top five.
While both Rodgers and Mahomes play different styles of football, both have seen success in their careers. They also have more in common than you'd think.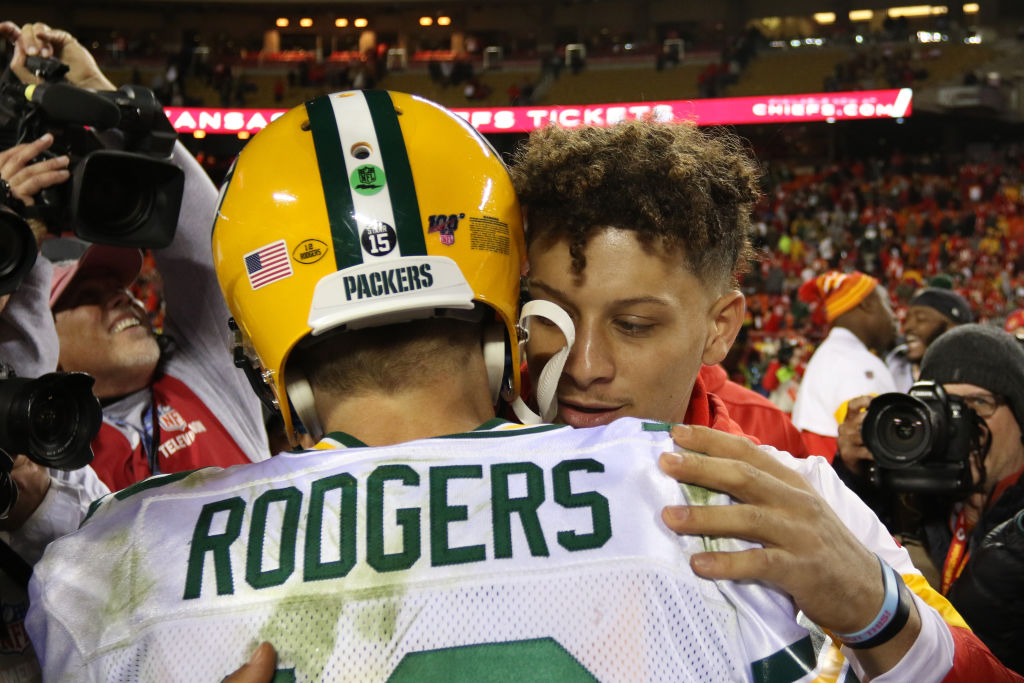 Aaron Rodgers career overview
Rodgers is currently the quarterback for the Green Bay Packers. Before Mahomes came along, Rodgers was probably the closest thing to a consensus overall top quarterback in the league (with apologies to Drew Brees and Tom Brady).
Rodgers won a Super Bowl in 2011, making him one of the few quarterbacks not named Brady or Manning to win a Super Bowl this decade (Joe Flacco, Russell Wilson, and Nick Foles also qualify). 
Here's what Rodgers has done in his career so far:
Win-loss record of 108-59-1
Completed 64.8% of his passes
45,662 passing yards
355 touchdowns
82 interceptions
Seven-time Pro Bowl selection
Two-time All-Pro selection
Patrick Mahomes career overview
Mahomes is in his third year in the league. After serving as an understudy during his rookie season, he burst onto the scene last year as the starter for the Kansas City Chiefs.
Mahomes benefitted from playing under quarterback guru Andy Reid, a coach who has had success with Donovan McNabb, Michael Vick, and Alex Smith before him. A lot of it can be chalked up to Mahomes' pure talent, however. Here's what Mahomes has been able to accomplish so far in his young NFL career: 
Win-loss record of 19-7
Completed 65.8% of his passes
8,189 passing yards
69 touchdowns
15 interceptions
Pro Bowl selection
All-Pro selection
Last season, Mahomes led the Chiefs to the AFC title game, coming up just short in a loss to the eventual champion New England Patriots. He threw for over 50 touchdowns on his way to his first Most Valuable Player Award.
What do Aaron Rodgers and Patrick Mahomes have in common?
Rodgers and Mahomes are two men at the top of the league at their position. You can split hairs on which one is better, but both are in the top five — and possibly even the top three. Few quarterbacks can challenge their supremacy. 
However, they have more in common than that. Below is a list of some of the commonalities both men share: 
Both played baseball before reaching the NFL, though neither did so professionally. Both (obviously) chose football. Based on the results, it appears they both made the right decision. 
Both quarterbacks followed Alex Smith, in a way. Mahomes sat on the bench in Kansas City behind Smith, the incumbent starter, for an entire season. Rodgers sat in the green room of the NFL Draft after the San Francisco 49ers selected Smith with the first pick. They were the first two quarterbacks taken, with Rodgers having to wait until the 24th pick for his selection. 
Both were selected for the Pro Bowl in 2018 — no surprise, as both men had outstanding seasons. 
They have both won the Most Valuable Player Award, been named an All-Pro, led the league in passing touchdowns, and won the Bert Bell Award for best overall player. 
One commonality they do not share? A Super Bowl victory. Rodgers has one. Mahomes came close. If Mahomes keeps playing the way he has so far in his career, it appears as though he'll equal Rodgers in that regard sooner rather than later.