Aaron Rodgers and the NFL Must Now Turn Their Attention to July 26
The NFL calendar continues turning without any resolution in the saga between Aaron Rodgers and the Green Bay Packers.
Will Rodgers, the three-time NFL MVP winner, return to the Packers in time for the 2021 NFL season? Or has he played his final down in Green Bay? Although a resolution isn't guaranteed to come at any point soon, football fans should pay attention to a certain Monday in July.
The Packers have a shareholders meeting on July 26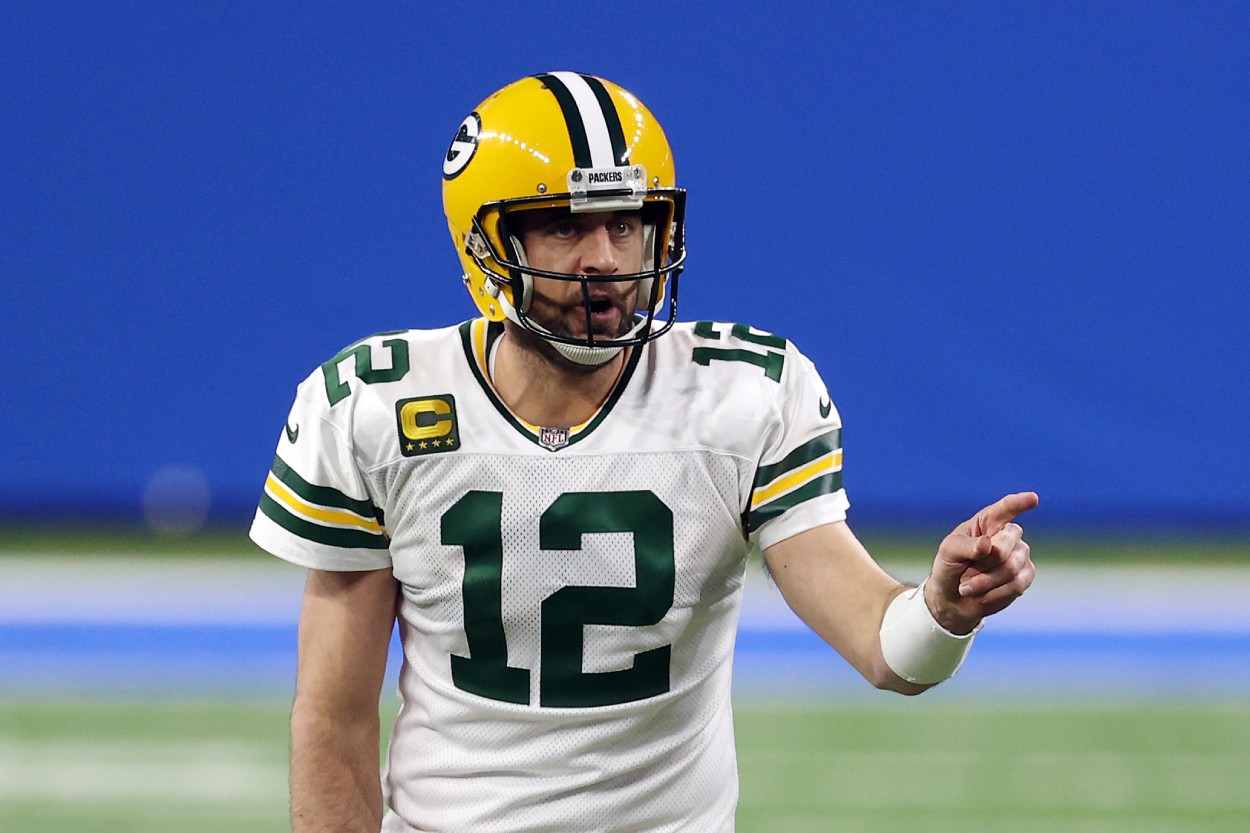 The Green Bay Packers will begin training camp, with or without Aaron Rodgers, on Tuesday, July 27.
Before then, there is another pressing issue at hand in Wisconsin. According to ProFootballTalk, the Packers' shareholders will meet at Lambeau Field on Monday, July 26. It sounds extremely plausible that much of the meeting, which will tentatively begin at 11 a.m. CT, will center around the status of their star quarterback.
Now, there is no guarantee that the team will decide to trade Rodgers that day. It is entirely possible that the issues between both sides will be resolved, either permanently or temporarily, long before that meeting begins.
Still, football fans should pencil in a reminder for the end of July. One has to wonder what will be discussed if no progress has been made in repairing Rodgers' and the Packers' fractured relationship.
Aaron Rodgers and the Packers need to reach a decision soon
If the Green Bay Packers are wise, they will privately impose a deadline — if they haven't done so already — for when they need a firm and final answer from Rodgers.
For the sake of argument, let's use July 15 as our deadline. By that point, the Packers should hope to know where Rodgers stands and if he has any realistic expectations of playing for the Packers in 2021. If the three-time MVP responds negatively, then that should be the last straw.
There is precedent for similar situations involving quarterbacks. Carson Palmer, then playing for the Cincinnati Bengals, retired in 2011 because he had issues with the front office. When it became apparent that Palmer wouldn't play another down in Cincinnati, the team devoted its full time and energy to Andy Dalton, a rookie quarterback from TCU.
Jordan Love, for all intents and purposes, is the Packers' version of Dalton. For what it's worth, the Bengals traded Palmer to the Raiders midway through the 2011 season. We can also agree that Rodgers is a far better quarterback at this stage in his career than Palmer, a fine player in his own right, ever was as an NFL player. But if that deadline arrives and Rodgers hasn't changed his mind, the Packers need to prepare for the next chapter and follow the Palmer route.
Jordan Love is 'ready to go' if he replaces Rodgers
When the 2020 regular season ended, it made sense to think Rodgers would remain the Packers' quarterback for years to come.
Things have changed massively, and it now seems plausible that Love will start the Week 1 opener against the Saints in New Orleans. The former first-round pick already made it clear he is mentally prepared for the 2021 season.
According to ESPN, Love told reporters he is a "hundred percent" ready to take over as the starting quarterback.
"Obviously, this is a time where I'm getting a lot of extremely valuable reps that I might not have been getting in a normal circumstance. So I'm just going to take it day by day. … But yeah, that's what I'm here for. I was drafted here to play quarterback, so I'll definitely be ready Week 1."

Jordan Love
If July 26 passes without any significant update on the Rodgers front, Love and the NFL world should prepare for a new normal where he is the starting quarterback. If that is the case, the Packers should hope their new franchise quarterback is correct about being ready for Week 1.
Like Sportscasting on Facebook. Follow us on Twitter @sportscasting19.
RELATED: Terry Bradshaw Blasted a 'Weak' Aaron Rodgers for His Recent Behavior: 'Who the Hell Cares Who You Draft?'