Aaron Rodgers and the Packers Will Hate Life Without Bryan Bulaga
Veteran offensive tackle Bryan Bulaga may have played his final snap for the Green Bay Packers. The Packers are expected to let Bulaga, 30, walk as a free agent when the new NFL league year opens next week. Bulaga has been with the Packers since 2010 and helped them make the NFC Championship Game last season.
Why are the Packers likely to move on from Bulaga and if they do, who might be his replacement? At the same time, Bulaga should have no shortage of teams interested in signing him. Let's look at Bulaga's upcoming free agency situation.
Bryan Bulaga might be out of the Packers' price range
The No. 23 overall pick out of Iowa in 2010, Bryan Bulaga is one of the Green Bay Packers' longest-tenured players. He started all 16 games last season for one of the NFL's top offenses and is expected to earn a heavy payday in free agency. Packers News reported Buluga's representatives had not had any formal discussions with the Packers about a new deal.
Charles Robinson of Yahoo Sports projects Bulaga will sign a contract worth $12 million per season. Bulaga made $6.75 million last season. The salary website Over The Cap projects the Packers will have $27.69 million of cap space. While Bulaga has been an impactful player in the trenches when healthy, Green Bay is not expected to devote so much of their cap space to one player.
Bryan Bulaga has been a key part of the Packers' success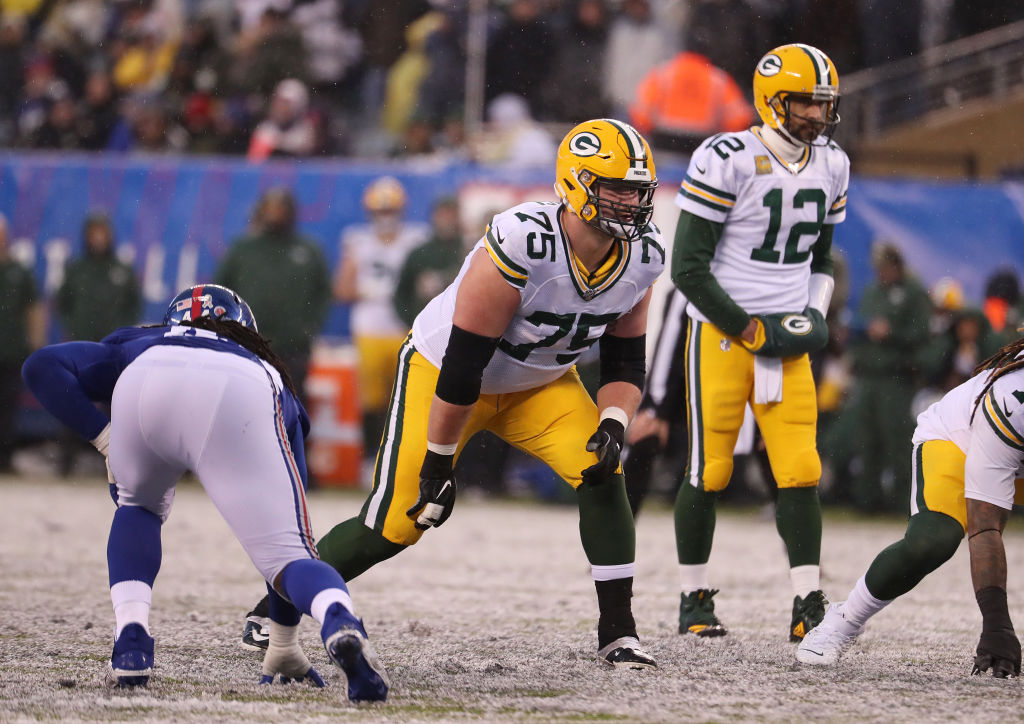 When healthy, Bulaga was an essential reason why the Green Bay Packers always found themselves in the playoff race. Although Bulaga only started 16 regular-season games twice — he played in 16 games as a rookie in 2010, but started just 12 — he was instrumental in keeping future Hall of Fame quarterback Aaron Rodgers on his feet. Bulaga is a fairly disciplined offensive lineman who has only been called for 20 holding calls in 10 seasons.
Bulaga won a Super Bowl with the Packers as a rookie. With Bulaga turning 31 later this month, it makes more sense for him to sign with a team closer to winning a Lombardi Trophy than one deep in a rebuild.
The New York Jets and Los Angeles Chargers are two rising teams with needs at tackle. While the Cleveland Browns are reguarly associated with drama, they have a young, talented offense and Bulaga would slide right in on a team capable of challenging for a playoff berth next year.
What other tackles could the Packers add?
Packersnews.com listed Jared Veldheer, the New York Giants' Mike Remmers, and Tampa Bay's Demar Dotson as three potential veteran candidates to replace Bulaga. Veldheer signed with the Packers last November. Remmers started 14 games for the Giants last season and has been a full-time starter since 2015. The 31-year-old Remmers is a versatile lineman who has also played guard.
Dotson, 34, played 12 seasons for the Buccaneers. Dotson has started 15 games five times in his career and brings immediate experience to the Packers' offensive line. While Titans standout Jack Conklin is the top tackle name to hit the market, he'll likely warrant too big a payday for the Packers.
If Green Bay looks to the NFL draft, TCU's Lucas Niang is an interesting developmental prospect. The 6-foot-7 Niang is a projected Day 2 pick and would benefit from a year under an older tackle. The same goes for Boise State's Ezra Cleveland, a 6-foot-6 beast who skipped his senior season to pursue an NFL career.