Aaron Rodgers' Backup Enters Feud With Greg Jennings: 'Get a New Narrative'
Recently, former Green Bay Packers wide receiver Greg Jennings had some harsh words for his old teammate, Aaron Rodgers.
Jennings was responding to a report that Rodgers wants $50 million a year to stay with the Packers. That's a report that Rodgers had denied, but it hasn't stopped this long-time feud from growing.
Now a third party has entered the fray. 
Greg Jennings called Aaron Rodgers a "very selfish guy'
"I go back to personal experiences and when you have a personal experience you try to move past, move beyond, because people change, but some things never do. Aaron Rodgers has been a very selfish guy, like period," Jennings recently said on the FS1 show First Things First (h/t Forbes).
The former Packers wideout responded to a report from ESPN's Dianna Russini, who said on The Rich Eisen Show that Rodgers wants to become the "highest-paid player in the NFL by a wide margin."
The number Russini brought up was $50 million a year, which would put Rodgers above Patrick Mahomes, who averages $45 million a year after signing a 10-year, $450 million contract in 2020.
Again, keep in mind that Rodgers did dispute the report via a text to Pat McAfee, but by that time, Jennings' take was already out there. Jennings also tweeted the video of his appearance and asked for "thoughts not feelings", so he was clearly not backing down from or retracting his words.
Green Bay Packers quarterback Kurt Benkert fired back at Greg Jennings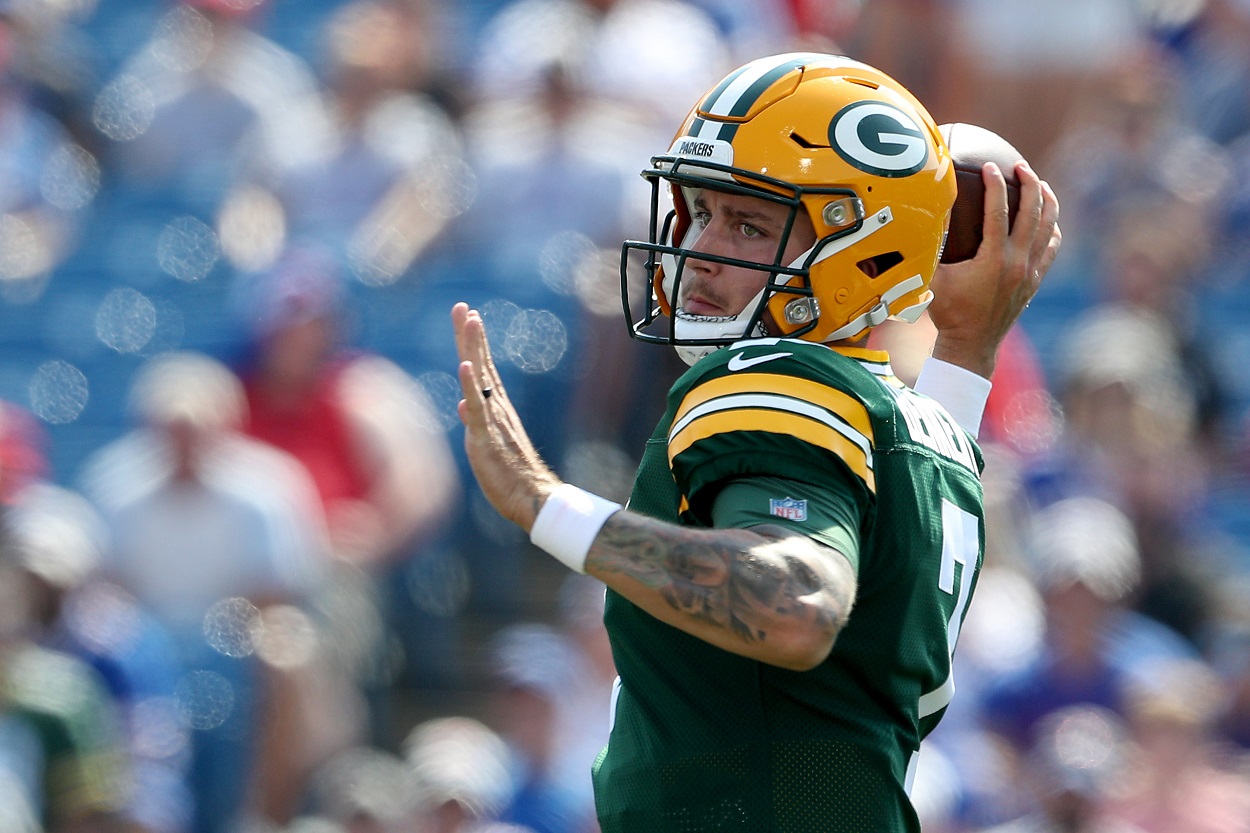 Jennings opened up the floor for discussion and even invited it, but he may not have been expecting a current Green Bay player to jump into the fray.
One of Rodgers' backup quarterbacks responded to the future Packers Hall of Famer, and no, it wasn't Jordan Love. Instead, it was fan favorite Kurt Benkert, the No. 3 quarterback on the depth chart, who "clapped back" at Jennings.
"12 [Rodgers] is the most generous and thoughtful person I've met in the league. Not to mention the back-to-back best player," Benkert said in response to Jennings' video. "This sounds like it comes from a person that wanted to be that guy, but wasn't"
Jennings responded with a bit of snark. First, he asked if generous people also can't display acts of selfishness. He then took aim at Benkert.
"As far as wanting to be that guy. Not sure I understand you there. Are you implying a guy that plays?" Jennings wrote.
"The ole 'you don't play' jab. Tells a lot about your character, Greg," Benkert responded. "I'm fine with busting my a** behind the scenes day in and day out without publicly being rewarded for it. Can you say the same? Getting your clicks up by trashing other people isn't a way to build your brand."
Jennings has a complicated history with Rodgers and the Packers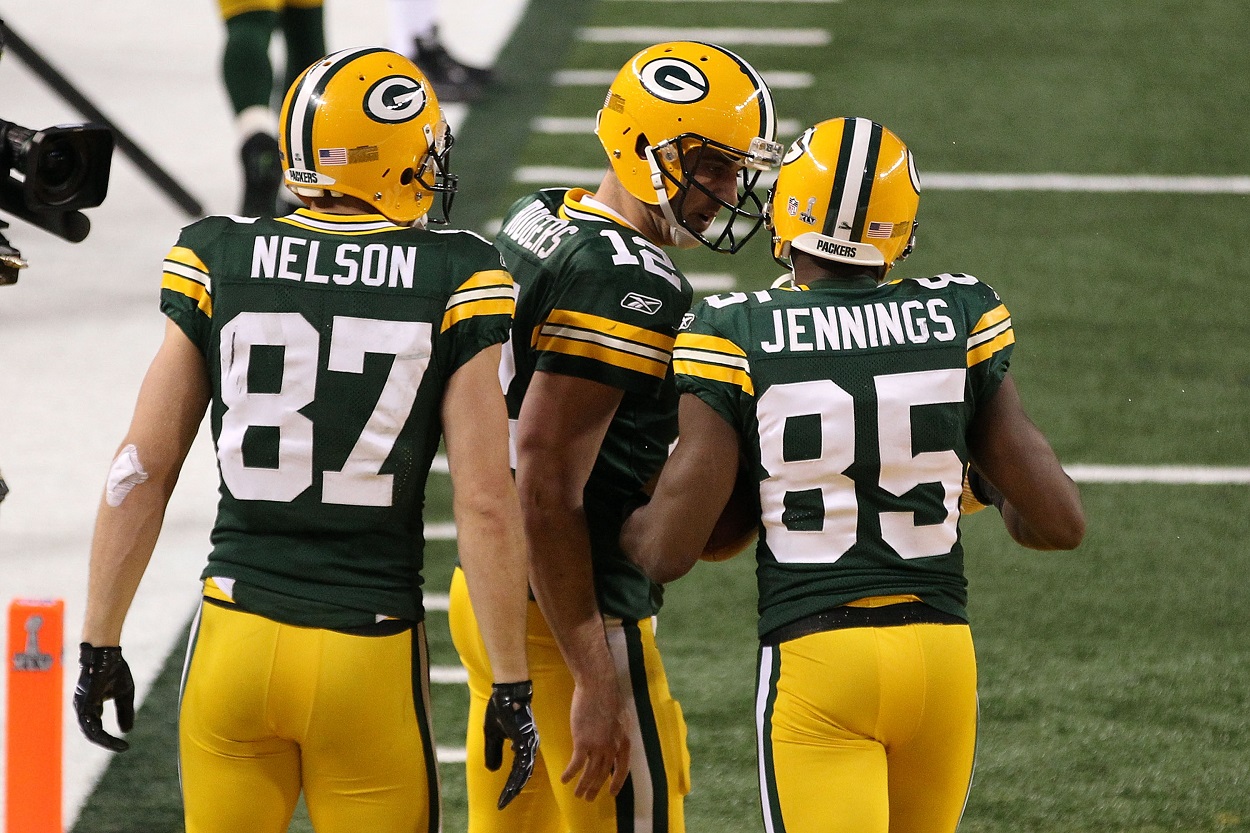 On the one hand, Jennings is a legend for the Packers. He's going to be inducted into the Green Bay Packers Hall of Fame this fall because of his accomplishments with the organization.
Jennings was a two-time Pro Bowler for the Packers and a member of the team that won Super Bowl 45. In fact, he caught two touchdown passes from Rodgers in the 31-25 win over the Steelers.
In seven seasons in Green Bay, Jennings caught 425 passes for 6,537 yards and 53 touchdowns.
He lost some standing with fans when he signed with the Minnesota Vikings as a free agent in 2013, though. He then almost immediately turned around criticized Rodgers, implying that the quarterback wasn't a team player.
"A lot of times when you have a guy who creates that spotlight for himself and establishes that and takes a lot of that, it becomes so-and-so and the team. It should always be the team," Jennings told the Star Tribune in 2013.
"Don't get me wrong, '12' is a great person. But when you hear all positives, all positives, all positives all the time, it's hard for you to sit down when one of your teammates says 'Man, come on, you've got to hold yourself accountable for this.' It's hard for someone to see that now because all they've heard is I'm doing it the right way, I'm perfect. In actuality, we all have flaws."
Now a regular on the guest circuit for talk shows on Fox Sports, Jennings has become known as someone who isn't afraid to criticize Rodgers, though he swears there's no animosity. In fact, Jennings recently relayed that the two have a "non-existent" relationship. This is despite the fact that Jennings has reached out, or at least he says he has.
If Jennings truly does want to have a relationship with his old quarterback, calling Rodgers selfish and then not backing down from that stance won't make reconciliation any easier.
Stats courtesy of ESPN and Pro Football Reference. Contract information via Spotrac
RELATED: Aaron Rodgers Regrets Blowback to Others Because of COVID-19 Rants