Aaron Rodgers for Baker Mayfield? There's No Way Cleveland Browns Make That Trade
The Aaron Rodgers talk has been rumbling almost non-stop since ESPN's Adam Schefter blew up the first day of the NFL Draft on April 29 to break the story. Rodgers reportedly wants to leave the Green Bay Packers, a development about which everyone has an opinion. Potential trade speculation is all the rage and pundits brought up Cleveland Browns quarterback Baker Mayfield in some of it.
Former teammates say Rodgers is gone; former teammates say the Packers can entice Rodgers to stay. Former quarterbacks are ripping Rodgers. One prominent former coach is putting the Packers on blast. It's a mess, and because of salary-cap implications, we've got weeks to go. But while the pundits speculate on potential destinations for the reigning NFL MVP, it appears at least one popular choice is off the table.
Aaron Rodgers in Cleveland? Not likely
The Cleveland Browns have a young quarterback who has already led them to a playoff victory. Baker Mayfield is the first Browns quarterback to pull off that feat since Vinny Testaverde in 1994. Cleveland already picked up Mayfield's fifth-year option with a decision looming on a long-term extension, possibly on the way this offseason.
With an 11-5 record in 2020, the Browns posted their best mark since their reboot in 1999. They capped that with a win over the hated Pittsburgh Steelers in the AFC Wild Card Playoff before giving the Kansas City Chiefs everything they wanted in a 22-17 loss in the divisional round.
Aaron Rodgers is a three-time NFL MVP and a Super Bowl champion (even if that ring is a decade old now). Bill Barnwell of ESPN dreamed up a scenario where Cleveland offers up Mayfield, tight end David Njoku, and its first-round picks in 2022 and 2023 in exchange for Rodgers and cornerback Josh Jackson.
But Mayfield is 26 and on the rise. Rodgers is 37, will be 38 before next season is over, and he's unquestionably a first-ballot Hall of Famer. But is Rodgers going to be much better than right now? Based on his first three seasons, Mayfield can confidently say that he will be.
Baker Mayfield's upward trajectory quite evident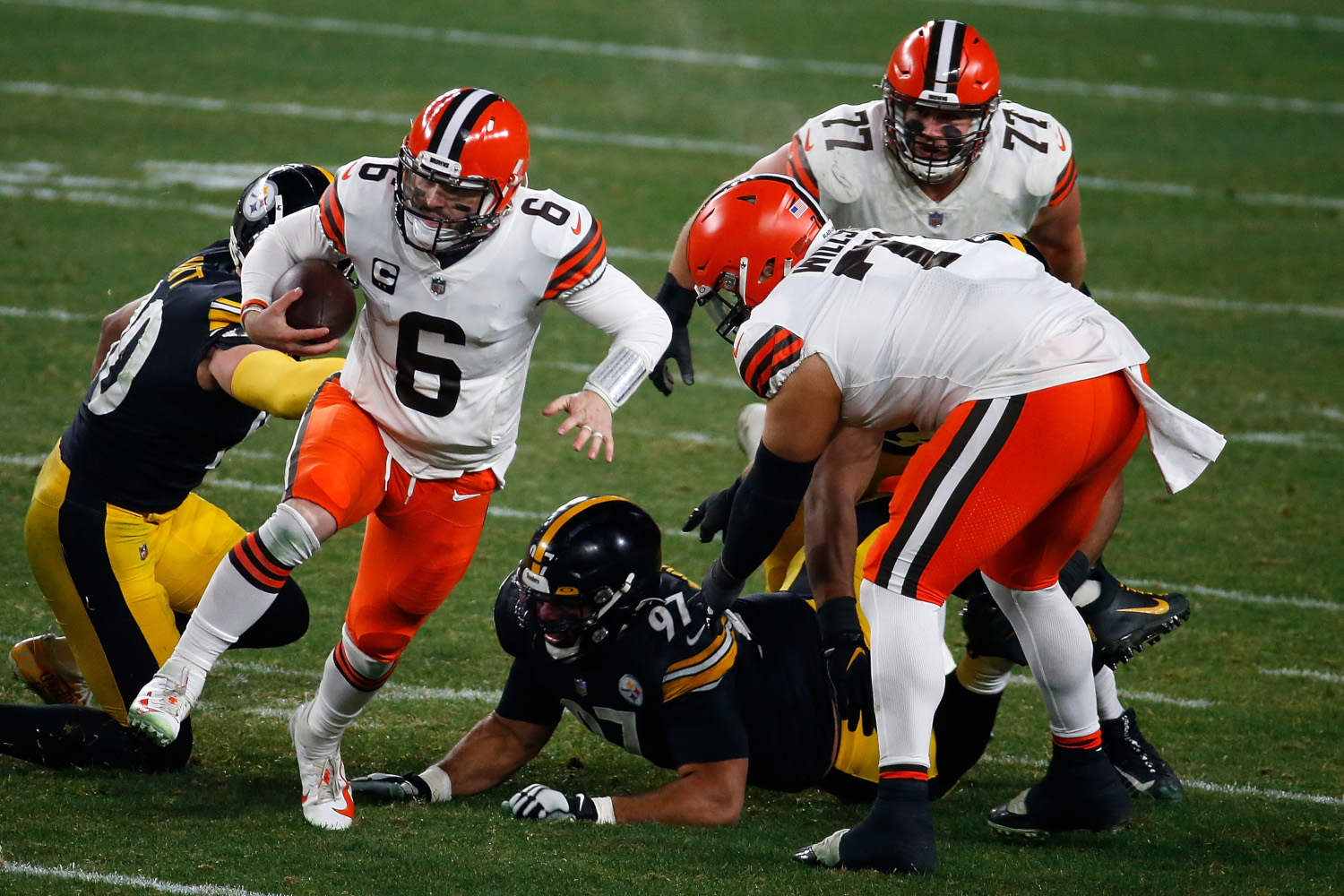 In 2020, Mayfield started all 16 games for the Browns and completed 62.8 percent of his passes with 26 touchdowns and only eight interceptions. His 95.9 passer rating isn't on any all-time lists (Rodgers' mark of 121.5 last season is the second-highest of all-time). But according to Stathead, it is the fifth-best rating in franchise history and the best by a Browns quarterback since Milt Plum in 1960.
That is a better rating than Brian Sipe ever recorded. It's better than anything fan favorite Bernie Kosar could post. The only seasons besides Plum's better than Mayfield in 2020 in the rating category were Hall of Famer Otto Graham in 1947, 1949, and 1953.
Passer rating is not the end-all, be-all of quarterback statistics. But it provides a decent baseline to believe Mayfield, who was the No. 1 overall pick in 2018, is going to get better.
According to Mary Kay Cabot of cleveland.com, however, the Browns aren't interested in moving Mayfield — not even to get the reigning MVP. Mayfield has a significant weapon returning in 2021, as well, with former All-Pro receiver Odell Beckham Jr. coming back from a knee injury.
Aaron Rodgers reportedly 'dug in' with his trade desire
Aaron Rodgers hasn't relented on his desire to get out of Green Bay. Further, it appears the Denver Broncos are his most prevalent team of interest, according to ESPN's Jeremy Fowler, who appeared on SportsCenter Sunday morning (per Bleacher Report).
"The Packers are still actively looking for solutions here; they're trying to keep an open line of communications with Aaron Rodgers and his agent, Dave Dunn," Fowler said. "So, no traction in the short term. But many people around the league believe Aaron Rodgers is indeed 'dug in,' and there's a belief by some that he wants to be out West.
"Denver is a team that's buzzing in league circles. I was told by a source that Denver is 'monitoring' that situation right now. But they're also coming out of the draft days, and they're in team-building mode. They really like Drew Lock and Teddy Bridgewater, so they're not committed or tied to anything. Talking to people around the league, they say about 60-40 they think that Rodgers is dealt."
The Packers have continued to say they have no interest in trading Rodgers. However, general manager Brian Gutekunst is reportedly looking at adding a veteran quarterback before organized team activities and training camp.
Whether or not an Aaron Rodgers trade happens this offseason is open for debate. But it does seem the Cleveland Browns won't part with Baker Mayfield, so they are likely off any list of potential destinations for the MVP.
Statistics courtesy of Pro Football Reference.