Aaron Rodgers' 'Beautiful Mystery' is Eerily Similar to How Brett Favre Left the Green Bay Packers
Throughout his entire NFL career, Green Bay Packers quarterback Aaron Rodgers has had to endure constant comparisons to Brett Favre. This was inevitable, as Favre left some massive shoes to fill when Rodgers took his place as the Packers' starter in 2009. Over a decade later, Rodgers finds himself in a situation eerily familiar to that which Brett Favre faced in his final days in Green Bay.
The mystery of Aaron Rodgers' future may not be so 'beautiful'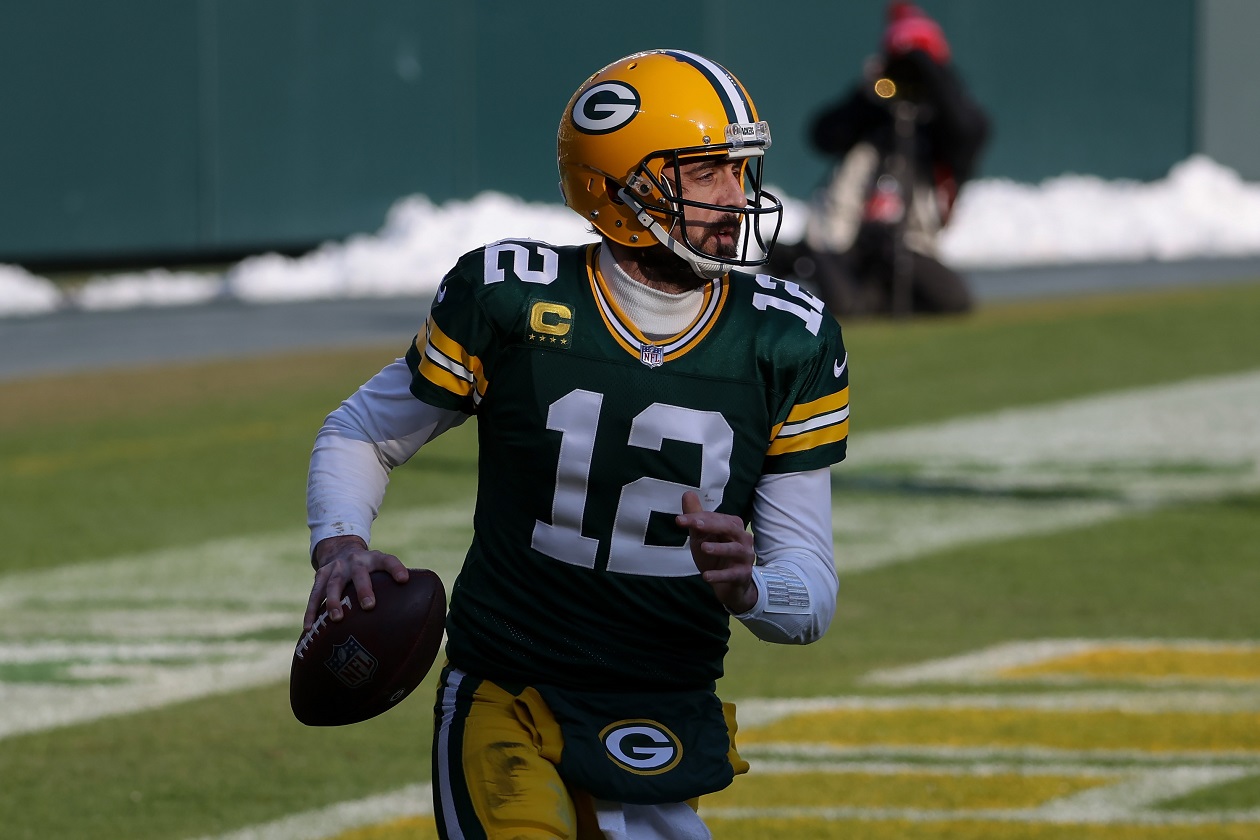 RELATED: The Packers Sprout Even More Doubt Over Aaron Rodgers' Future
Aaron Rodgers triggered speculation on his NFL future before the 2020 season even ended. In the days leading up to the NFC Championship Game, he characterized his future as a "beautiful mystery".
The Packers lost that game to Tampa Bay, 31-26, triggering all sorts of questions about Rodgers' football legacy. It was Rodgers' second straight conference title game loss and his fourth in five tries. Furthermore, it was a disappointing end to a season in which the Packers finished 13-3 and Rodgers won the league MVP award.
When Rodgers and the Packers won Super Bowl XLV in 2011, it looked like the sky was the limit. He seemed destined to win multiple championships and perhaps make Green Bay a dynasty. So far, that has not quite panned out. While the Packers have come painfully close to the Super Bowl multiple times in the last few years, they have failed to get over the hump.
Now Rodgers is 37 years old and running out of chances to add a second Lombardi Trophy to his collection. While he is under contract with Green Bay until 2023, the team declined to restructure this deal, which would have created more cap space quicker. Some, including ProFootballTalk, are speculating that he will replace the late Alex Trebek as the permanent host on Jeopardy.
Aaron Rodgers has stepped into the shoes of Brett Favre
RELATED: Packers Legend Brett Favre Lost 30 Inches of His Intestines Before He Ever Played in the NFL
You could say that Aaron Rodgers' career has now come full circle.
His predecessor, Brett Favre, spent the late stages of his Packers career in nearly the exact same position as Rodgers. In the early 2000s, he led some Packers teams that played well, but always fell short in the playoffs. Like Rodgers, Favre had won a single Super Bowl to that point and found the road to a second harder than expected.
His last three seasons with the Packers were consumed by questions about whether or not he would retire. You could say it was a "beautiful mystery", except it wasn't so beautiful after the third year of "will he or won't he?" coverage on SportsCenter.
After his final home game of the 2005 season, he left Lambeau Field to a standing ovation, as the fans weren't sure he would return. He did return for two more seasons with the Packers, even leading them to the NFC Championship in 2007. It was not a happy ending, however. His final pass with the Packers was an interception which set up a game-winning field goal for the Giants.
After the 2007 season, Favre tearfully retired once and for all. Except it wasn't once and for all, as he un-retired five months later. The Packers, fed up and ready to move on, traded Favre to the Jets. Hopefully Rodgers ends his NFL career on a more graceful note.
The Green Bay Packers are dealing with the Jordan Love question
Part of what made Brett Favre's final days in Green Bay so delicate was Aaron Rodgers' presence. The Green Bay Packers drafted Rodgers in 2005 specifically to succeed the aging Favre. In the meantime, Rodgers spent three agonizing seasons on the bench watching Favre lead the team.
16 years later, Rodgers has a young and promising understudy of his own. That quarterback is Jordan Love, who the Packers surprisingly selected in the first round of the 2020 NFL Draft.
Love did not take a single snap last season. The pandemic prevented the Packers from holding a regular off-season, which prevented Love from establishing himself as the number-two quarterback. During this offseason, former number-two quarterback Tim Doyle signed with the Detroit Lions, which should put Love at second on the depth chart.