Aaron Rodgers Would Immediately Become Las Vegas' Biggest Sports Star
The Green Bay Packers insist they have no interest in trading unhappy quarterback Aaron Rodgers, who reportedly wants out of Green Bay unless general manager Brian Gutekunst exits. There is undoubtedly a hot market for a reigning NFL MVP coming off a season with 48 touchdown passes and five interceptions. Reports say Rodgers, a northern California native, wants to go west.
There is plenty of heat on Rodgers in the media because the media seldom sides with players when it comes to the loyalty card. There is one certainty when looking at the quarterback's reported top destinations and other speculation about a possible trade. If the Las Vegas Raiders land Aaron Rodgers, he would immediately hit the top of the charts as the most prominent pro athlete to hit the strip.
Where Aaron Rodgers wants to go (according to reports, at least)
RELATED: Packers frenetically Push to Quiet the Storm Around Aaron Rodgers' Future
Pro Football Talk cited an "unimpeachable source" when it reported Rodgers' wish list during the NFL draft. The three-time MVP reportedly wants to go to the San Francisco 49ers, Denver Broncos, or Raiders (in no specific order of preference).
The 49ers have a history with Rodgers. The native of Chico, California, grew up less than 200 miles from San Francisco. He played collegiately in the Bay Area at California and wanted desperately to go to the Niners in the draft. In 2005, San Francisco had the top pick in the NFL draft. It was a made-for-Lifetime event waiting to happen, at least until the needle scratched across the record with Alex Smith going No. 1.
Rodgers fell dramatically down the draft board. While he was the second quarterback taken, it didn't happen until the 24th overall pick. Among those taken before Rodgers? The Minnesota Vikings whiffed with wide receiver Troy Williamson and defensive end Erasmus James. Cincinnati Bengals selection David Pollack had to retire after breaking his neck making a tackle in 2006. Former Arkansas quarterback Matt Jones went to the Jacksonville Jaguars as a receiver before significant legal problems.
Where the chatter says Rodgers is most likely to go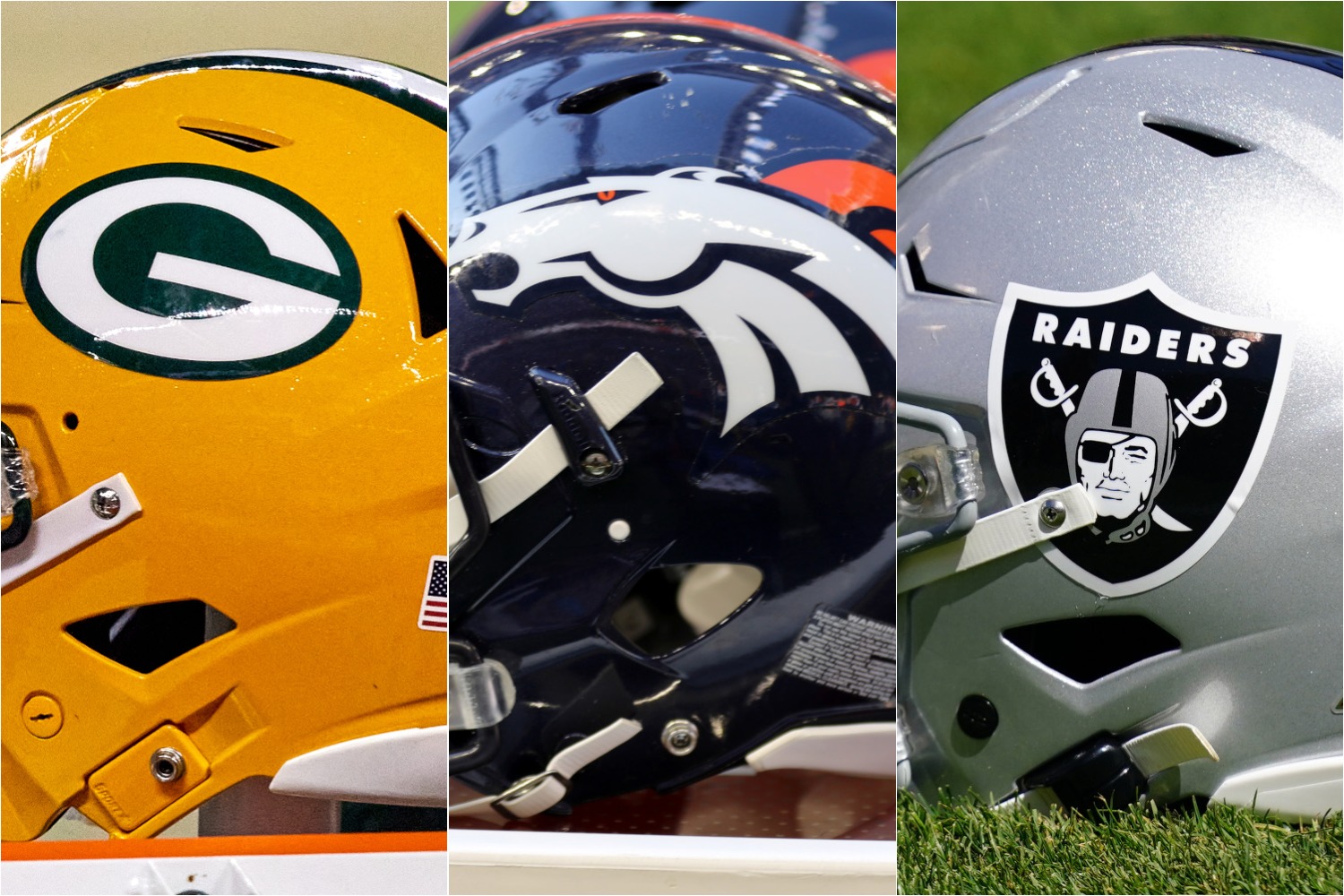 RELATED: Aaron Rodgers Has Reached Elite-Level Crybaby Status in His Vendetta With the Green Bay Packers
According to the Las Vegas Review-Journal, both the Broncos and Raiders are the favorites to land Rodgers. On Monday, Green Bay opened as the favorite to keep Rodgers (minus-125), followed by Denver (2–1 odds). Las Vegas was third at 5–1.
"Las Vegas is a good spot to go for Rodgers," DraftKings sportsbook director Johnny Avello told the Review-Journal. "He's been playing in cold weather his whole career, so to get a chance to play in a place like Las Vegas might suit him well. But the Raiders re-signed their backup (Marcus) Mariota. It would kind of be unlikely. I think it's either he's staying in Green Bay or going to Denver."
Bill Barnwell of ESPN broke down seven potential trade offers for Rodgers, with the Raiders ranking sixth among the seven. His proposed deal would send incumbent quarterback Derek Carr and first-round picks in 2022 and 2023, as well as a 2022 second-rounder, to Green Bay. Barnwell also listed the Tennessee Titans, Cleveland Browns, New York Giants, Miami Dolphins, and Washington Football Team as potential landing spots.
But he thinks Denver has the most to offer.
How big would Aaron Rodgers be in Las Vegas in a word? Huge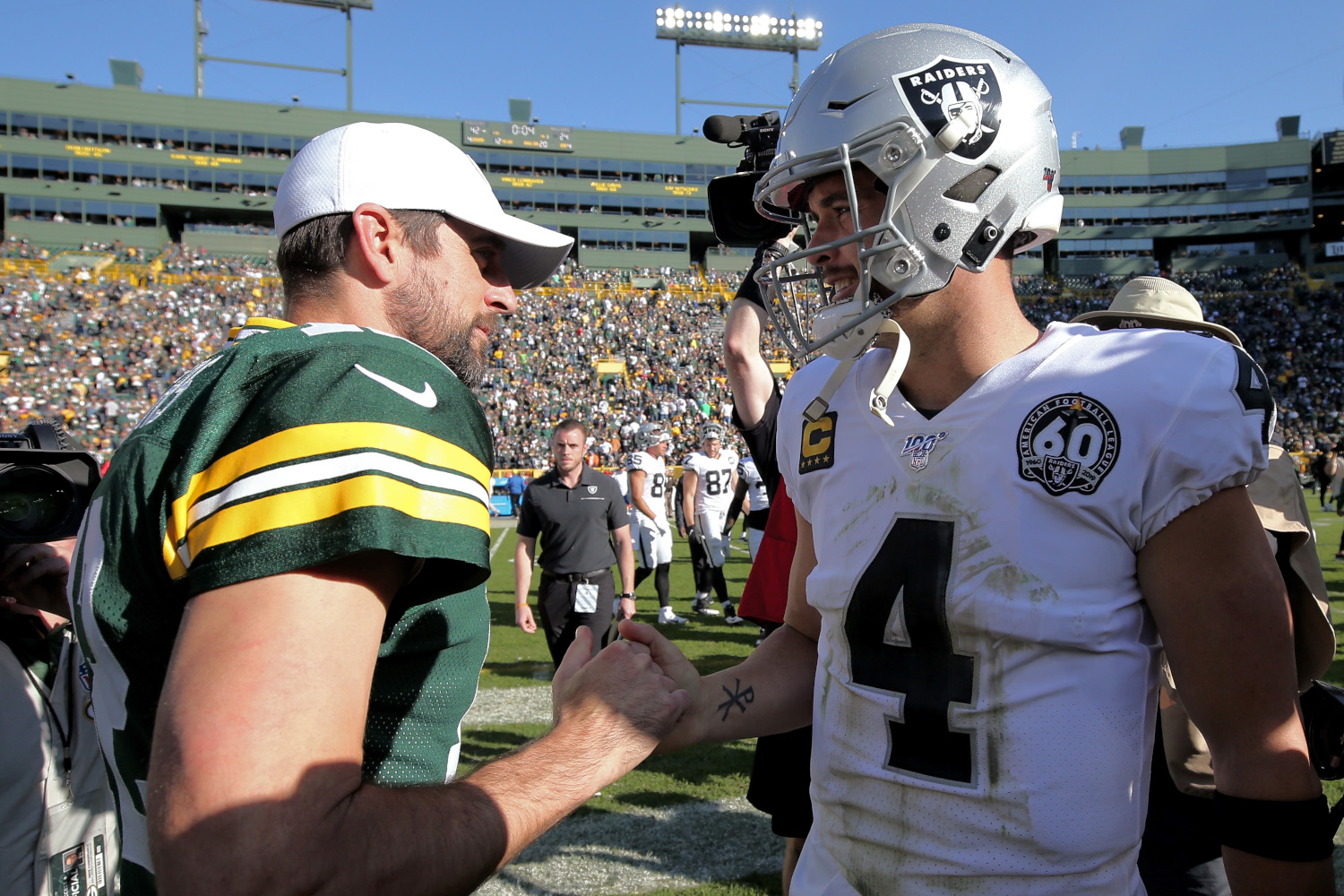 RELATED: Davante Adams Seemingly Joins Aaron Rodgers vs. Packers Feud With Cryptic Messages
Las Vegas is new to hosting major professional sports teams. The Vegas Golden Knights of the National Hockey League launched in 2017-18 and made a Cinderella run to the Stanley Cup Finals in their debut season. The WNBA's Las Vegas Aces arrived from San Antonio in 2018. The Raiders moved to Vegas in 2020.
But with all due respect to Golden Knights goalie Marc-Andre Fleury and Aces All-Star forward A'ja Wilson, Rodgers would be the biggest star to hit the Vegas sports scene since Jerry Tarkanian's notorious UNLV Runnin' Rebels teams decades ago.
With more fans expected to return to stadiums in 2021, the Raiders might be the hottest ticket on the strip. That might be the case anyway (the NFL is still the king), but it would be all but certain if Rodgers were wearing silver and black come fall.