Aaron Rodgers Can Thank the Houston Texans for Making His Road to Another Super Bowl That Much More Likely
Randall Cobb looked like he was near washing out of the NFL, but that was before his good buddy Aaron Rodgers rescued him from the underworld known as the Houston Texans and brought him back to the Green Bay Packers for perhaps one last go-around.
On the surface, Rodgers' demand that Cobb be traded back to the Packers looked like a power play. The MVP quarterback wanted more say over personnel moves, and he knew he had general manager Brian Gutekunst in a tough spot after a torturous offseason for the Green Bay front office. It was a chip Rodgers could throw down that wouldn't necessarily rock the boat.
Five games into the season, the Packers' boat has been sufficiently rocked by Cobb, and that's meant in the best way possible.
It looked like Randall Cobb was initially traded to keep Aaron Rodgers happy
The conventional wisdom surrounding the move for Green Bay was that bringing Cobb back would make Rodgers feel better by virtue of having an old friend back on the team. The 2020 MVP was clear in the offseason that he felt the Packers' front office had shown a lack of respect to numerous important veterans over the course of his career, so the trade looked like a peace offering of sorts from Gutekunst to his quarterback.
"I wanted to help the organization maybe learn from some of the mistakes in the past, in my opinion, about the way some of the outgoing veterans were treated, and just the fact that we didn't retain a number of players that I felt like were core players to our foundation, our locker room, high-character guys," Rodgers told the media upon his return to Green Bay in late July.
"I'm really excited Randall's coming back. He's obviously a dear friend and a guy I still believe in that can really play," Rodgers said. "He falls into that category that I mentioned earlier, of guys who left here who were high-character guys."
Cobb would also serve as a strong locker room presence and mentor to rookie slot receiver Amari Rodgers.
The Cobb trade now looks like a massive steal for the Packers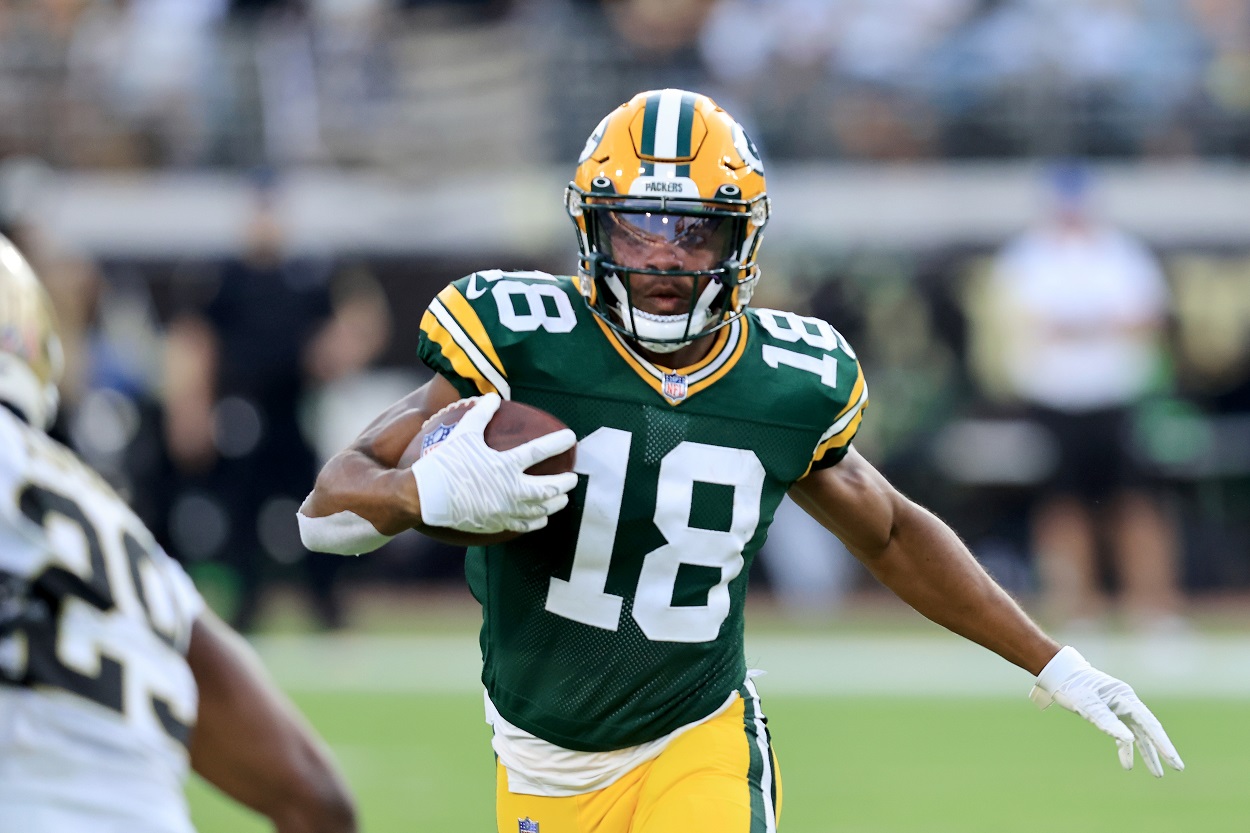 The Packers sent off a 2022 sixth-round draft pick to Houston, and back came Cobb in return. The Texans also agreed to pay $3 million of Cobb's salary in order to make the deal work.
Houston got rid of a player who likely wasn't going to make much of an impact, and Rodgers got his best friend back on the team.
The trade seemed like a win-win for both parties. Flash forward five weeks, though, and it's clear that the Packers have greatly benefited from Cobb's presence. And that's not just in the locker room.
Houston is basically paying Cobb to be Rodgers' second-favorite option behind Davante Adams, who is playing like a Transformer, by the way. Cobb has caught 11 passes from Rodgers to the tune of 157 yards and two touchdowns. To put things in perspective, he had three touchdowns with the Texans in all of 2020.
Perhaps most important is "when" Cobb is catching the ball, though.
Rodgers finds Cobb for a clutch play: A tale as old as time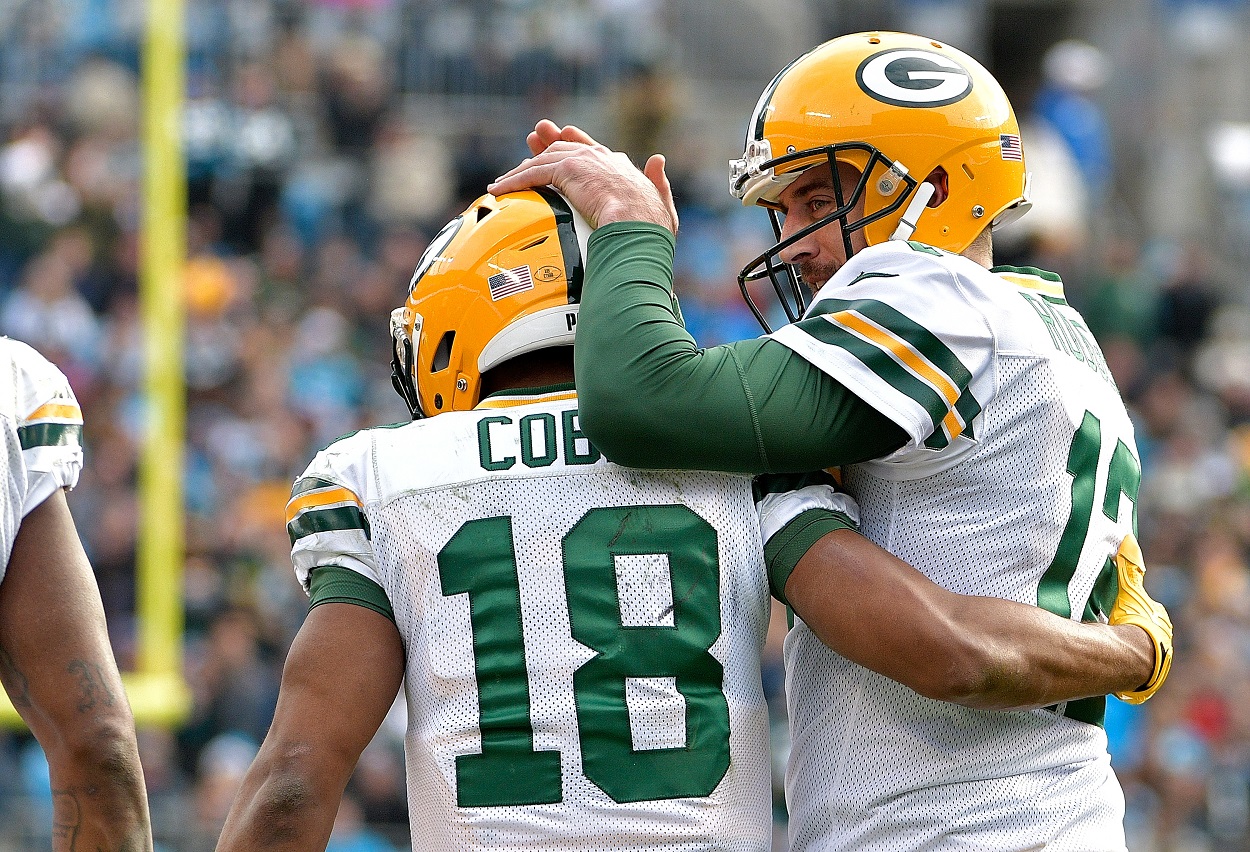 Cobb made his name in Green Bay by being clutch when the Packers needed him most. His first stint with the Packers saw him notch nearly 12 yards per catch, and he was always a favorite target for Rodgers on third downs, and especially in 3rd-and-long situations.
Never the fastest or biggest receiver on the field, Cobb was effective because of his smart route-running and connection with his quarterback. That's clearly why Rodgers wanted his old friend back, and so far through 2021, the two have picked up where they left off.
Adams is by far Rodgers' favorite option, and it's not even close. He has 61 targets so far this season. The next closest pass-catcher is running back Aaron Jones with 17 targets. That's ridiculous if you really think about it.
Cobb has 14 targets from Rodgers but has come away with 11 catches. That goes to show their chemistry, and if that doesn't do it, just pull up the highlights from Green Bay's win over the Pittsburgh Steelers when Rodgers found Cobb for two touchdown passes. Cobb's clutch third-down catch to set up the win against the Cincinnati Bengals in overtime comes to mind as well.
It's a tale as old as time. It's a connection that will continue to benefit the Packers as they look to finally get over the hump and win another Super Bowl before the clock strikes midnight on the Rodgers era of Green Bay football.
Stats courtesy of Pro Football Reference
RELATED: Aaron Rodgers and Matt LaFleur Put Their Faith in an Old Friend When the Packers Needed Him Most Versus the Bengals