Aaron Rodgers Can't Seem to Keep Things Straight. Is He Living in the Moment, or Is Retirement Looming?
Green Bay Packers quarterback Aaron Rodgers has spoken a lot about being present this season. He's talked about enjoying his teammates, enjoying the game out on the field, and overall, trying to soak it all in.
He's "in the moment," or so he says.
There's another side of Rodgers that's clearly not in the moment, though. In fact, he's now spoken about retirement twice in the past week.
He sure seems to be pondering the end quite a bit for someone so present.
Green Bay Packers quarterback Aaron Rodgers discusses retirement…again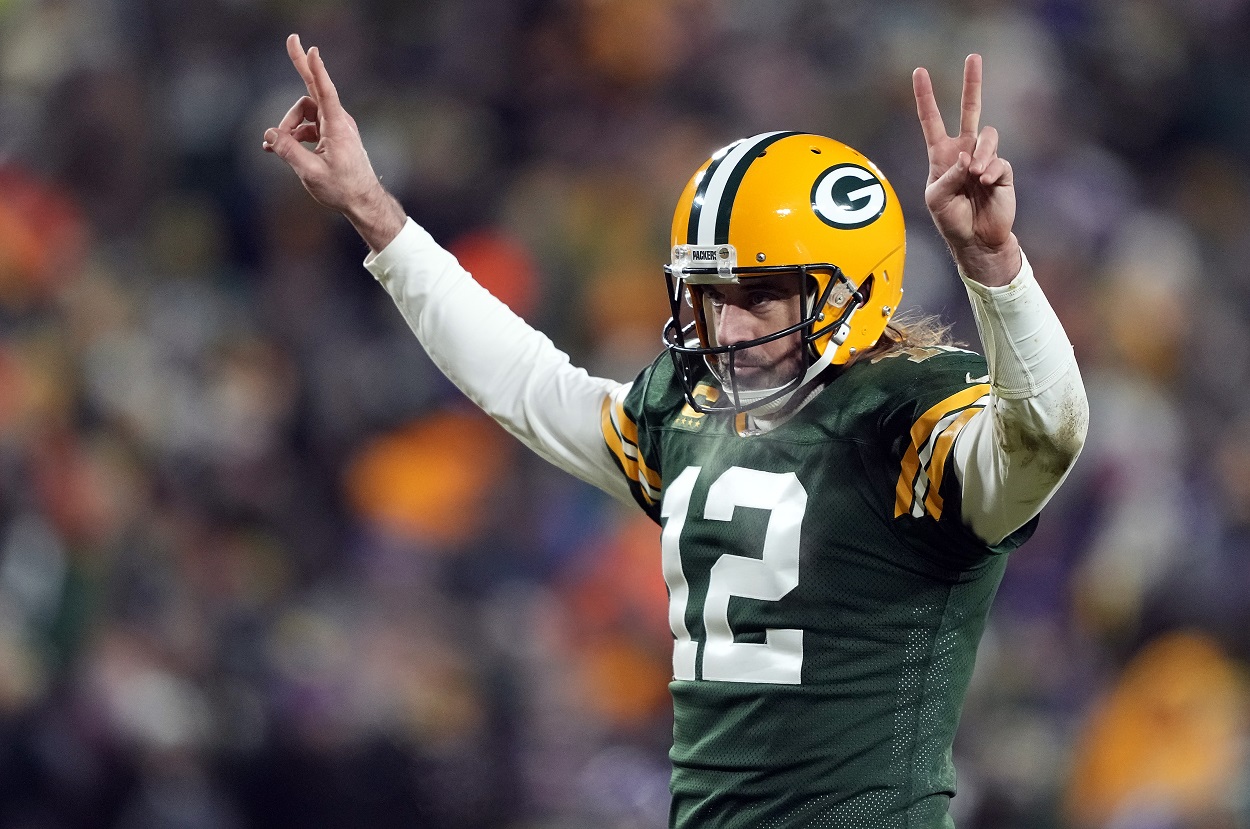 The Packers have locked up the No. 1 seed in the NFC and have a first-round bye. They're clearly one of the favorites to go to and win the Super Bowl this season, so naturally…Rodgers is once again talking about retirement.
Does that add up?
Rodgers was asked last week if retirement would be an option for him. This was before the Packers beat the Minnesota Vikings on Sunday Night Football, 37-10. This was before the No. 1 seed was clinched. Why Rodgers decided to answer that ill-timed question with anything other than reiterating that he's focused on the next game and the No. 1 seed is anybody's guess. Either way, here's what he said, via NFL.com.
"I wouldn't rule that out," Rodgers said Wednesday when asked if he's decided against retiring after 2021. "I think that I'm just enjoying this season for this season. I think that playing next year will definitely be in the thought process. One of the things, wanting to not be a bum on the way out and still be able to play, I think, is important to me."

Green Bay Packers QB Aaron Rodgers talks about retirement.
Ever the opportunist, Pat McAfee decided to ask Rodgers a similar question during his weekly appearance on The Pat McAfee Show. Rodgers was dishing on joining the "ManningCast" for an interview during Monday Night Football, and McAfee wanted to know if perhaps the three-time MVP saw a future for himself in broadcasting.
Rodgers doesn't see that particular role in his future, but it did bring him back to one of his favorite topics as of late. And no, he didn't go on another COVID-19 rant.
"I've given a lot of my life to this game. I didn't start playing until 8th grade. Obviously, [I] played four years in high school, played three in college, my 17th [season in the NFL]. At some point, the ride stops, and you've got to get off," Rodgers said. "You want to still be able to play, still be able to walk, still be able to have cognitive brain function when you're done playing."
Rodgers says he's focused on the here and now but is he?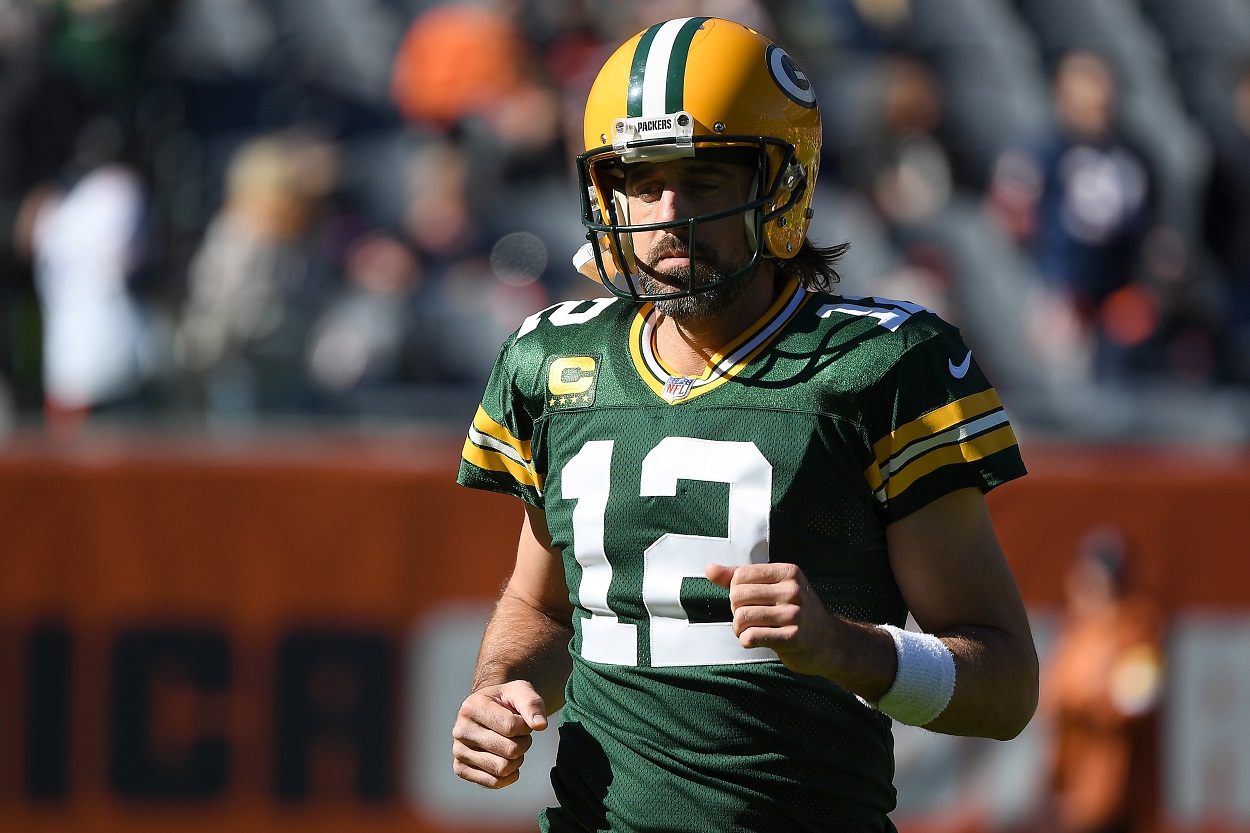 Rodgers reiterated to McAfee that he's trying to stay present as much as possible. That's been a constant refrain from Green Bay's quarterback this season, though again, it doesn't really jive with the person who has openly talked about "the end" twice in recent memory. That doesn't sound like the player who is obviously a bit concerned about the long-term impact of football and the wear and tear a long NFL career can have on a quarterback.
"It's hard because people want to talk about my future and what I want to do. For me, I can't have two feet in the past, living in the nostalgia of what we've accomplished and the amazing memories, or two feet in the future thinking about the decisions that are looming moving forward," Rodgers said.
Rodgers is not known to waste a single word, and he's the master of saying a lot without saying very little. With that said, it seems interesting that when he talks about future decisions, he talks about them looming.
Something doesn't loom unless it's right there around the corner. A shadowy figure can't be looming at you from six miles away. You wouldn't even know it existed. Things are different in this analogy if the shadowy figure is looming from the other side of an alley, though.
In order for something to loom, it needs to be close.
If Rodgers is really focused on the present, it's actually pretty good
Rodgers is 38 years old, so it's not surprising that he's thinking about getting off the NFL carousel before it's too late. After all, Tom Brady winning Super Bowls and playing like an MVP at 44-years-old is really the exception and not the rule when it comes to NFL quarterbacks.
For every Brady, there's a Ben Roethlisberger, who should have retired a season or two ago. For every Brady, there's an Eli Manning or Drew Brees, both Super Bowl champions who became known more for their noddle-arms than championships at the end.
You can see why Rodgers is wary of heading down that road. That, in itself, is not a huge shock.
It is surprising when you consider that he's very much so in the running for his second-straight MVP season, though. Rodgers has not fallen off a cliff. He's not a shell of himself. He doesn't have a noddle-arm.
He's still the best quarterback not named Brady in the NFL, and he's shown very little if any, regression since Matt LaFleur took over in Green Bay in 2019.
The Packers have been to two-straight NFC Championship games with LaFleur and Rodgers at the helm, and they're a favorite to get back to it again this season and even get over the hump. Look at Green Bay's roster, and you'll see that the Packers are lined up to compete for the Super Bowl, not just this season, but for the next few seasons moving forward…if Rodgers is at quarterback. Sure, the front office has some money issues to sort out, but which great team doesn't run into that? As long as Rodgers is in the building, Brian Gutekunst isn't going to be hitting the rebuild button anytime soon.
It's going to be all about winning championships. Which elite quarterback wouldn't want to be around for that?
With Rodgers playing the way he is, he has a legitimate opportunity to add a few more Lombardi's to his resume, and that will be huge as far as his all-time great legacy is concerned.
Why has retirement popped up so much lately if we're focused on the here and now? Because frankly, the here and now looks very promising for Rodgers and the Packers.
It's a troubling trend in what has otherwise been a tremendous season for the Packers. Could we be heading toward another retirement saga in Green Bay?
That would sure be ironic.
Stats courtesy of ESPN and Pro Football Reference.