Aaron Rodgers' Recent Comments Were a 'Blessing' for His Ex-Packers Teammate: 'He Was Speaking a Lot of Facts'
Aaron Rodgers is back with the Green Bay Packers, but his relationship with the only organization he has ever known appears to be far from fixed. In fact, during his recent 30-plus minute press conference at Packers training camp, Rodgers was candid and put all of his issues with Green Bay out there.
Among the problems he has with his team is how it treated some of its former players on their way out the door, especially guys who were good for the locker room.
In fact, one of those former Packers players heard Rodgers' comments and ultimately called them a "blessing": defensive back Micah Hyde.
Aaron Rodgers made his issues with the Packers known
Aaron Rodgers had a very thoughtful and honest conversation with the media at training camp this week. He laid out all the problems he has with the Packers.
While it seems that Rodgers mainly just wants to be a part of personnel conversations, he also took issue with how the team has treated some of its former players on their way out of Green Bay in the past and said he believes the Packers should have given some of them opportunities to return.
"I wanted to help the organization maybe learn from some of the mistakes in the past, in my opinion, about the way some of the outgoing veterans were treated, and just the fact that we didn't retain a number of players that I felt like were core players to our foundation, our locker room," Rodgers said, per ESPN's Twitter.
Rodgers then listed several former Packers players he felt were treated unfairly, including Charles Woodson, Jordy Nelson, Julius Peppers, Randall Cobb, and Micah Hyde.
"Guys who were exceptional players for us, but great locker room guys, high-character guys; many of them who weren't offered a contract at all, or were extremely low-balled, or were, maybe in my opinion, not given the respect on the way out that guys of their status and stature and high character deserve," he said, per ESPN.
Since Rodgers' comments, Green Bay has re-acquired Cobb via trade from the Houston Texans.
Micah Hyde called the QB's comments a 'blessing'
The Packers drafted Hyde in the fifth round in 2013, and he ultimately played in 63 of 64 games in four years with the team. He recorded over 50 total tackles each season and picked off two or more passes in all but his rookie year.
However, in 2017, Hyde left the Packers for the Buffalo Bills in free agency. He earned Pro Bowl honors in his first year with the Bills.
Recently, Hyde reacted to Rodgers standing up for him, and it seems that he appreciated it greatly.
"After leaving that place, I remember him reaching out to me and letting me know how frustrated he was," he said, per ProFootballTalk. "His presser yesterday was a well thought-out conversation he had with the media. I think he was speaking a lot of facts. Hearing him say my name was a blessing. If a guy like that thinks that highly of myself, I know I'm doing something right."
Given that Hyde has racked up 70 or more total tackles in three of his four seasons with the Bills, Rodgers has a right to be upset. But Hyde is ultimately just one of many players Rodgers wishes the team would have kept throughout his career.
Aaron Rodgers' future with the Packers is still up in the air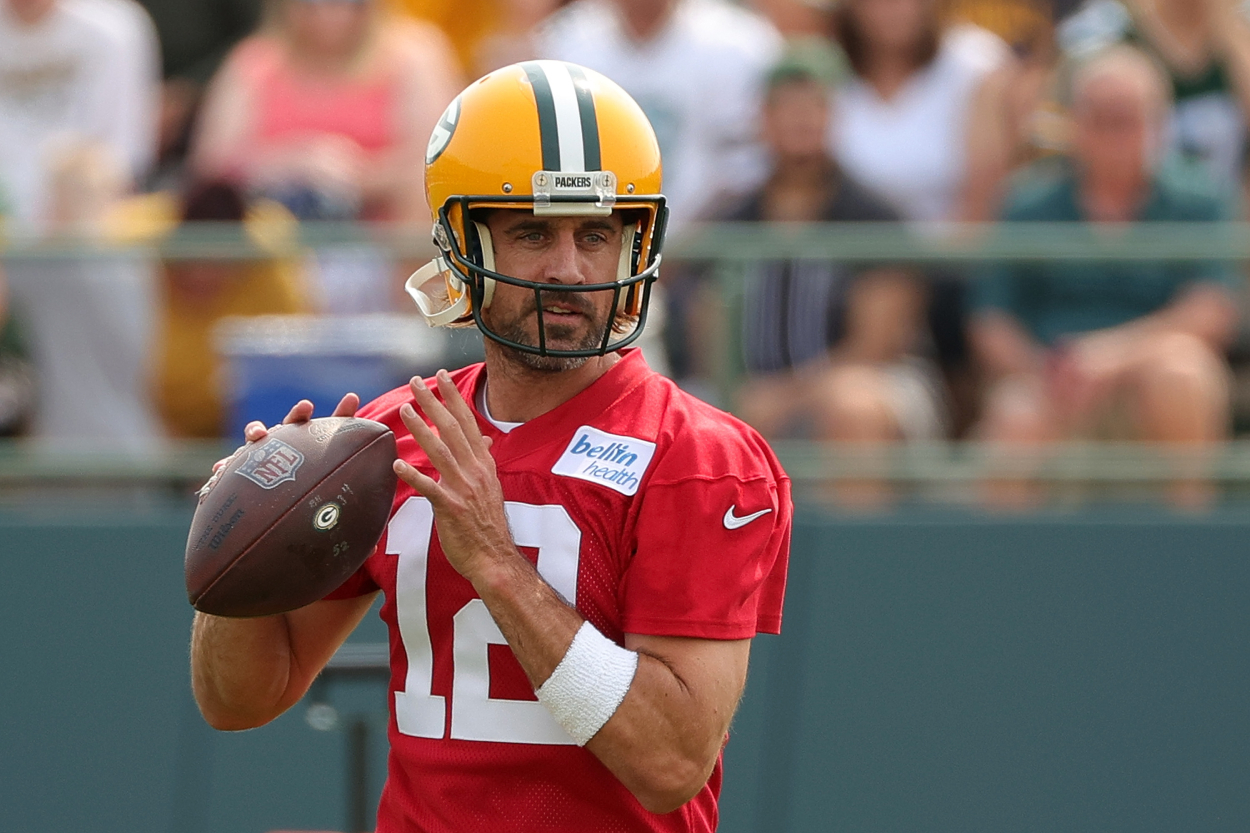 Rodgers may be at training camp, trying to get ready for a potential run at a Super Bowl, but his future with Green Bay beyond this season is unclear.
In his press conference, the reigning NFL MVP said he's unsure if there have been assurances on things changing in terms of him being more involved in personnel conversations. He also recently signed a reworked contract that could make it easier for him to leave the Packers after this season.
According to ESPN, the 2023 season was voided on his contract, so 2022 is his final year, and the team can no longer pursue "prorated portions of Rodgers' signing bonus," as there are no longer forfeiture provisions.
So, as of now, Rodgers is trying to win a Super Bowl with the Packers. By this time next year, though, things could be vastly different, as anything is possible.
This storyline is nowhere near finished.
Like Sportscasting on Facebook. Follow us on Twitter @sportscasting19.