Aaron Rodgers Contract: How New Deal Shapes the Packers' NFL Draft Plan
We still don't know the details of Aaron Rodgers' new contract with the Green Bay Packers. What we do know is that he's committed to coming back next season, and it's supposedly going to be a contract that will be cap friendly for the Packers.
While the details of the contract do matter in terms of how the Packers can build the roster around Rodgers, they won't necessarily impact Green Bay's plan in the 2022 NFL Draft. The big factor is that Green Bay knows Rodgers will be back, and the Packers can build their draft plan around that detail.
The Green Bay Packers need to go hard after an elite receiver for Aaron Rodgers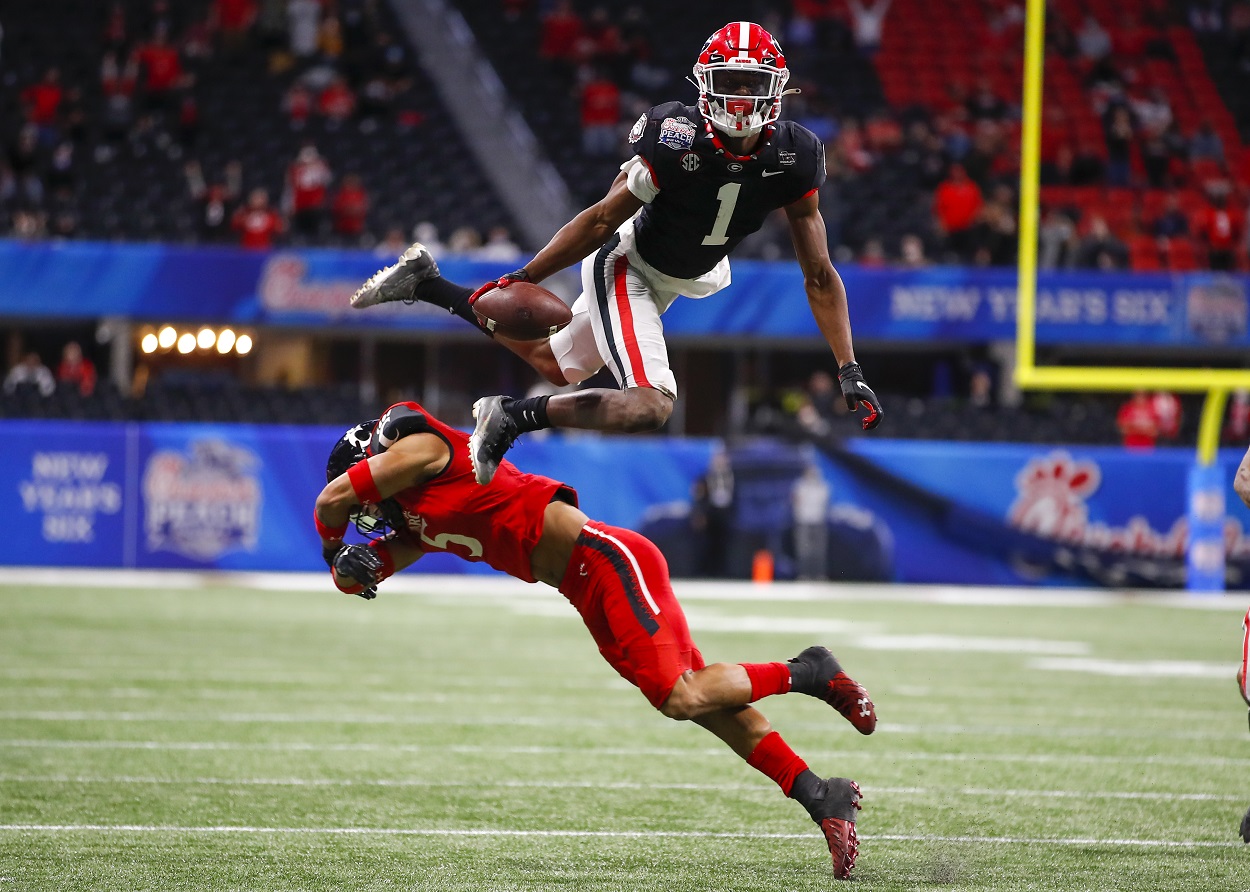 The last time the Packers drafted a wide receiver in the first round was in 2002, so literally 20 years ago.
Javon Walker was the pick then and he gave the Packers one Pro Bowl season in four years. He was talented but probably not worth the 20th overall pick in hindsight.
That either scarred the Packers or they realized that they can find great wideouts later in the draft. Greg Jennings, Jordy Nelson, and Randall Cobb were all second-round picks. Oh, and there's that Davante Adams guy as well, who the Packers took in the second round of the 2014 NFL Draft.
The Packers have the 28th pick in the first round of this draft, which is basically a second-rounder. They're clearly going all-in on Rodgers, which means that for the first time in 20 years, they need to snag a top wide receiver.
No offense to the likes of Marquez Valdes-Scantling and Allen Lazard, but they're "just guys" out there. No wideout on Green Bay's current roster outside of Adams demands much respect, but the Packers can change that by bringing in one of the star rookie wide receivers of this class.
There's good news in that regard too because the class is deep at wide receiver. Green Bay may not have an opportunity to pick up Garret Wilson out of Ohio State, who could end up being a top 10-15 pick. Drake London (USC), Chris Olave (Ohio State), Treylon Burks (Arkansas), or Jameson Williams (Alabama) could all hypothetically fall to Green Bay at No. 28, though. Williams, in particular, is an elite wideout who may fall because he suffered an injury in the College Football Championship game.
We also know general manager Brian Gutekunst isn't afraid to move up a few spots to get his favorite player on the board.
All the wide receivers mentioned can be a great No. 2 for Rodgers immediately. Jahan Dotson (Penn State) John Metchie III (Alabama), George Pickens (Georgia), Skyy Moore (Western Michigan), and Wan'Dale Robinson (Kentucky) are all also intriguing picks that could go in the late first-round depending on Green Bay's evaluation.
The point is this: The talent is there, and Green Bay has a major need. If they're going all-in on Rodgers, it's time to get him some more weapons.
The second-best option in late round one is an offensive tackle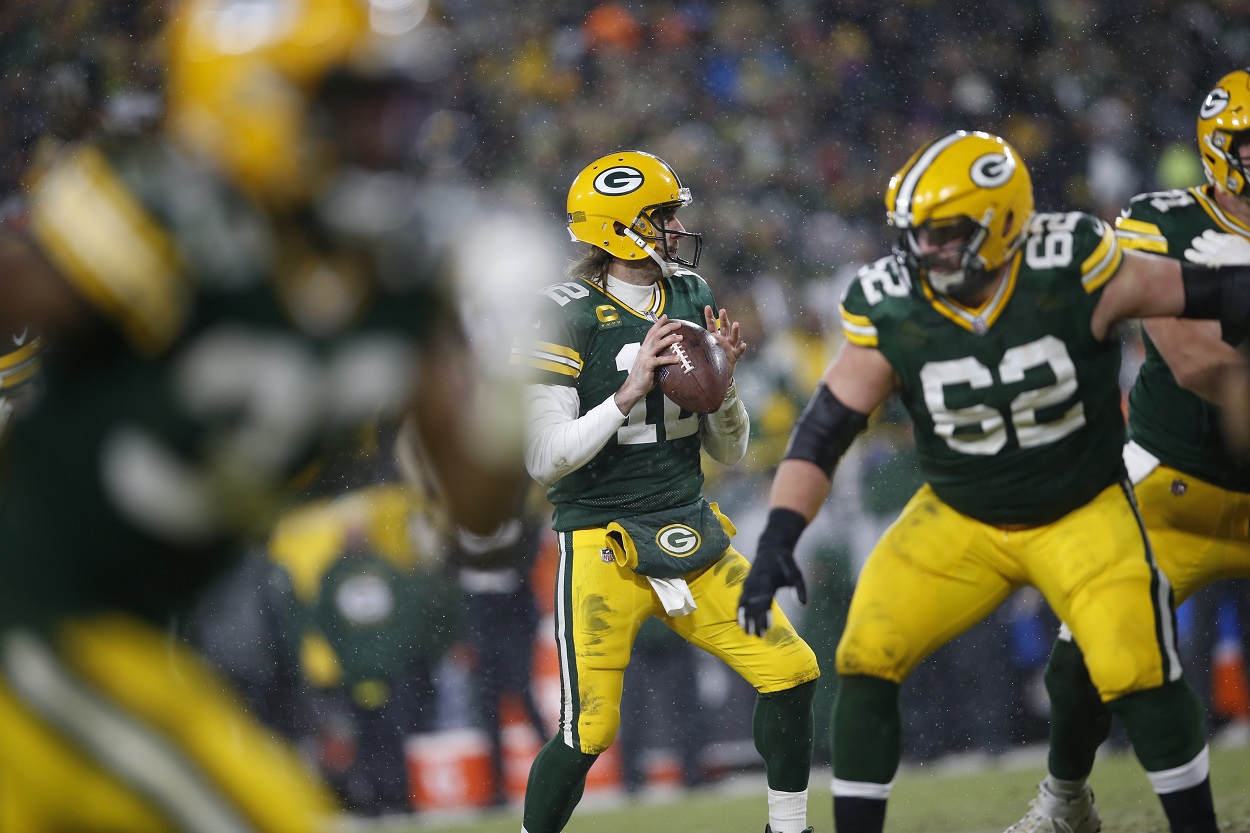 Because the wide receiver class is so deep, there is a realistic scenario that could see Gutekunst wait until the second or third rounds to pick up a wideout. It would be a gamble because the talent does eventually fall off, but if there's a 1B priority to the 1A of drafting a wide receiver, it's getting some assurances at offensive tackle.
David Bakhtiari played half a game last season as he struggled to rehab from an ACL tear he suffered the season before. He's an All-Pro when he's healthy, but there are some major question marks surrounding whether or not he'll be able to come back and play at that same level.
Elgton Jenkins was an incredible replacement at left tackle for a good chunk of the season, but then he suffered an ACL tear. There's a chance Jenkins could struggle along the same timeline that Bakhtiari did. If the Packers are looking at about a year for him to get back, that will put him out until November of 2022. 
Billy Turner is in the final season of his contract and Dennis Kelly is a free agent and barely played last season.
Getting a legitimate tackle who can immediately start at right tackle and potentially be prepared to play left guard or even left tackle depending on Bakhtiari's recovery is extremely important for the Packers.
Trevor Penning from Northern Iowa will be an excellent choice at No. 28 if he falls that far. He had an amazing combine and checks in at 6-foot-7, 321 pounds. You can't teach that size and athleticism. 
Especially if Rodgers' contract is long-term, protecting him as he gets older is going to be vital for Green Bay's success moving forward.
The Packers need to get Rodgers a game-changing tight end
We know that Rodgers likes Robert Tonyan Jr., but he's a free agent and thus isn't guaranteed to come back to Green Bay. The fact that he missed much of last season with an injury could help Green Bay in negotiations, but he's still a risk for the Packers for that very reason. He's had one great season out of four in Green Bay. Can he really replicate his 11 touchdowns 2020 season while coming off a major injury?
Moving down the depth chart, Marcedes Lewis is flaunting his longevity at Father Time and he's more of a run blocker anyhow. Josiah Deguara has shown flashes of being the "swiss army knife" fullback/tight end that the Packers hoped he'd be when they took him in the third round of the 2020 NFL Draft, but he's terribly inconsistent and also has a history of being banged up.
We know that Rodgers thrives when he has a great tight end. Look at what he did with Jermichael Finley before he got hurt and flamed out. Rodgers also had a dangerous connection with Jared Cook.
Tight ends generally don't have a ton of value in the first or even second round, so there is a good chance that Green Bay can snag a good one in the third or even fourth rounds.
No matter who's available, and there are some excellent options, Gutekunst needs to find a tight end who can be a pas-catching threat from day one.
No more developmental chess pieces.
The Packers need to draft the biggest, most athletic receiving threat they can find and get Rodgers a deep threat up the middle from jump street.
Stats courtesy of ESPN and Pro Football Reference. Contract information via Spotrac
RELATED: Greg Jennings Is Still Bashing 'Very Selfish Guy' Aaron Rodgers