Aaron Rodgers' Costly Setback Has Ruined a Special Opportunity for Patrick Mahomes: 'You Always Want to Compete Against the Best'
Article Highlights:
Kansas City Chiefs quarterback Patrick Mahomes is disappointed he won't face Green Bay Packers star Aaron Rodgers in Week 9
Rodgers, a three-time NFL MVP, will miss the game after testing positive for COVID-19
Mahomes' 2019 knee injury kept him from facing the Packers and their legendary quarterback that year
Once Green Bay Packers quarterback Aaron Rodgers officially announced he'd be with the team in 2021, eyes understandably turned to a Week 9 matchup between the three-time NFL MVP and Kansas City Chiefs quarterback Patrick Mahomes.
What sounded like a potential Super Bowl preview showcasing two of the sport's top quarterbacks will instead feature Mahomes and Jordan Love, the Packers' 2020 first-round pick. Rodgers will miss the game after testing positive for COVID-19, and his Kansas City counterpart isn't pleased in the slightest.
Patrick Mahomes isn't happy he won't face Aaron Rodgers in Week 9
If you needed any final proof on Rodgers' overall value, consider that the Packers officially opened as -2.5 road favorites against the Chiefs on Thursday, Oct. 28. According to Odds Shark, the line jumped to -7.5 on Wednesday, Nov. 3, only hours after the quarterback's reported positive test went viral.
The Chiefs might now be favored and in a far better position to finally climb back above .500, but Mahomes isn't taking joy in the changed circumstances. According to ProFootballTalk, the 2018 NFL MVP said he's disappointed he won't get to face the future Pro Football Hall of Famer on Sunday.
"When you get to see an all-time great like him play, and I've kind of watched his game for a long time, feeling that I play a similar style, you always want to compete against the best. Hopefully, he's healthy; it's not too bad. I'm sure he'll come back from it stronger than he was before."

Patrick Mahomes
When he spoke with reporters, Mahomes shared he hadn't yet reached out to Rodgers but intended to do so.
"COVID is a scary deal, and it can kind of get anybody, so just praying for him that he can get back to who he is," Mahomes said.
Mahomes' knee injury cost him a chance to play Rodgers in 2019
If not for the 17-game schedule, the Chiefs' only NFC opponents, including a promising home test against Dak Prescott and the Dallas Cowboys on Nov. 21 would have come from the NFC East. However, the NFL's schedule-makers decided that the 17th opponent, one featuring cross-conference teams, would involve teams that played in 2019 and had the same divisional finish in 2020.
In layman's terms, the Packers defeated the Chiefs, 31-24, on Oct. 28, 2019. Both teams won their respective divisions a year later. Sometimes, things are just that simple.
Interestingly, that 2019 matchup — which also occurred at Arrowhead Stadium — featured the opposite of what we'll see on Sunday. Although Rodgers played that night and threw three touchdowns in the victory, Mahomes missed the game with a knee injury. Veteran backup Matt Moore more (ugh) than held his own, throwing for 267 yards and two touchdowns.
Kansas City fell to 5-3 with the loss. Considering the Chiefs only lost one more game en route to defeating Jimmy Garropolo and the San Francisco 49ers in Super Bowl 54, the rest of the NFL might have even more reason to dislike Rodgers.
The odds are currently stacked against Mahomes and Rodgers facing off outside of a Super Bowl anytime soon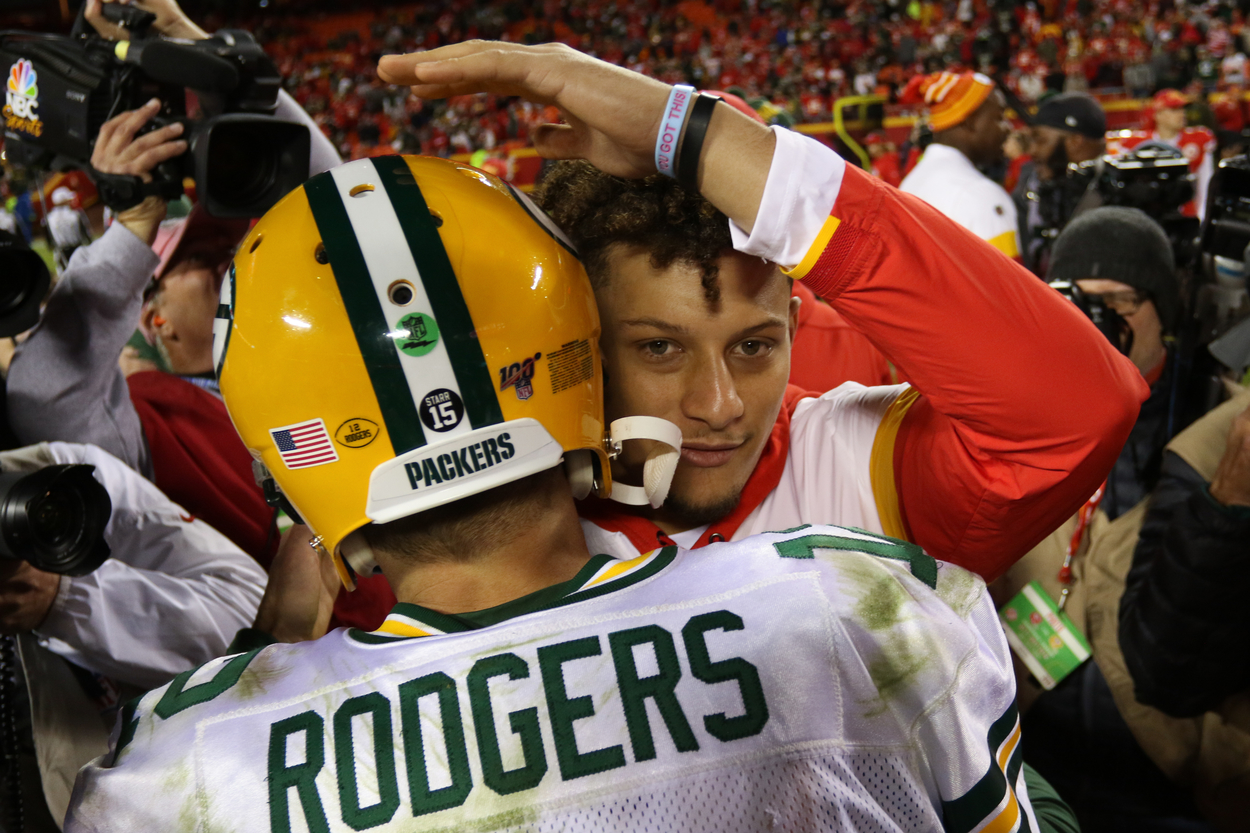 Barring an unexpected and unprecedented change to the NFL schedule system, the Packers and Chiefs won't face off again until 2023. Rodgers will either be 39 or 40 (his birthday is Dec. 2), and he's shown no signs of age-related regression or a legitimate desire to retire.
The problem in predicting the next Mahomes-Rodgers matchup is the latter's long-term future in Green Bay. Although neither side has commented on his status in recent months, the current expectation is he'll be available in some form next spring.
If Rodgers winds up in the AFC and starts flinging touchdowns for the Denver Broncos, he'll have two games against Mahomes and the Chiefs each year. However, let's say the Packers legend winds up with the Washington Football Team. That'd keep the two away from one another until either 2023 (depending on the 2022 standings) or 2025.
Considering how many times the football gods made us watch the New England Patriots in the Super Bowl, it's time for them to do right by the common folk. If you're listening, a healthy Mahomes and Rodgers in Super Bowl 56 sure sounds nice.
How to get help: In the U.S., contact the National Council on Problem Gambling helpline at 1-800-522-4700.
RELATED: Aaron Rodgers Has Surpassed Tom Brady as the GOAT in the Phony Department