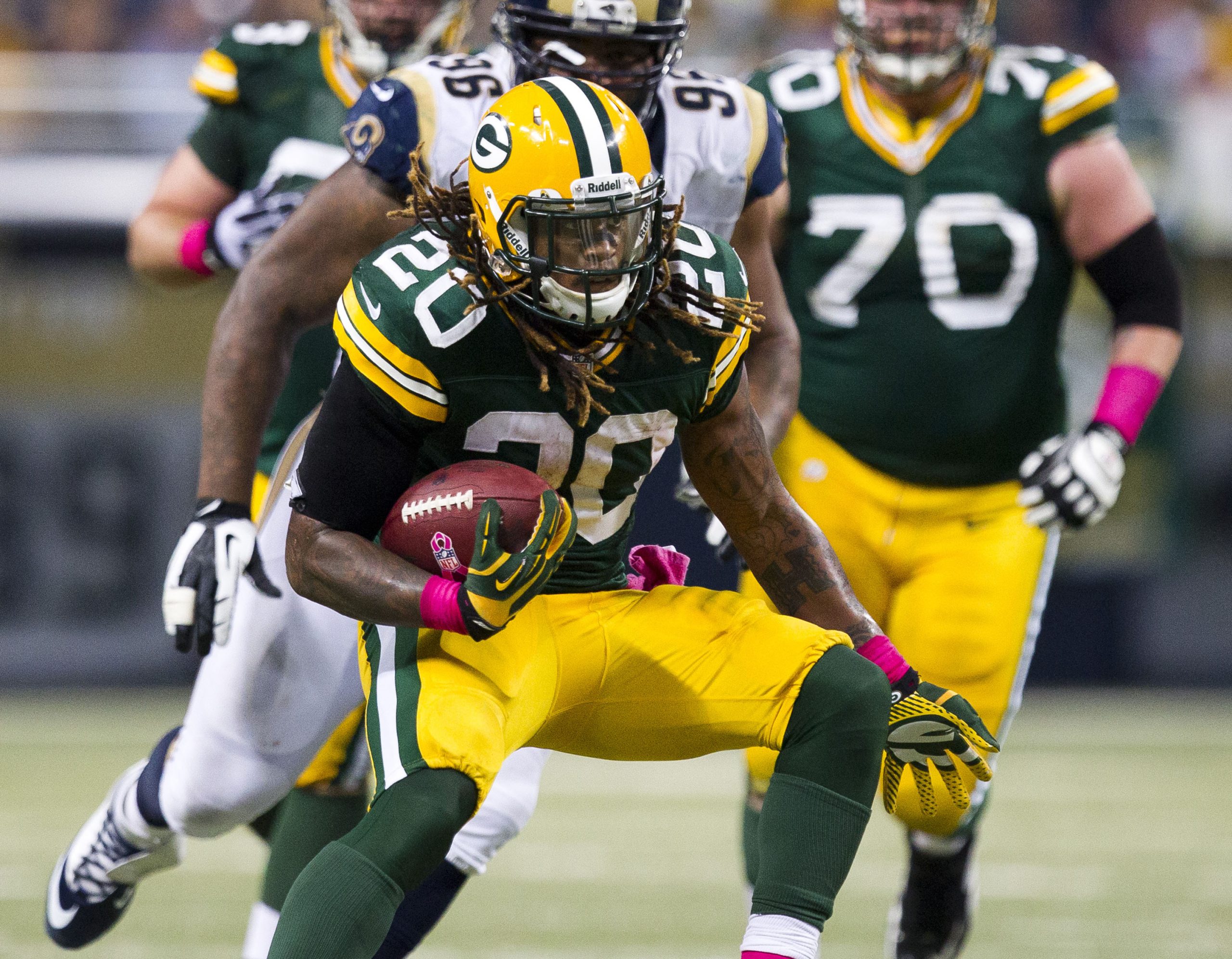 Aaron Rodgers' Controversial COVID-19 Comment Will Trigger Green Bay Super Bowl Win, Says Former Packers RB Alex Green
Former Green Bay Packers running back Alex Green said the Packers are winning the Super Bowl and a big reason for that is because of Aaron Rodgers' controversial COVID-19 comment.
The Green Bay Packers are winning the Super Bowl. You can count on it, says former Packers running back Alex Green. Green, a third-round pick of the Packers in 2011, spoke with Sportscasting this week and said he believes it's Green Bay's year.
Not only does the former running back believe quarterback Aaron Rodgers and Green Bay's defense is playing at a high level, but he also thinks Rodgers' infamous COVID-19 "immunized" incident will play a major role in securing that title.
Alex Green, who had his Packers career cut short by an ACL injury, remembers one of his first enounters with Aaron Rodgers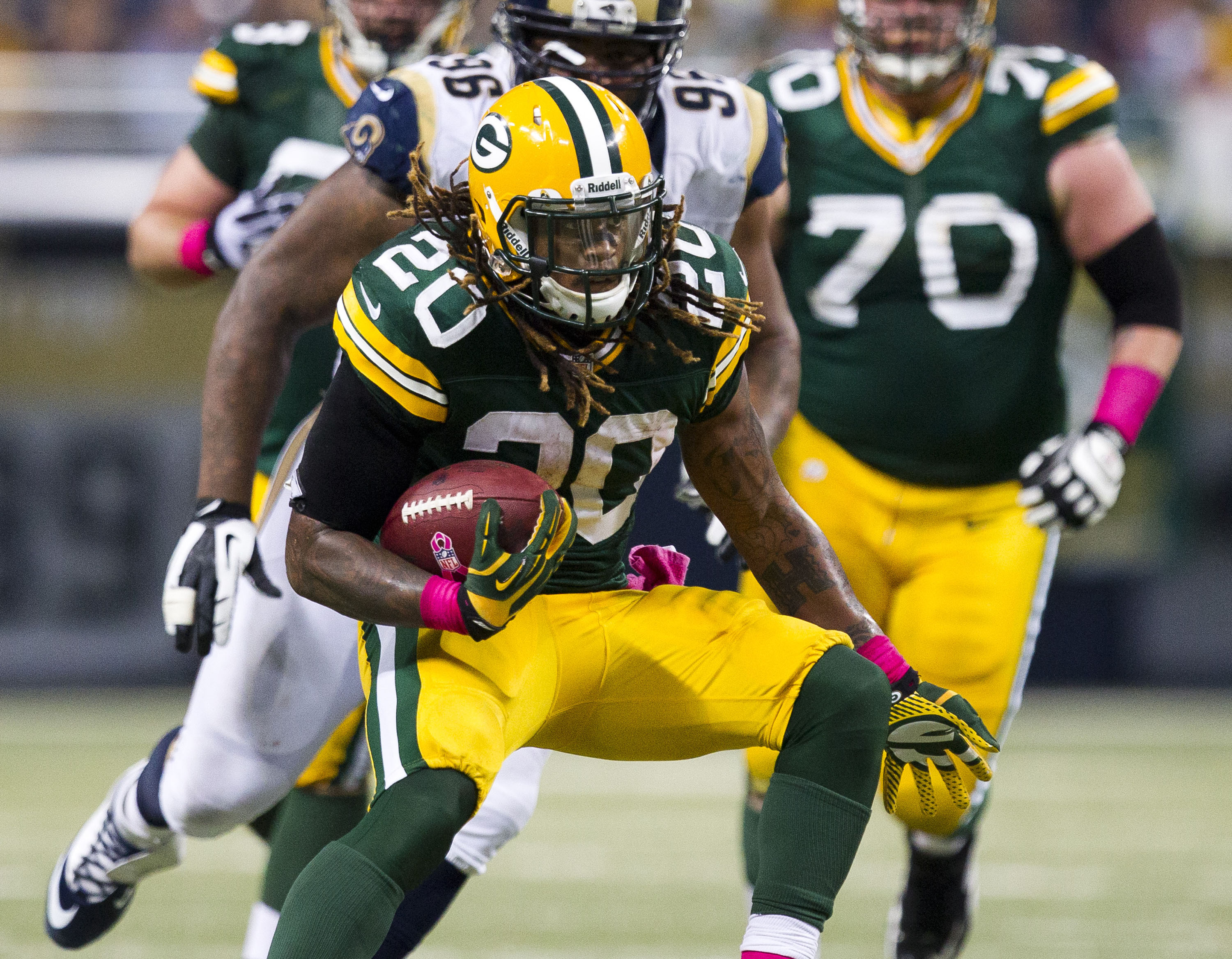 Green played his college football at Hawaii, where he gained 1,199 yards and rushed for 18 touchdowns as a senior running back. The Packers selected him in the third round of the 2011 NFL Draft, but his rookie season was cut short by an ACL injury suffered during a kickoff in Week 7 at the Minnesota Vikings in 2011.
Green admitted he tried to rush his rehab to return as quickly as possible. He played 12 games the following year but missed the final two games and the postseason due to lingering effects of the injury. The Packers released him prior to the 2013 season and he hooked on with the New York Jets. He rushed 11 times for 35 yards in 13 games with the Jets.
Despite being cut by the Packers, Green said he still remains a Packers fan.
"I'm a Packers fan," Green told Sportscasting. "I've always been one, even when I was playing for the Jets. They drafted me and helped me live a lifelong dream."
Green recalled one of his first encounters with Rodgers as a rookie in 2011.
"I played with his little brother (Jordan), so I already knew a little about him," Green said. "I remember one time he poked his head in the door and said, 'I don't talk to rookies.' Everyone was laughing, but he wasn't. He was dead serious, but he was cool with me."
Alex Green explains why Aaron Rodgers' controversial comment will bring the Green Bay Packers a Super Bowl title
Green is adamant the Packers are winning the Super Bowl. Everything is in place for that to happen, but such was the case a year ago.
Green Bay is the top seed in the NFC for the second straight year. The road to the Super Bowl runs through Lambeau Field. Last year, it didn't work out too well for the Packers as Tom Brady and the Tampa Bay Buccaneers came in and ruined all hopes for the Packers in the NFC title game. Green said that won't happen this year and explained why Aaron Rodgers' controversial COVID-19 comment will work in Green Bay's favor.
As a refresher, Rodgers was asked earlier this season if he was vaccinated. He responded with, "Yeah, I've been immunized." It was later found that he had been unvaccinated against COVID-19 when he tested positive and was forced to miss the team's game against the Kansas City Chiefs.
Rodgers' comment angered many, and he was labeled a liar and a fraud. According to Green, that will be a key for the Packers winning this year's Super Bowl.
"When you go on and you hear he's a liar and he's selfish, that's the outside world talking," Green said. "Inside that locker room, they have his back. It's like us against the world. When things like this happen, you become more than teammates. You become a brotherhood."
It might not be a Joe Namath guarantee, but Green insists the Packers are winning the Super Bowl
We won't put it in the same classification as Joe Namath's guarantee of Super Bowl 3 when his New York Jets were 18-point underdogs against the Baltimore Colts. Namath guaranteed his Jets would win, and they shocked the world with a 16-7 victory.
Green is confident his old team is coming home with the Lombardi Trophy this year, and Rodgers' comment is just one reason he believes that is the case.
Green Bay is hot and is playing great ball at the right time.
"They have all the weapons," Green said. "They're playing at a high level. Their defense is stepping up. I'm telling you, they are going to win the Super Bowl."
All statistics courtesy of Pro Football Reference.