Will Aaron Rodgers Introduce Danica Patrick to His Family, Feud and All?
Green Bay Packers quarterback Aaron Rodgers doesn't have a close relationship with his family. In fact, news broke in 2016 that Rodgers doesn't talk to his brothers or his parents. But things seem to be heating up with his new girlfriend, Danica Patrick. So what are the odds that Patrick could meet Rodgers' family?
Ahead, find out everything you need to know about the feud between Aaron Rodgers and his family, and discover whether or not Danica Patrick will meet the quarterback's parents and brothers.
Aaron Rodgers has had an icy relationship with his family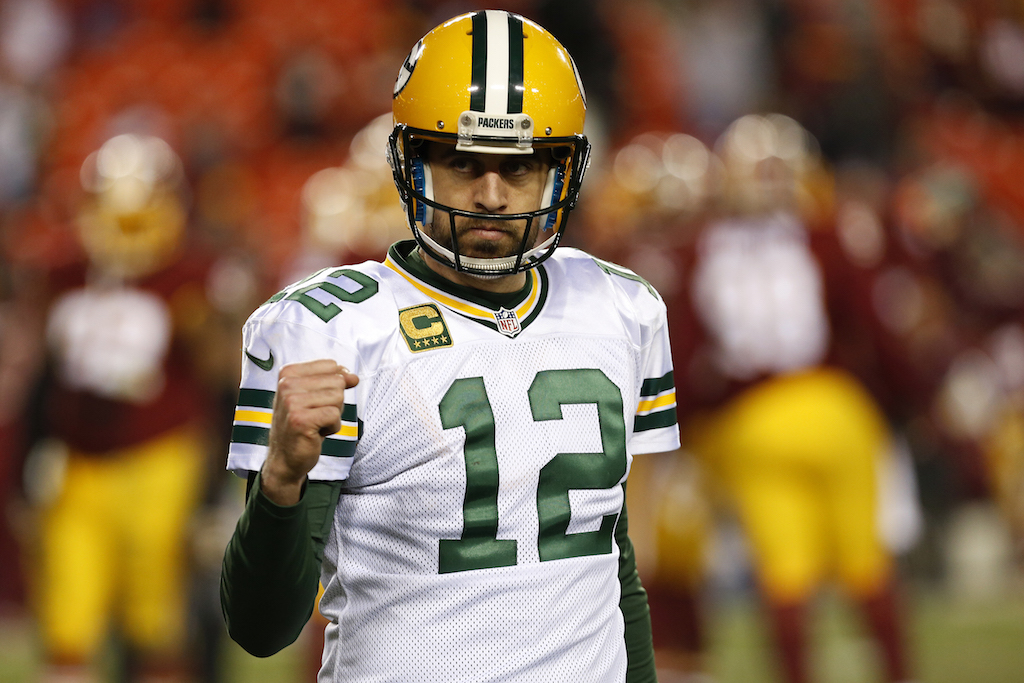 Fans first heard about the feud between Aaron Rodgers and his family in 2016, when the quarterback's younger brother, Jordan, appeared on The Bachelorette. Jordan said on the show, "I have a great relationship with my [older] brother, Luke. Me and Aaron don't really have much of a relationship."
Jordan added, "It's just kind of the way he's chosen to do life, and I chose to stay close with my family, my parents and my brother. It's not ideal, and I love him. I can't imagine what it's like to be in his shoes and have the pressure he has and the demands from people he has. Don't have hard feelings against him. It's just how things go right now."
Rodgers doesn't want to talk about it
After Jordan Rodgers revealed that the quarterback doesn't have much to do with the family, Aaron Rodgers declined to say much about the matter. Rodgers said in an interview, "As far as those kinds of things go, I've always found that it's a little inappropriate to talk publicly about some family matters, so I'm just — I'm not going to speak on those things." However, ET Online reported that the feud dates to a friend's wedding, where Rodgers was supposed to be a groomsman but didn't show, and to his grandfather's funeral, which he skipped.
As Yahoo notes, Jordan and Aaron's brother Luke characterized the feud as "something we don't really like to talk about. It pains both of us not to have that relationship. We miss our brother. We are just trusting God brings thing full circle. And just wish that everything would just get back to us being a family." A source close to Aaron explained, "Aaron has never wanted to air this out in a public forum." The source added," He will deal with his family issues privately."
Olivia Munn met his parents and one of his brothers
As The New York Post notes, Olivia Munn revealed after she and Aaron Rodgers broke up that she met the quarterback's parents and one of his two brothers. She said on Sirius XM's Andy Cohen Live, "I met one brother, the one who was on The Bachelorette. I was friendly with Jordan. I met the parents only a couple of times. Before he and I started dating, he had not spoken to one of the brothers and his parents for eight months."
Even though some people speculated that Munn was the reason for the cold relationship between Rodgers and his family, the actress said that she encouraged Rodgers "to have an open conversation with his parents."
Munn thinks his success has complicated the relationship
Aaron Rodgers' father seemed to blame fame for changing his son, Metro reports. And as Page Six notes, Olivia Munn said, "I do believe family and fame and success can be really complicated if their dreams are connected to your success." She added that the Rodgers family "are all into sports, and Aaron is one of the best, if not the best, quarterbacks to play the game. Their work has a direct connection to what he does."
And in her assessment, "There's a lot of complications. I don't think either side of the road is clean, but I do think it's not OK if you try to stand on someone's shoulders, then throw dirt in their face, that's what I think."
Danica Patrick isn't likely to meet his family anytime soon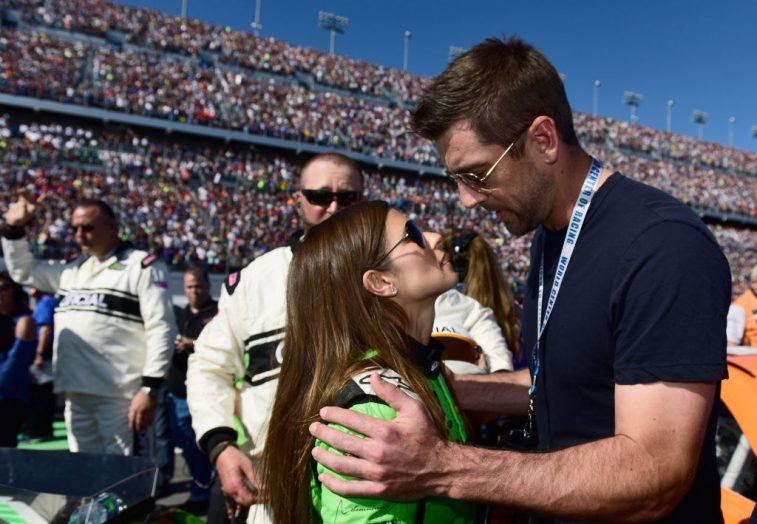 The Mercury News notes that Aaron Rodgers has already met Danica Patrick's parents, and they seem to be supportive of the relationship. However, while Rodgers has already met Patrick's parents, it's not likely she will get to meet his "unless she's the one who forces Aaron to reconcile," a source explained.
The publication traced the rift between Rodgers and his family back to 2011. "It's been reported that Rodgers started to pull away from his family after he led the Packers to a Super Bowl win in 2011, and then after he started going out with Munn in 2014," the News explains. Some sources even said that Rodgers ended up choosing Munn over his family, because they didn't trust her and thought she wasn't with him for the right reasons. But the relationship doesn't' seem to have improved since Munn and Rodgers broke up.
Eventually, she could meet the family at Jordan's wedding
The New York Post reports that the youngest member of the Rodgers family "is keeping the door ajar for Aaron, where his future wedding is concerned." Jordan previously said, "There's no scenario in which I wouldn't want my entire family at my wedding.
That's something all of our family wants and hopes for at this point." Jordan got engaged to JoJo Fletcher on season 12 of The Bachelorette, and they recently debuted a new web series, Engaged with JoJo and Jordan. The couple doesn't seem to be in a rush to tie the knot, but the Post notes that if Aaron accepts an invite to his brother's wedding, Danica Patrick could be his plus one.
Read more: Who Is Aaron Rodgers' Girlfriend, Danica Patrick? How Did They Meet?