Aaron Rodgers and Davante Adams Are the Superstars, but the Green Bay Packers' Offense Really Clicks Because of a Fifth Round Pick
Everybody knows that Aaron Rodgers and Davante Adams are the superstars of the Green Bay Packers offense.
Rodgers is the reigning MVP and a three-time MVP at that. Adams, over the course of many years, has developed an unmatched rapport with his quarterback and has become arguably the best wide receiver in the game. His stats back that belief up, but the eye test works just as well. Watch any Green Bay game and you'll see that no matter what a defense throws at Adams, he's going to get open and make big plays.
Rodgers and Adams get the top billing because they are big names, but an often overlooked star has emerged in Green Bay and he's just important to the Packers' offense as their quarterback and wide receiver.
That star is running back Aaron Jones.
Aaron Jones was at one point a project player for the Green Bay Packers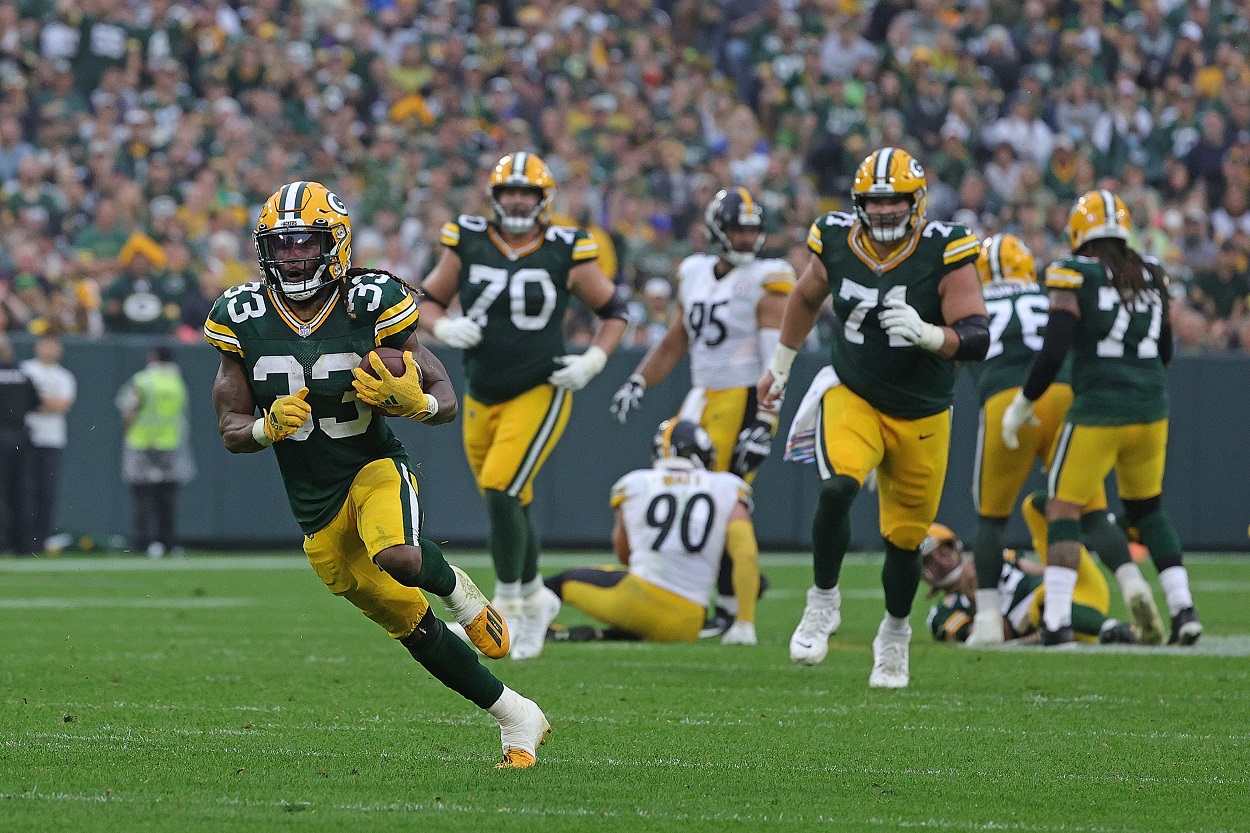 The Packers drafted Jones in the fifth round of the 2017 NFL Draft as a project pick. Coming out of the University of Texas at El Paso (UTEP for short), Jones was a shifty and fast runner with a lot of potential but he didn't have a ton of big-game play to back it up. UTEP plays in Conference-USA, so it was tough to judge how his talent would translate to playing against NFL defenses.
There was no doubting the fact that Jones was productive as a college back, though.
In four seasons for the Miners, Jones rushed for 4,114 yards and became the school's all-time rushing leader. His 33 career touchdowns put him second all-time in school history, and he rushed for 100-plus yards in a game a whopping 17 times, while rushing for 200-plus five times.
Jones was an absolute legend at UTEP.
The Packers drafted him in the fifth round and integrated him slowly over his first two seasons. He had only 81 rushing attempts his rookie season and 133 attempts the next.
The 2019 season saw Jones break out and he hasn't looked back since.
2019: 236 rushing attempts for 1,084 yards and 16 touchdowns. 49 receptions for 474 yards and three receiving touchdowns.
2020: 201 rushing attempts for 1,104 yards and nine touchdowns. 47 receptions for 355 yards and two receiving touchdowns.
So far in 2021: 83 rushing attempts for 385 yards and two touchdowns. 21 receptions for 166 yards and four receiving touchdowns.
Jones is one of the lesser talked about stars in the NFL
Running backs like Derrick Henry, Dalvin Cook, Christian McCaffery, and Alvin Kamara have gotten many of the headlines over the past few seasons, but Jones has been just as productive as any of those players. He's also incredibly consistent and durable, which is impressive considering he's not built as big as some of the other backs mentioned. Jones checks in at 5-foot-9, 208-pounds, but he plays much bigger and much more physically than he looks.
What makes Jones so special as a running back is that there really isn't an aspect of the position that he can't do.
He's as fast and shifty as they come in the league, so when he gets into open space he's a threat to take it to the house every time. With that said, Jones is also a surprisingly strong runner between the tackles, and he's not afraid to lower his shoulder and initiate contact or take a big hit.
Jones is a well-above-average pass-catcher out of the backfield, and he's become one of Rodger's favorite targets out in the flats or even down the sideline on wheel routes.
Lastly, but perhaps most important for head coach Matt LaFleur and his quarterback, Jones is a tenacious pass-blocker.
Jones will stick his nose in and fill a gap against blitzing linebackers like that's his only job description. There are not many star running backs that will do that and do it with the consistency that Jones has for the Packers.
Despite having Rodgers, Matt LaFleur wants to run a balanced or even run-heavy offense
LaFleur has been clear in the past that his offense is best when it can be set up by the run game. That may not seem advantageous when the Packers have two superstars in the passing game in Adams and Rodgers, but it really is the key for Green Bay's offense. It ultimately makes life easier for both quarterback and wide receiver.
Football 101 suggests that the more you run the football the more a defense has to concentrate on stopping the run. That means devoting more players into the box by bringing safeties down closer to the line of scrimmage. That also means linebackers really keying in on the running back before dropping into their coverage responsibilities. All it takes is a step or two forward to get a linebacker out of position for a throw over their head between the seams.
A strong run game leads to a strong play-action game, and that's where LaFleur has really excelled as a play-caller.
The Packers have had to remind themselves of that this season when the natural inclination is to get pass happy and let Rodgers and Adams play catch, but defenses have caught on and will either play two-high safeties to take away the deep balls, or double and sometimes even triple cover Adams. A heavy dose of Jones and his backfield-mate A.J. Dillon really goes a long way in keeping defenses honest.
Throw in Jones' ability to basically become Green Bay's second-option at wide receiver at times, and it's clear that he's really the most important player on the Packers offense. Without Jones, Adams becomes a player defenses can basically erase and Rodgers becomes an aging quarterback that defenses will blitz until he has nightmares.
The fifth-round pick out of UTEP has become the most important player on one of the best offenses in the NFL.
Stats courtesy of ESPN and Pro Football Reference.
RELATED: Aaron Rodgers Drops a Major Hint About His Future With the Green Bay Packers After He Broke the Hearts of Bears Fans