Aaron Rodgers Decision: 3 Distinct Paths for the Green Bay Packers QB
Aaron Rodgers has three distinct options in front of him as he evaluates his future as it relates to the Green Bay Packers. He says he'll make that decision soon, and that time is quickly approaching, but which path makes the most sense for the four-time NFL MVP?
He can stay with Green Bay. He can retire. He can ask for a trade. 
Let's evaluate which one makes the most sense from Rodgers' perspective.
Aaron Rodgers could stay with the Green Bay Packers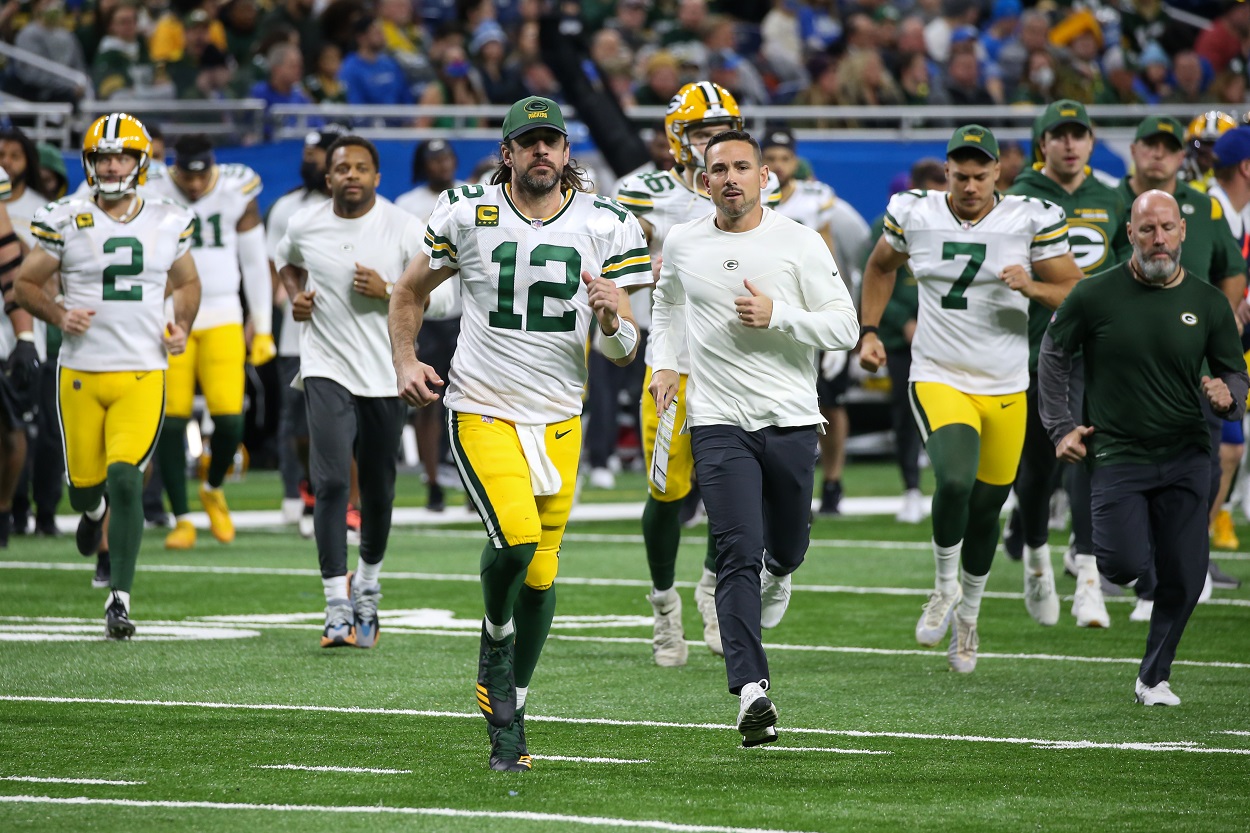 It would seem as if the drama of the 2021 offseason is well behind Rodgers at the moment. He and the front office, specifically he and general manager Brian Gutekunst, have seemingly mended their relationship, and they're in a much better spot.
"There was obviously some things that were voiced in the offseason, privately between him and myself, and I'm just thankful for the response," Rodgers said, via ESPN. "There was a lot of things that were done to make me feel really special and important, to the present, the past and the future of the franchise. And I've got to say that Russ [Ball] and Brian especially had a big hand in that. And it didn't go unnoticed."
The crux of Rodgers' issues last offseason was that he wanted to feel more valued by the organization. He wanted to feel more involved. He also felt that the Packers were trying to move on from him when they drafted Jordan Love in the first round of the 2020 draft. If it was truly their plan to part ways, it seemed that Rodgers just wanted to get it over with.
Things appear to be much rosier between Rodgers and the Packers now, but he still needs to decide whether or not he wants to play football in Green Bay moving forward.
Rodgers has stated that he does value his legacy with the Packers, and it would be great to play his whole career in Green Bay. He was also very clear that he doesn't want to be a part of a rebuild, though.
That becomes a problem because the Packers are facing a massive salary cap situation this offseason. They're expected to be close to $50 million over the cap and several key players are free agents, including Davante Adams and De'Vondre Campbell. On top of that, Rodgers himself is expected to take up $46.6 million of the salary cap in 2022.
It would take a small miracle for the Packers to retain most of their key players and not take a step backward talent-wise. Sure, they can mortgage their future and push money into 2023 and 2024, but then the long-term viability of the organization is in question.
The Packers will be contenders if Rodgers is on the roster 2022, but he hasn't been able to lead this version of the team to the Super Bowl yet. Why would he (or the Packers, for that matter) expect things to change if nothing changes moving forward?
Rodgers could demand a trade
This seems like the most unlikely option at this point, but there is always an opportunity for Rodgers to ask for a trade.
Considering his legendary status in Green Bay, the Packers would be smart to appease him to avoid more quarterback drama and keep the relationship intact for when he does eventually enter the Hall of Fame. It's been rocky a year or two, but Rogers is undoubtedly the greatest player in franchise history, so the Packers would likely honor any trade request. That also means they probably won't ship him to the Houston Texans just because to toil in misery for the next two seasons.
If the Packers trade him, they're going to want a ton back in return, but it's safe to assume that Green Bay would trade Rogers to an organization he wants to pay for.
The Denver Broncos have long been considered an option, and it's worth noting that Denver very well could be a Rodgers-like quarterback away from being a Super Bowl contender.
Here's the issue for Rodgers, though: If he were to go to Denver, he probably wouldn't even be the best quarterback in the AFC West, let alone in the conference. He'd have to go head to head (at least twice) with Patrick Mahomes and the Kansas City Chiefs and Justin Herbert and the Los Angeles Chargers. The Packers would ask for draft picks and young talent in return, like Jerry Jeudy or Patrick Surtain III, for instance, so could Rodgers really feel good about a path to a Super Bowl in Denver? 
He'd have to fight just to win the division.
The New York Giants would be an intriguing trade partner for the Packers because they do have two first-round picks in 2022, but New York's roster is far from Super Bowl ready even with Rodgers in the fold. He'd also have to go back to being coached by a first-time head coach in Brian Daboll. It would make sense for Green Bay, but it feels like a backward move for Rodgers.
Let's do one more. The Tampa Bay Buccaneers would be exciting for Rodgers roster-wise, but would the Packers want to trade him to a top NFC rival? Also, can you see Rodgers being the guy to replace Brady and walk in those shoes? He already has enough trouble being compared to the GOAT.
Frankly, a trade would be the best option for the Packers as it would help them retool rather than rebuild in the post-Rodgers era, but it doesn't make as much sense for the quarterback if he wants to remain a Super Bowl competitor.
Rodgers could retire
Rodgers could, of course, decide to hang his cleats up and walk away from football. We know that he was considering it last season, and it's something that he has said he's not afraid of
"I don't fear retirement. I don't fear moving on. I'm very proud of what I've accomplished, proud that I've accomplished it in Green Bay over the last 17 years, and excited about the future. Whatever that ends up looking like," he recently said, via Ryan Wood.
He has plenty of interest outside of football. He seemingly likes to travel. He likes to golf, and he's newly single after his breakup with Shaylene Woodley. He can literally play golf all day for the next 60 years if he retires.
We also know that leaving the game while he still can is important to him.
If Rodgers doesn't come back and play for the Packers, the most likely scenario is that he decides to retire.
Sure, he'll only have one Super Bowl ring to show for his incredible career, but in terms of individual accolades and individual talent, he'll go down as one of the greatest quarterbacks ever play the game.
While the fans may not like it, and the Packers would be getting the short end of the stick, there appear to be plenty of positives for Rodgers if he does indeed decide to retire.
RELATED: Former All-Pro LB Shawne Merriman Thinks John Elway or Peyton Manning Could Lure Aaron Rodgers to the Denver Broncos