Aaron Rodgers' Diet: Cutting These Food Groups Helped the Green Bay Packers QB Improve His Game
Aaron Rodgers may have had a tough offseason, but it came after one of the best seasons of his career. There's no question the quarterback is still playing at an extremely high level, especially given his age. Though Rodgers is in his late 30s, he's still clearly one of the best QBs in the NFL. So how has Rodgers been able to maintain such an impressive resume? Certainly, Aaron Rodgers possesses plenty of natural talent — but he also has a great diet as well, something that's been able to help him defy aging like his counterpart, Tom Brady. Rodgers' even cut some important foods from his diet to help him stay in tip-top shape. Read on to find out what food groups he eliminated from his diet to help up his game.
Rodgers' career achievements so far have been impressive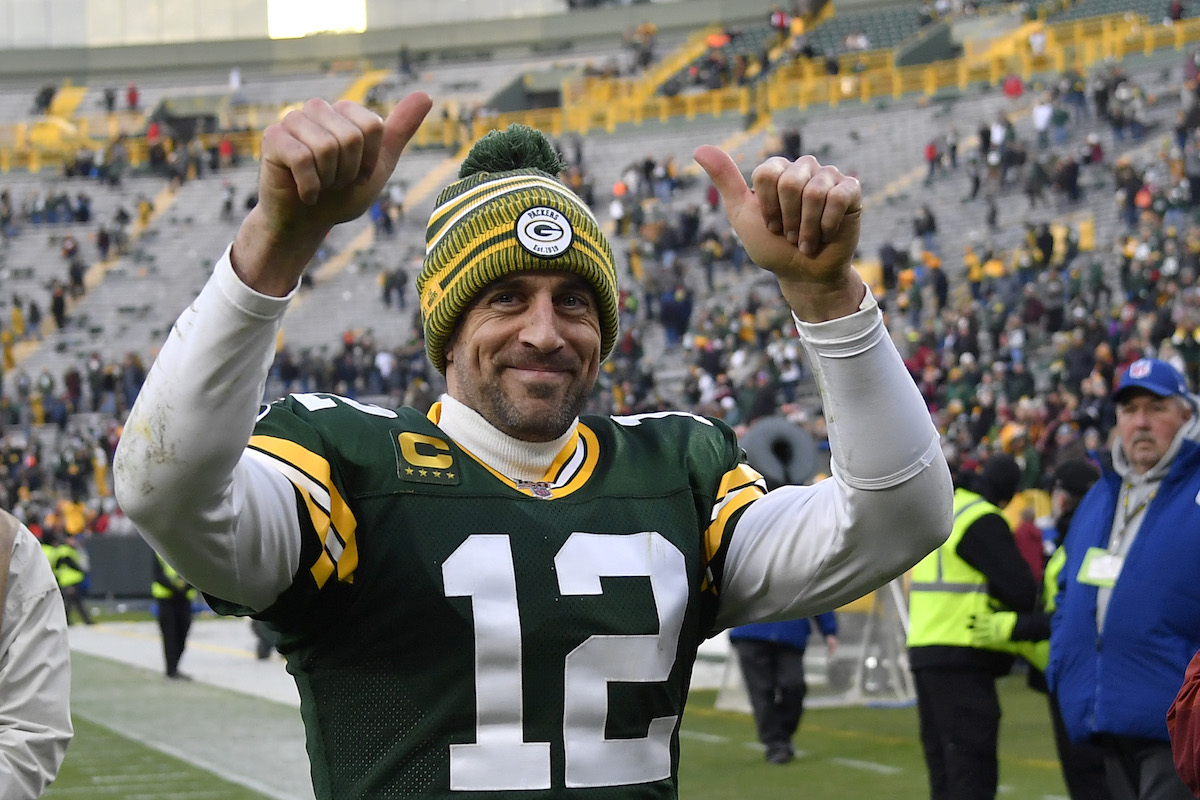 Rodgers entered the NFL in 2005. His career had a bit of a rocky start. First, he plummeted in the NFL Draft. Fellow QB Alex Smith was taken with the first overall pick; because no teams had an immediate need for the position, Rodgers wasn't selected until more than 20 picks later. The Green Bay Packers eventually took him, even though they had Brett Favre playing quarterback at the time. They then stashed Rodgers on the bench for the first three years of his career.
Once Rodgers got the nod to be the starter, however, everything changed. He got results almost instantly, and in a short period of time called himself a Super Bowl–winning quarterback. Some of his notable achievements so far, per Pro Football Reference, including:
Won a Super Bowl
Won three NFL MVP Awards
Nine-time Pro Bowler and three-time All-Pro.
Rodgers hasn't shown any signs of slowing down, either.
What is Aaron Rodgers' diet like now?
Someone like Rodgers needs his body to be in optimal condition to perform on a regular basis. To ensure this is possible, his diet needs to be completely dialed in.
According to Essentially Sports, Rodgers told Pat McAfee that there are a few dietary elements he's completely cut from his diet to help his body. Rodgers said, "Cutting gluten, and probably most importantly for me and my own blood type, dairy, out of my diet has really made a difference in my body."
He went on to add that, "It's just changed the way my joints respond. It's changed the way my skin and body respond. I don't feel bloated all the time, I don't feel kind of slow and foggy."
The key to this change for Rodgers? Limiting the amount of inflammation he experiences. "Less inflammation means you're going to be healthier and I just haven't had the joint issues that I've had in years past," he explained.
He added that staying upright played a part also, but that it all comes back to his diet, stating, "I haven't taken as many shots as well, I've only been sacked 20 times this year, which was a low for my career, which I'm very thankful for. But the diet has been a big part of it."
Rodgers has other secrets to his success
Aaron Rodgers' diet isn't the only thing that makes him successful, however. He's also mastered the mental aspect of the game as well. He's been able to do this by establishing two habits: engaging in reading and meditation. He says it gives you the ability to "quiet your mind."
The bottom line? Rodgers has added some great habits that help both his body and his mind. He understands that there's a balance between the two, and he makes a great effort to maintain that balance. If he keeps going this way, there's no reason to think he can't play well into his 40s if he would like to.
RELATED: Aaron Rodgers and the Packers Are Taking a Lot of Heat for Their Atrocious Week 1 Performance, but the Reigning NFL MVP Seems Unbothered: 'Me Personally, I'm Doing Great'