Aaron Rodgers Drama Has Packers GM Brian Gutekunst Scrambling to Add QBs
On the one hand, Green Bay Packers general manager Brian Gutekunst talks boldly about how MVP quarterback Aaron Rodgers isn't going anywhere. But according to reports, Gutekunst is also making inquiries about adding veteran quarterbacks before offseason team activities and training camp. Some of that is procedural. The Packers currently have just two quarterbacks on the roster: Rodgers and second-year man Jordan Love, who has yet to take a snap in a regular-season game.
With predictions circulating that Rodgers won't be back in Green Bay, Gutekunst is in a bit of a bind. Last season's backup, Tim Boyle, signed with the Detroit Lions as a free agent in March. Part of the Packers' plan was to promote Love to the backup role this season, but it's foolhardy at best to attempt to navigate an NFL schedule with only two quarterbacks. The only problem is the Packers might need more than just a third-string project if the Rodgers situation goes pear-shaped.
Aaron Rodgers situation not close to a resolution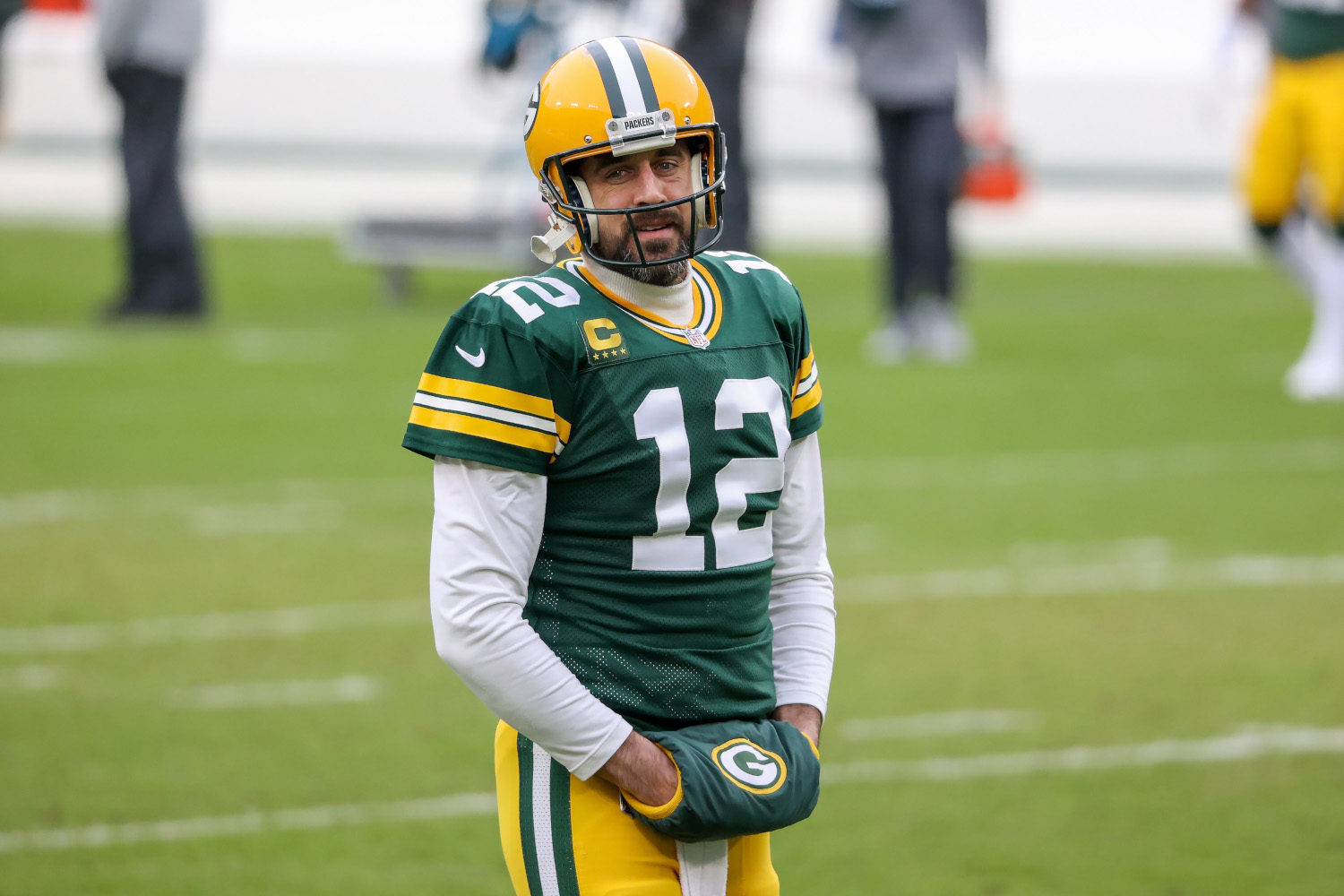 It's been a week since news broke of Aaron Rodgers' dissatisfaction with the Packers, but Green Bay has no incentive to trade him yet. Were Green Bay to deal Rodgers, say, this weekend, the impact on their salary cap would be huge. According to Spotrac, trading Rodgers now would cost the Packers $38.356 million in dead cap money.
However, were the Packers to deal Rodgers after June 1, the Packers can spread the dead cap money over two seasons — $14.352 million in 2021 and $17.198 million in 2022, per Mike Florio of Pro Football Talk. That would undoubtedly be a more palatable option in terms of being able to field a competitive roster.
As of now, Green Bay currently projects to have just $4.1 million in dead money. Rodgers accounts for nearly 20% of the Packers' cap space. He has three years and $105.4 million to go on his contract., per Spotrac.
Trading Rodgers would be historic. No reigning NFL MVP has been traded the season after winning, and only two MVPs failed to return to their teams after winning the award. According to ESPN, Norm Van Brocklin of the Philadelphia Eagles retired after the 1960 season, as did Jim Brown following the 1965 campaign.
What is available on the free-agent market?
The 2021 offseason was not a banner one for free-agent quarterback shopping, to begin with, and most of the recognizable names are long since off the board, according to Spotrac. Ryan Fitzpatrick signed a one-year deal with the Washington Football Team. Andy Dalton is now with the Chicago Bears, and Tyrod Taylor is going to the Houston Texans. Joe Flacco joined the Philadelphia Eagles, Mitchell Trubisky went to the Buffalo Bills, and long-time backup Chase Daniel is now a Los Angeles Charger.
What's left is not exactly inspiring. Alex Smith is technically unsigned, but the Comeback Player of the Year from 2020 announced his retirement. Robert Griffin III spent the last three seasons with the Baltimore Ravens, who cut the 31-year-old in January. The former third overall pick Blake Bortles finished last season with the LA Rams but hasn't taken a snap since 2019.
Other names on the board include Jeff Driskel, Matt Barkley, Josh McCown, and Brian Hoyer. Any of those quarterbacks would not so much represent a step down as a head-first dive off a cliff for the Packers.
What if Aaron Rodgers retires?
Retirement is the nuclear option for Aaron Rodgers simply because it would be costly. Should Rodgers decide to pursue the full-time gig hosting Jeopardy actively or just quit the game, he would have to forfeit nearly $30 million. That would include $23 million of his signing bonus (the pro-rated share for 2021 and 2022), as well as the $6.8 million roster bonus paid out earlier this year.
It is worth noting that Rodgers' agent is Dave Dunn. That is the same agent that got Carson Palmer away from the Cincinnati Bengals. That situation took a while; Palmer held out of training camp and refused to report through the first six weeks of the regular season. The Bengals eventually caved and traded Palmer to the then-Oakland Raiders.
At the time, Palmer declared he would never again play for the Bengals, according to ESPN. If that sounds similar to the rumors swirling around Rodgers, Dunn might be the common denominator there. In 2011, Palmer claimed he had $80 million in the bank and didn't need the Bengals. The Packers shelled out nearly $241 million to Rodgers over his 16 seasons before this year's roster bonus check was cut.
There is one takeaway from this that has to make any Packer fan's blood run cold. If Gutekunst is shopping for veteran quarterbacks, he is not entirely confident the Aaron Rodgers situation ends well for him.