Aaron Rodgers Has Faith in NFL Locker Rooms Despite Jon Gruden's Email Scandal: 'That S*** Doesn't Fly'
Green Bay Packers quarterback Aaron Rodgers has become known for his honesty and candor during interviews, and he held none of his feelings back when discussing Jon Gruden's resignation as head coach of the Las Vegas Raiders.
The Gruden scandal has been the talk of the NFL news cycle for good reason. The head coach was in the midst of a lucrative 10-year deal with the Raiders and seemed to have ultimate job security from a football standpoint. However, reports recently surfaced that the coach had sent emails that used offensive language surrounding race and sexual orientation, among other indiscretions.
News broke during Week 5's edition of Monday Night Football that Gruden had resigned from his position. Ironically, Gruden was the lead analyst for Monday Night Football at the time he sent the emails in question.
Rodgers has been known to get philosophical in recent interviews, and he walked down that road once again while discussing his thoughts on Gruden and the NFL as a whole.
Aaron Rodgers thinks that NFL players, as a whole, don't share in the beliefs reflected in Jon Gruden's emails
When the MVP talks, the NFL listens. But in this case, Rodgers made it clear that he's the one with his ears to the ground and his finger on the pulse of NFL circles. The type of language and descriptions reportedly used by Gruden, per The New York Times, don't represent the whole, according to Rodgers.
"I can say with real honesty and pride that I don't feel like those are opinions that are shared by players," Rodgers said during his weekly appearance on The Pat McAfee Show. "I feel like in the locker room it's a close-knit group of guys, and we don't treat people differently based on the way that they talk, where they're from, what they're into, or what they look like."
Rodgers went on to say that the league has to continue promoting understanding and listening, but that the type of thoughts reportedly used in Gruden's emails had no place in the NFL.
"Hopefully, we can all as a league learn and grow from this, and hopefully, it puts people on notice who have some of those same opinions," he said. "Like, 'Hey, man, it's time to grow and evolve and change and connect. That s*** doesn't fly.'"
Rodgers wasn't alone in his critisisms of Gruden. Not even close.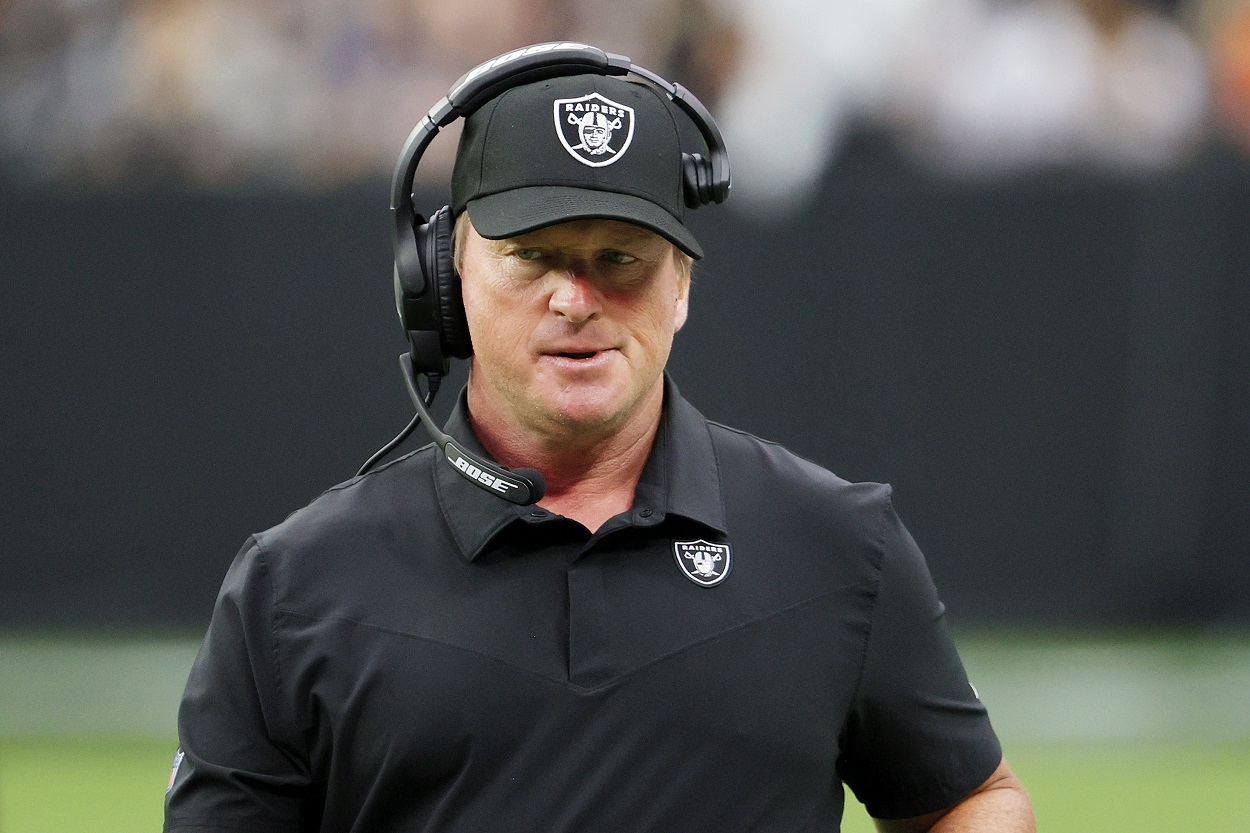 Rodgers was far from the only NFL figure with thoughts on Gruden's resignation.
Many were indignant — and for good reason. This wasn't just a random slip of the tongue from Gruden. This was years and years of emails that surfaced as part of a workplace misconduct investigation into the Washington Football Team. Gruden's emails were brought into the conversation because he was corresponding with then-Washington team president Bruce Allen.
Gruden's emails contained everything from a racist comment about NFL Players Association director DeMaurice Smith to offensive comments describing other coaches, media members, owners, and even NFL Commissioner Roger Goodell.
Keyshawn Johnson, who won a Super Bowl with Gruden when both were with the Tampa Bay Buccaneers, said that he thought Gruden has always been a fraud. Speaking of the Buccaneers, not even 24 hours after Gruden resigned from the Raiders, they removed the coach from their Ring of Honor.
These, along with Rodgers' comments, are just a smattering of the reaction.
Rodgers feels the diversity of today's NFL locker rooms makes coaches and players more connected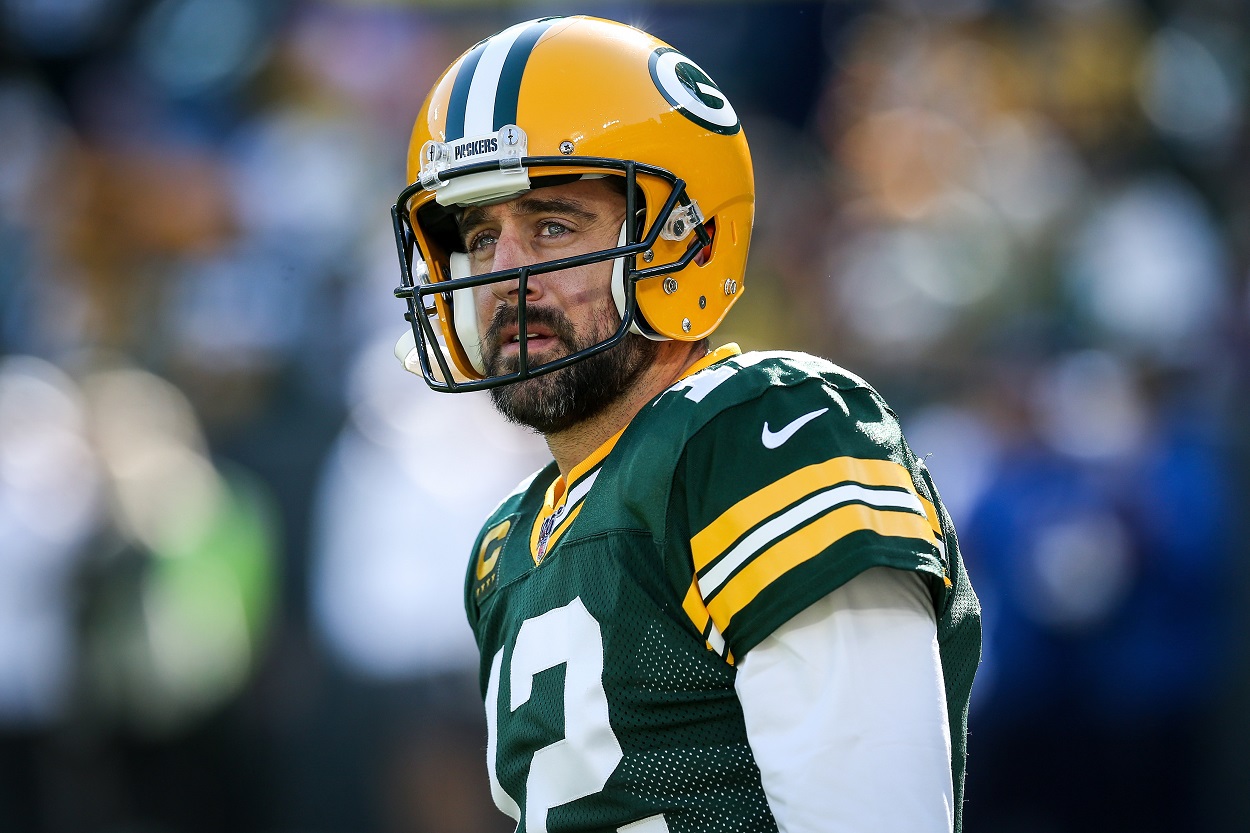 While admitting that there are likely outliers, Gruden being the most recent example, Rodgers did give a peek behind the curtain into the average NFL locker room.
There are 53 players on an active roster. Throw in inactive players, practice players, coaches, trainers, and all other types of staff, and the average NFL team in 2021 is made up of people from varying backgrounds who have a wide range of beliefs.
"I feel like the player, the coach today is a more empathetic, advanced, progressive, loving, connected type of person," Rodgers said.
He also warned of people getting stuck in an "echo chamber" that reinforces stereotypes and hate.
"I think we need to fight against that and listen to opinions that might be different than tenets that we hold onto," he pontificated. "Continue to grow and challenge our own belief systems. Why we believe what we believe. Questioning things is the only way to grow."
A locker room in the league is a microcosm of the country itself. And yes, there are still plenty of people with hate in their hearts. There are also people willing to change, grow, and be open about who they are.
There's still a long way to go, but the NFL has certainly grown and become a more inclusive league over the years. The league makeup is much different than it used to be, and that's a good thing.
RELATED: Everything You Need to Know About New Raiders Interim Head Coach Rich Bisaccia