Aaron Rodgers' Foolish Offseason Mistake Deserves Major Criticism Following the Packers' Embarrassing Week 1 Loss
We're only a week into the 2021 NFL season, and Aaron Rodgers is already off to a miserable start.
The future Hall of Fame quarterback threw for a measly 133 yards and two interceptions during the Green Bay Packers' blowout loss at the hands of the Jameis Winston-led New Orleans Saints. Rodgers' QBR currently sits at 17.8. It's by far the worst the two-time MVP has looked in quite some time.
While Rodgers will more than likely bounce back sooner than later, it's hard to ignore the impact that some of his offseason antics played in creating his horrific Week 1 performance. One foolish offseason decision in particular sticks out.
Aaron Rodgers' decision to skip OTAs this past offseason looks horrible in hindsight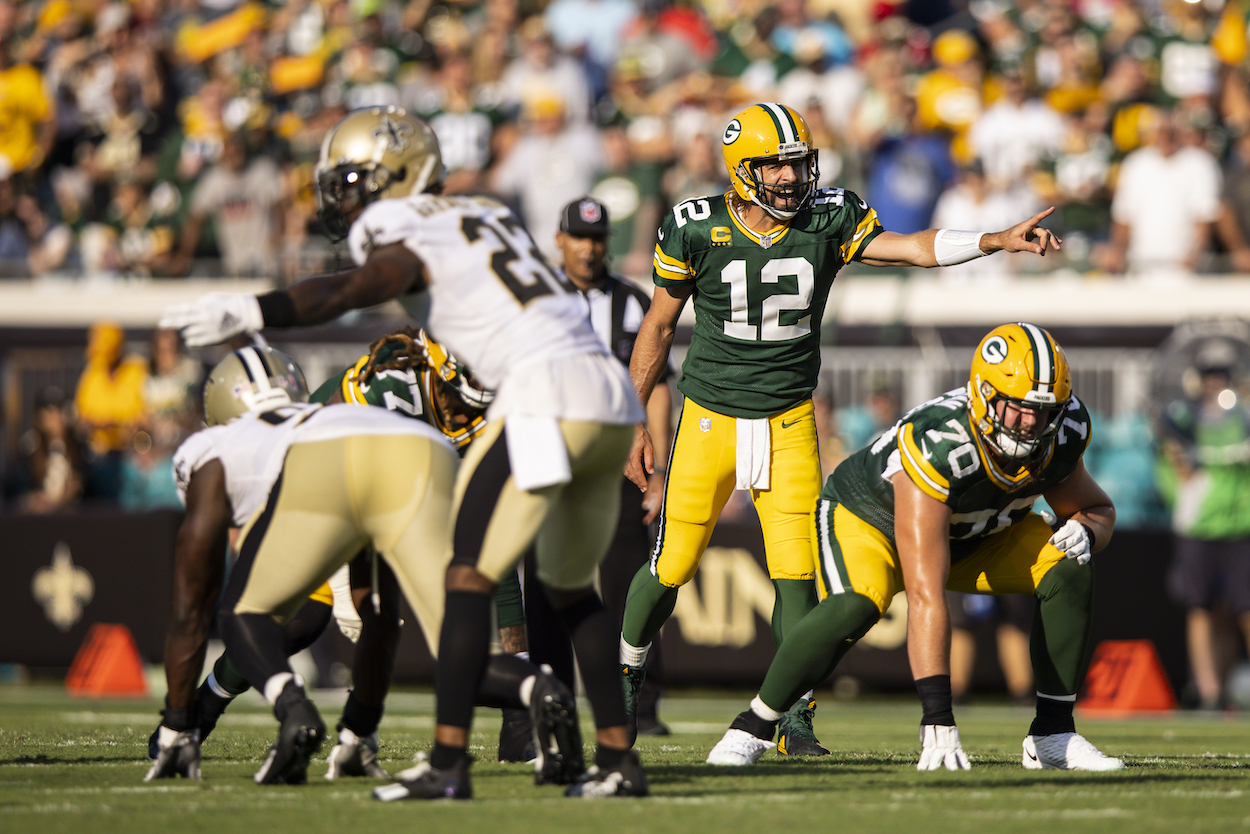 This past offseason, a whole lot was happening regarding Rodgers and his future in Green Bay.
Trade rumors were swirling left and right following the selection of QB Jordan Love during the 2020 NFL Draft and the subsequent postseason exit at the hands of Tom Brady and the Tampa Bay Buccaneers. Rodgers wasn't doing much to hide his frustration, either. He spoke candidly on more than one occasion about the potential of playing for a new team in 2021.
Obviously, Rodgers and the Packers front office came to a middle ground this offseason. However, it wasn't without major controversy and confusion beforehand. One of these offseason events included Rodgers skipping OTAs (organized team activities), something he had never done before during his 16-year NFL career.
The Packers' lack of chemistry and cohesion was evident against New Orleans
OTAs aren't a mandatory offseason activity for what it's worth. Players are allowed to skip them and take some extra vacation time with zero risks of receiving punishment or fines. However, it's become a bit of a silent rule around the NFL that starting QBs are supposed to be in attendance. It's a crucial time to build chemistry and rapport with new players, rookies, and/or coaches.
Amidst all the drama that occurred this past summer, Rodgers was undeniably using this mini "holdout" as a way to send a message to the Packers front office.
It's worth noting that a few of Rodgers' teammates — including star wide receiver Davante Adams — chose to skip OTAs alongside Rodgers as well. This further plays a role in assessing the team's lack of readiness during their embarrassing Week 1 defeat.
The pressure is on Aaron Rodgers moving forward
We'll never know exactly how much of an impact skipping OTAs had on the Packers' horrific Week 1 showing. However, what is clear is that the turmoil that the Packers experienced this past offseason plays a role in how this team lines up on Sunday. There's a giant, Aaron Rodgers-sized elephant in the room that no one really knows what to do with.
On one hand of the debate, it's Aaron Rodgers that we're talking about. He's an all-time great coming off an MVP season. On the other hand, the Packers have a young, strong-armed QB in Jordan Love, who took first-team reps throughout OTAs. If this Rodgers controversy refuses to go away, the Packers may very well begin looking to the future.
In the meantime, the pressure is on Rodgers to prove that skipping OTAs isn't that big of a deal. However, if he bombs again during Week 2, even more eyes will be pointed toward his foolish offseason approach.
All stats courtesy of Pro Football Reference.