Aaron Rodgers' Former Packers Teammate Sternly Calls out Green Bay for Its Mistreatment of Rodgers: 'You Can't Stay Stuck on Stupid'
Quarterback Aaron Rodgers' future with the Green Bay Packers is pretty unclear. He is coming off the third MVP season of his career and led the Packers to the NFC Championship Game for the second consecutive season, but Rodgers is 37 years old, and Green Bay just drafted Jordan Love — his potential replacement — in the 2020 NFL draft. Because of this, it is unknown whether Rodgers will play in Green Bay past the 2021 NFL season. This has led to his former Packers teammate Jeff Saturday recently calling Green Bay out.
Aaron Rodgers' future with the Green Bay Packers is unknown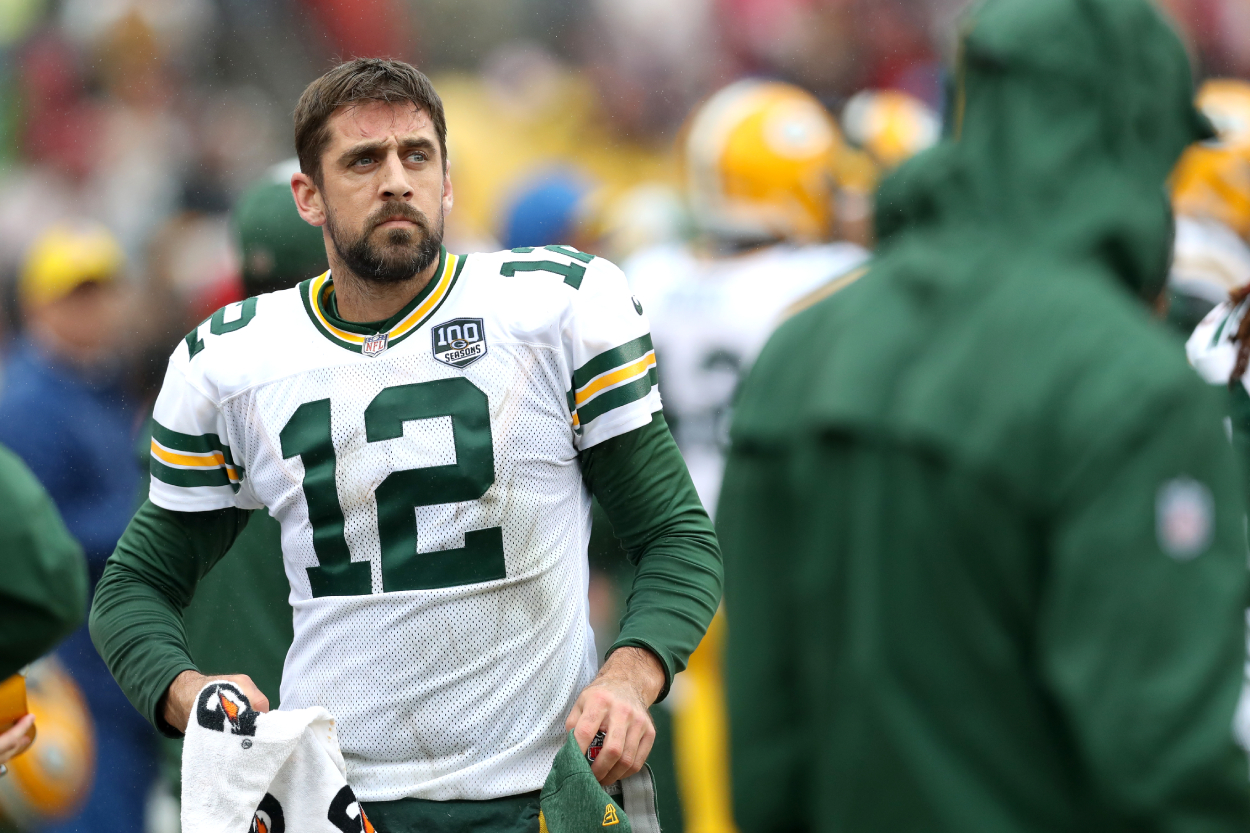 RELATED: Stephen A. Smith Sends Stern Message to the Packers, Says They Will 'Pay for' What They Just Did to Aaron Rodgers
Despite recently restructuring six players' contracts to help free up cap space, the Packers have not restructured quarterback Aaron Rodgers' deal. This could ultimately be because doing so would cost them more in 2022 and 2023, which would make it harder for them to move on from Rodgers after 2021 if they wish to do so. 
When asked about Rodgers' situation, Packers president Mark Murphy pretty much refused to answer.
"I can't really get into specific players," Murphy said, according to ESPN. "We've been able to create room with others."
Rodgers, who reportedly wants to be reassured that he is in Green Bay's plans beyond 2021, then appeared on SportsCenter on Saturday. It appears that he too doesn't know what the future holds.
"I said last year I didn't know if that was actually possible to be able to finish [in Green Bay]," Rodgers said. "I still feel like that's kind of where we're at. I don't know that a lot of that's in my hands. I guess we'll just kind of see as we go."
This has all led to Aaron Rodgers' former Packers teammate calling out Rodgers' team.
Jeff Saturday called out the Green Bay Packers
RELATED: Terrell Owens May Ignite a Rivalry With a New QB After Shooting His Shot With Aaron Rodgers' Ex
Jeff Saturday only played on the Green Bay Packers for one season in his career. He did, in fact, play with Aaron Rodgers in 2012, though, and Saturday recently took issue with the way that the Packers have handled Rodgers' situation.
"If Aaron felt like he really had the leverage and he could make the Packers show him how much they think of him in the future, he could have possibly tied an extension on to it," he said on the April 1 episode of First Take, speculating about Rodgers' contract discussions with the Packers. "I'm not sure exactly how it played out, but if the Packers wanted to show him, they could have. That's my only issue is, you continually get out in front of the public and say, 'Ah, no, we're not going stay committed to him.'"
Since making those comments last week, Saturday has continued to call out his former team. He believes that the Packers should give their legendary quarterback an extension. This would give Rodgers the assurances that he reportedly wants. It could also potentially help Green Bay's cap situation for 2021.
"[The Packers] can extend Rodgers; they're doing this to themselves," Saturday said on the April 4 episode of NFL Live. "You can't stay stuck on stupid. This is an MVP from last year. He's going to continue to play well. … I do not understand this in the slightest. They could help themselves on the cap; they can continue to win and give themselves a chance at the Super Bowl. Whatever they're doing in Green Bay, I do not understand it. It could all be solved with one simple meeting, one simple contract extension, and life would be good in Green Bay."
Saturday makes some good points. Giving Aaron Rodgers an extension, though, would potentially make it harder for the Packers to move on from him after 2021. So, the fact that they have not given him one may be a sign that a divorce is in their plans.
Aaron Rodgers is still an elite quarterback
RELATED: Aaron Rodgers Was Once Reportedly Told To 'Shut the Hell up and Go Play Football' by the Green Bay Packers
Moving on from Aaron Rodgers could be a massive mistake for the Packers. He has led them to two consecutive 13-3 seasons and to the NFC Championship Game in consecutive years.
Rodgers also had one of his best seasons in 2020, as he threw for 4,299 yards, an NFL-leading 48 touchdown passes, and five interceptions. This ultimately helped him win his third NFL MVP award, too.
Yes, Aaron Rodgers is 37 years old, but he is still playing at a high level. Athletes also seem to be playing longer and longer these days, so if Rodgers is anything like Tom Brady, he may still have quite a few years left in him. This means that if the Packers decide to move on from their future Hall of Fame quarterback, they could go from Super Bowl contenders to missing the playoffs.
It will be interesting to see what the Packers ultimately do.
Stats courtesy of Pro Football Reference