Aaron Rodgers' Former Pro Bowl Weapon Slams the Packers, Says What They're Doing Is 'Mind-Blowing'
While many questions have been answered so far throughout this NFL offseason (Carson Wentz is now with the Colts; Dak Prescott is the future of the Cowboys), one question still remains to be answered: what is quarterback Aaron Rodgers' future with the Green Bay Packers? Rodgers is coming off a third MVP season, but the Packers won't give him an extension, as it continues to look like they are planning to move on from him in the near future.
However, why would they want to move on from a quarterback who is still playing at an MVP level? That is essentially what Aaron Rodgers' former Pro Bowl weapon — as well as everyone else — is asking. The former Pro Bowl weapon is Jordy Nelson.
Aaron Rodgers has an uncertain future with the Packers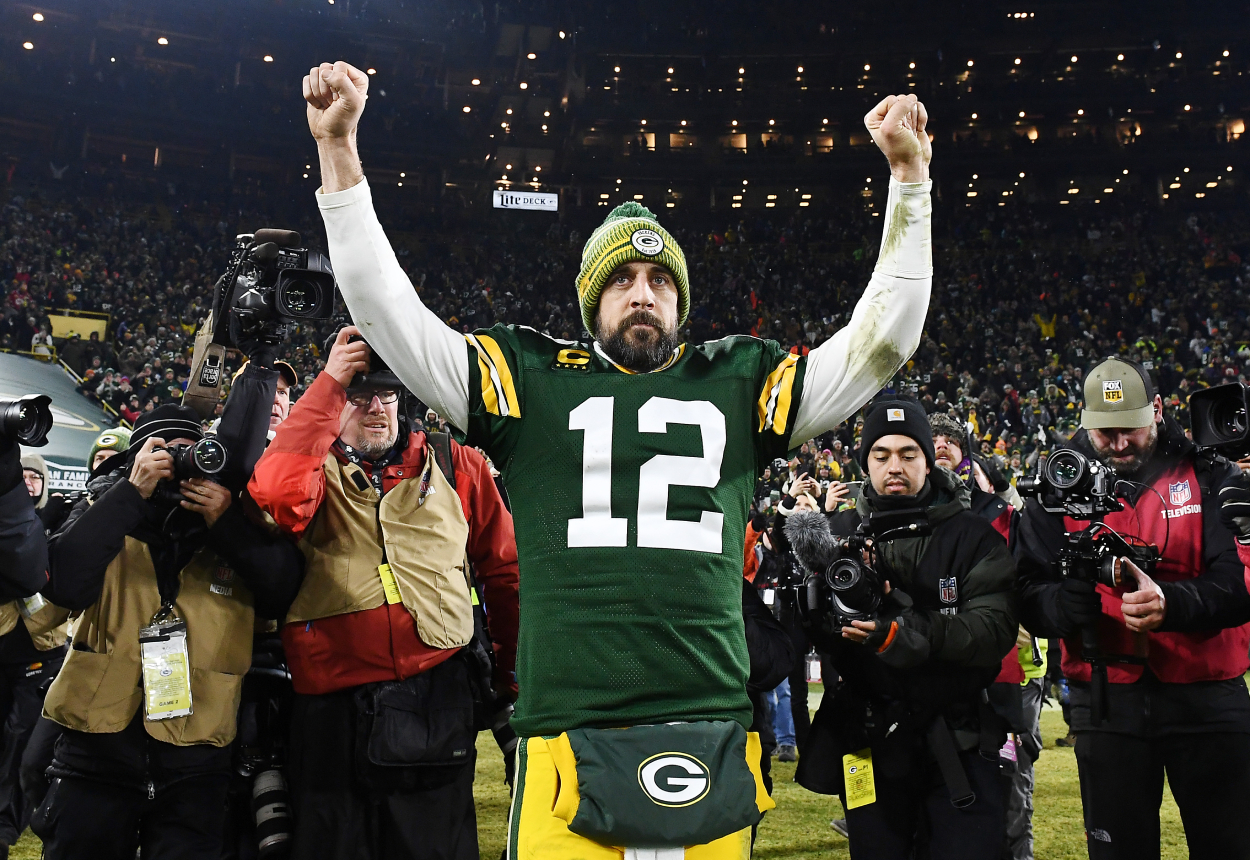 RELATED: Stephen A. Smith Blasts the Packers After Aaron Rodgers' Recent Comments, Says Green Bay Has Been 'Flagrantly Disrespectful'
Quarterback Aaron Rodgers just won his third career MVP with the Green Bay Packers in 2020. He threw for 4,299 yards, an NFL-leading 48 touchdown passes, and five interceptions. Rodgers also led Green Bay to a 13-3 record for the second consecutive season, and the Packers played in a second straight NFC Championship Game.
However, Green Bay pretty much showed its cards during the 2020 NFL draft when the team selected a quarterback in the first round instead of getting Rodgers some help. The Packers have since restructured six players' contracts this offseason to free up salary-cap space, but haven't touched Rodgers' contract at all, which could potentially makes it easier for them to move on from him after the 2021 season. Why is that the case? According to ProFootballTalk, Rodgers has no guaranteed money left after this upcoming year.
So, why can't the Packers just give Aaron Rodgers an extension? This would free up cap space for 2021, and their MVP quarterback would be happy. However, that would ultimately make it harder for them to move on from him after this season.
Still, many people think they should just do it anyway, though, especially after seeing how Rodgers played last year. This includes Rodgers' former Pro Bowl weapon — Jordy Nelson.
Jordy Nelson slammed the Green Bay Packers
RELATED: Aaron Rodgers' Former Packers Teammate Sternly Calls out Green Bay for Its Mistreatment of Rodgers: 'You Can't Stay Stuck on Stupid'
Jordy Nelson had a lot of success with Aaron Rodgers and the Green Bay Packers. He retired after the 2018 season, though, and hasn't played in Green Bay since 2017. But that hasn't kept him from having some thoughts on what the Packers are doing.
"It's mind-blowing sometimes, especially when he comes out and has an MVP year, and they don't wanna commit or do whatever they want to do to show appreciation or whatever it is for the next few years," Nelson said on the April 14 episode of The Pat McAfee Show. "Seems like it would be a pretty easy and simple move that I would say 100% if not 99.9% of people would agree with."
Well, that's interesting, but Jordy is just saying what everyone else is thinking — the Packers need to give Aaron Rodgers an extension.
If anyone knows what Rodgers deserves, too, it's Nelson, as they had an unreal connection with each other.
Aaron Rodgers and Jordy Nelson had a ton of success on the Packers
RELATED: Aaron Rodgers' Former Teammate Thinks the QB Is Motivated by His 'Beef' With the Packers: 'Aaron Rodgers Takes Things Very Personally'
The Packers selected Jordy Nelson in the second round of the 2008 NFL draft, and his rookie season was Aaron Rodgers' first season as the Packers' starter.
Nelson had some decent years through his first three seasons. He gained 366, 320, and then 582 yards from 2008 through 2010. However, Nelson came up big in the Packers' Super Bowl run during the 2010 season, as he caught nine passes for 140 yards and a TD in the Super Bowl win over the Steelers. This then kicked off a dominant run for Nelson and Rodgers.
Nelson ended up gaining over 1,000 receiving yards in four of five seasons from 2011 through 2016, not including the 2015 season that he missed due to a knee injury. He then even earned Pro Bowl honors with Rodgers in 2014, when he caught 98 passes for 1,519 years and 13 touchdowns. Nelson also led the NFL in touchdown catches in 2016 with 14. The 2016 Comeback Player of the Year ultimately last played with Aaron Rodgers on the Packers in 2017 before playing one season with the Raiders in 2018 and then retiring after that season.
Overall, according to USA Today's Packers Wire, Rodgers completed 470-of-705 passes to Nelson over the nine seasons they played together for 6,919 yards and 65 touchdowns. They had an unreal connection.
So, if Jordy Nelson thinks that Aaron Rodgers deserves a contract extension from the Packers, he deserves it. Green Bay needs to get it done.
Stats courtesy of Pro Football Reference