Aaron Rodgers' Former Teammate Has an Entirely Different Stance on the QB's Beef With the Packers: 'I Think It's Fixable'
The hottest topic around the NFL right now is about whether Aaron Rodgers will suit up for the Green Bay Packers in 2021. Many experts and former players have made it seem like the chances of that happening are close to zero, especially since reports came out suggesting he could maybe even retire instead of play for Green Bay next season. However, Rodgers' old teammate has an entirely different stance on what's going on.
That old teammate is former Packers wide receiver James Jones.
What is going on with Aaron Rodgers and the Packers?
Many fans began wondering if Rodgers' Packers tenure was near its end once the team drafted Jordan Love in 2020. The speculation then became even more significant after the 2020 season.
In addition to Rodgers making some head-scratching comments following Green Bay's NFC Championship Game loss to the Tampa Bay Buccaneers, the Packers failed to give Rodgers a contract extension by the time the NFL draft rolled around. They also chose not to rework his current deal.
Then, ESPN dropped a bombshell.
The big report, which came out the day of the draft, claimed Rodgers had spoken to people within the franchise about not returning in 2021. Yahoo Sports then followed that up with a report saying Rodgers had essentially made it clear that he wants Green Bay to get rid of general manager Brian Gutenkunst, or he won't come back.
There have also been reports stating that Rodgers could retire if the Packers don't make an effort to fix the situation, while others have said he is interested in playing for multiple other teams.
However, just as fast as the negative reports came out, some positive ones have also come to light, as Rodgers' former teammate John Kuhn said he thinks it's between a 70% to 75% chance Rodgers plays for the Packers in 2021.
James Jones gives a positive report about his former quarterback
Jones played receiver for the Packers from 2007 to 2013 and again in 2015. He recently appeared on NFL Now, and gave some interesting insight into Rodgers' situation.
"I speak with Aaron all the time," Jones said, per NFL.com. "I talk to him a lot and it has nothing to do about getting the GM fired. It has nothing to do about getting a new contract and getting money. Everything that Aaron Rodgers has done since he's been a Green Bay Packer, this is not him, he's not a guy that's going to go out there and leak all this stuff and say he wants out of there and be giving all this stuff to the media. That's never been him."
He continued: "So, whoever leaked this or whoever's coming out saying that, as a friend of Aaron Rodgers, I can say that it's not him. And it's never been him to do anything like that. So, when the organization side of it comes into place and you talk about him and the GM and the head coach working together, I think it's fixable, I think they'll be able to get that stuff done. But I think that's what it's about."
The phrase "it's fixable" may be the two best words Packers fans have heard (or read) all offseason.
Jones didn't give us a clear answer as to whether Rodgers will be back in Green Bay in 2021, but he seems pretty optimistic. And if anyone knows how Rodgers is feeling, it's probably Jones.
James Jones and Aaron Rodgers had a tight connection on the Packers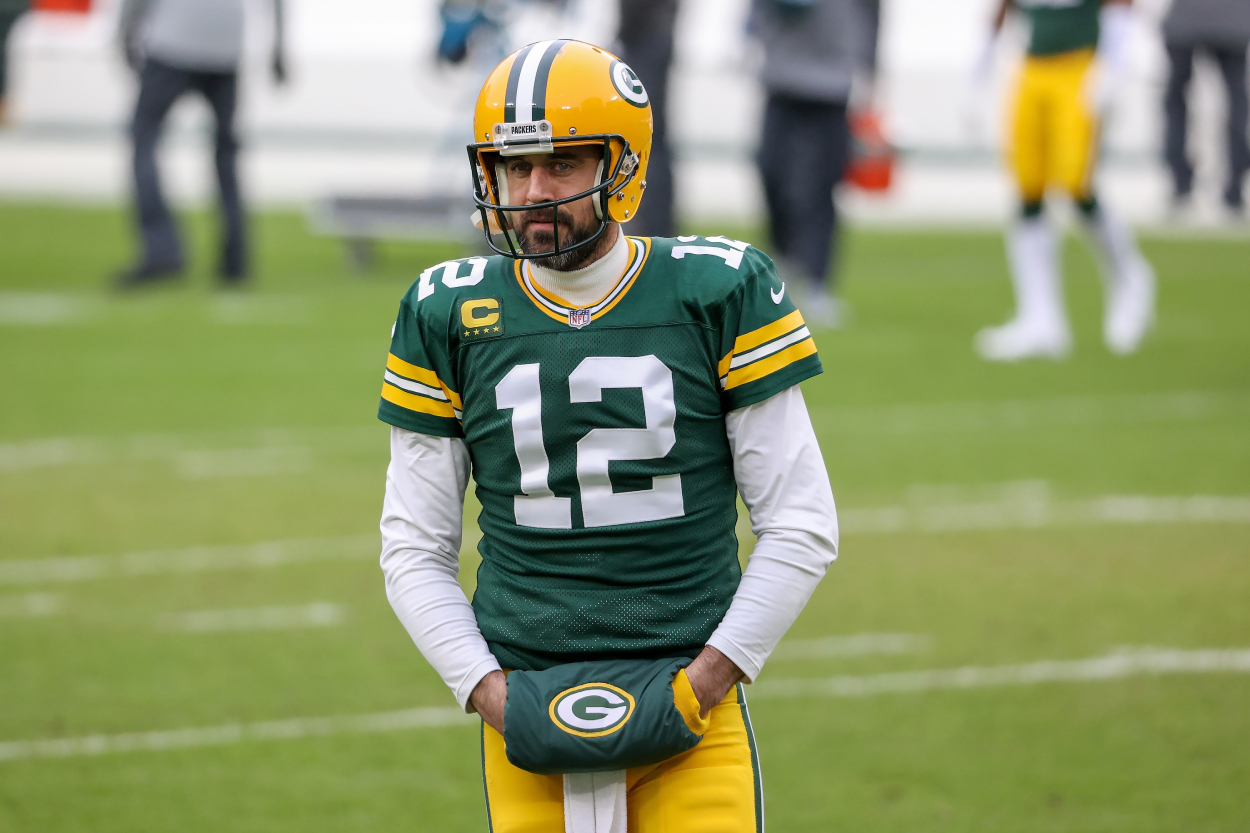 Jones was never a No. 1 receiver for the Packers, but he was extremely reliable for Rodgers in the years they played together in Green Bay.
The Packers drafted Jones in the third round of the 2007 NFL draft, which was Rodgers' final year as Brett Favre's backup. Jones then never racked up a ton of yards, but he was always there when Rodgers needed him and became a dangerous end-zone threat.
Jones recorded over 630 receiving yards each season from 2010 through 2015 (all but one coming with the Packers). He then gained a career-high 890 yards with Rodgers in 2015, but also led the NFL with 14 touchdown catches in 2012.
Overall, through eight years in Green Bay, Jones caught 360 passes for 5,195 yards and 45 touchdowns. He also helped Rodgers and the Packers win a Super Bowl during the 2010 season.
Jones may not have given us a clear answer as to what the future holds for Rodgers and Green Bay, but if he feels the Packers can repair their relationship with the QB, his past connection with Rodgers shows that we should believe him.
Stats courtesy of Pro Football Reference