Aaron Rodgers' Former Teammate Thinks He'll Follow in Drew Brees' Footsteps in 2022
We could see another legendary quarterback on a new team very soon. After watching Tom Brady win a Super Bowl on the Tampa Bay Buccaneers last season, there's a chance Aaron Rodgers could play on a team other than the Green Bay Packers next year.
Of course, we don't know that for sure, but Rodgers' former teammate thinks he will play on another all-time great quarterback's former squad in 2022: Drew Brees' New Orleans Saints.
Aaron Rodgers' future with the Packers is unclear
The NFL's biggest storyline this offseason was whether Aaron Rodgers would play for the Packers in 2021.
For months, rumors regarding Rodgers' relationship with Green Bay flew around from every direction, and the reigning NFL MVP never really confirmed or denied them. Fans were essentially left assuming that there was a least some truth to the reports.
It turns out there was.
Rodgers showed up to training camp at the end of July and aired out all his problems with the Packers in a press conference. One of his main issues is that he just wants to be a part of personnel conversations. He also hasn't appreciated how the organization has treated players as they're leaving Green Bay.
Despite him currently preparing for the 2021 season, though, Rodgers seemed unsure whether the Packers would change their ways or not, which has led to speculation around him potentially playing for another team in 2022.
His re-worked deal also potentially points to that, as Rodgers' $46.1 million salary cap hit for the 2022 campaign means he will likely either be traded or receive a contract extension after this season, per ESPN.
So, if the Packers do trade Rodgers, where would he go? His former teammate has an idea.
His former teammate thinks he will play for the Saints
The New Orleans Saints just saw their legendary quarterback, Drew Brees, retire after the 2020 season. They now must figure out how to fill the hole left by the man who won them a Super Bowl and ranks No. 1 in NFL history in passing yards and No. 2 in passing touchdowns.
Rodgers' former teammate, Will Blackmon, who played defensive back for the Packers from 2006 through 2009 before also playing on the New York Giants, Jacksonville Jaguars, and the Washington Football Team, recently discussed his relationship with Rodgers. He also predicted where he thinks he will play in 2022.
"Aaron and I, we got along great, we still get along great, still talk once in a while," Blackmon said to TMZ Sports. "I never, never had an issue with him. I love him as a friend, I did as a teammate. He's definitely still my favorite quarterback."
He continued: "Next year, Aaron Rodgers will be a New Orleans Saint if Jameis [Winston] doesn't get it done."
It's unclear whether Blackmon has even talked to Rodgers about the situation, but if they're, in fact, still friends, it's definitely interesting to know that he thinks New Orleans will be his former QB's next destination.
Aaron Rodgers would be great on the Saints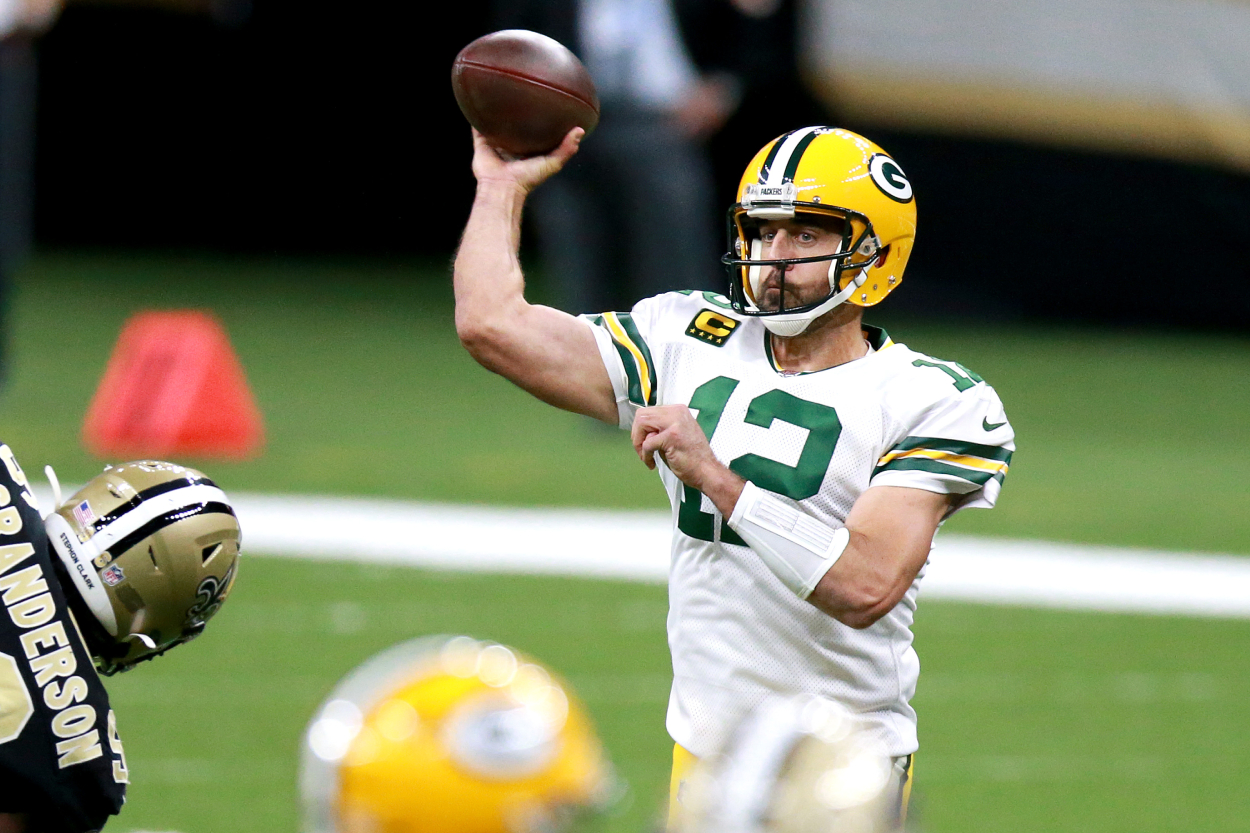 There's currently drama between the New Orleans Saints and 2019 first-team All-Pro receiver Michael Thomas, per NFL.com. It comes in light of the news that Thomas will likely miss the start of the 2021 season with an ankle injury.
However, if both sides can work things out, Rodgers would have a stacked team to go to in 2022 if he were to sign with the Saints.
Thomas has proven to be one of the best receivers in the NFL, and Alvin Kamara is one of the best pass-catching backs. They were both huge for Brees during his final few seasons and could be dangerous with a QB like Rodgers. New Orleans also has a solid defense that would keep the offense from having to score every time it touches the ball.
The Saints have ultimately proven they can win with several different quarterbacks, as Teddy Bridgewater and Taysom Hill both won games for them the past two seasons. Rodgers on that team would instantly make New Orleans Super Bowl favorites.
If Blackmon's prediction proves to be true, Rodgers could pull a Tom Brady and Peyton Manning by winning a Super Bowl on another team. It would certainly be fun to watch, and would be the perfect revenge for Rodgers to get on the Packers
Like Sportscasting on Facebook. Follow us on Twitter @sportscasting19.