Aaron Rodgers' Former Teammate Thinks the QB Is Motivated by His 'Beef' With the Packers: 'Aaron Rodgers Takes Things Very Personally'
One of the biggest question marks in the NFL this offseason has been Aaron Rodgers' future with the Green Bay Packers. After Rodgers made some controversial comments following the Packers' loss in the NFC Championship Game, both sides have tried to make it clear that he isn't going anywhere. However, the Packers still haven't restructured Aaron Rodgers' contract. This is in addition to not giving him a new contract extension, either, which has led to more speculation about his future. With all this in mind, Rodgers' former teammate recently made some interesting comments about the QB.
The Packers haven't restructured Aaron Rodgers' contract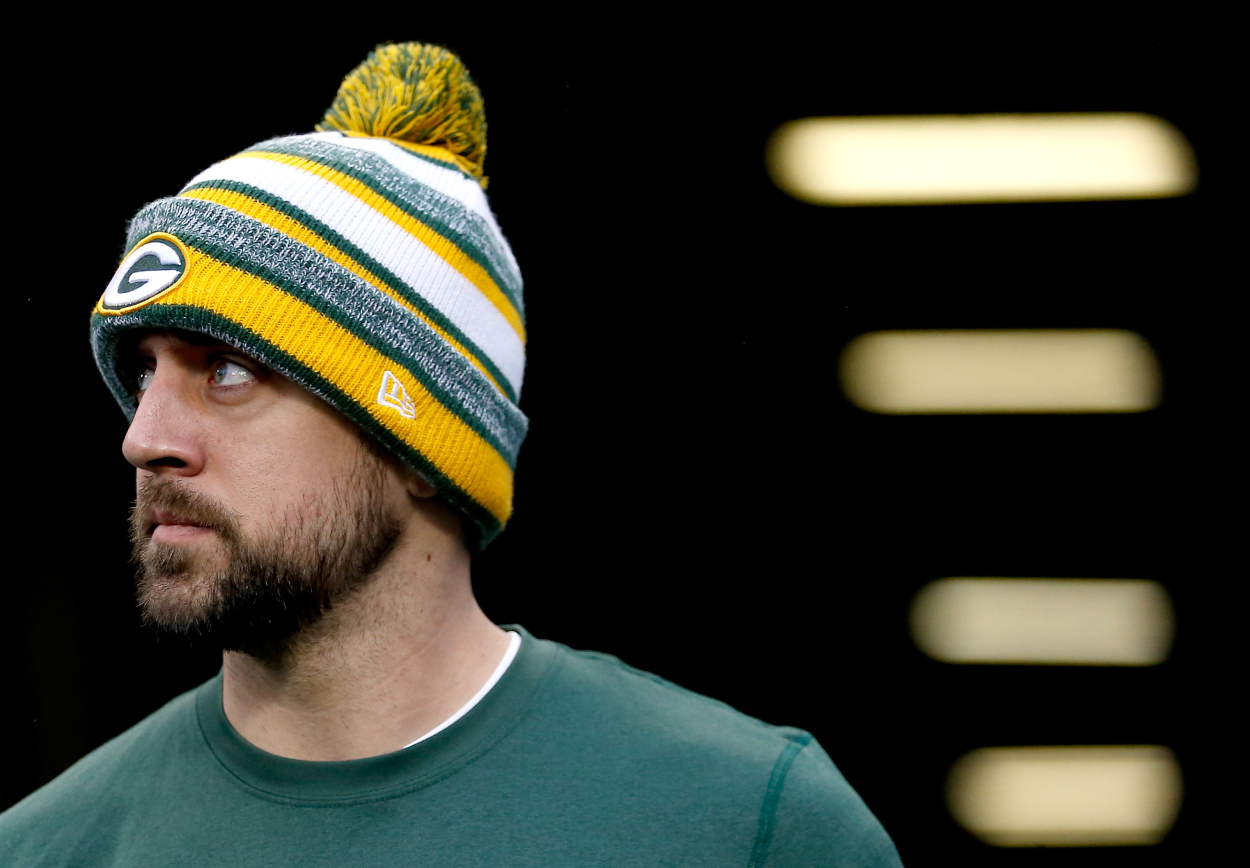 RELATED: Terrell Owens May Ignite a Rivalry With a New QB After Shooting His Shot With Aaron Rodgers' Ex
The Green Bay Packers have restructured six players' contracts throughout this offseason with the priority of creating more salary-cap space. They could ultimately do the same thing with Aaron Rodgers. However, that would make him cost more in 2022 and 2023, which would potentially make it harder for the Packers to move on from him after this upcoming season.
When recently asked why the Packers haven't changed Rodgers' contract, Packers president Mark Murphy essentially refused to answer.
"I can't really get into specific players," Murphy said, according to ESPN. "We've been able to create room with others."
Murphy also received a question, asking why the Packers wouldn't want to make sure that Rodgers is the team's quarterback beyond the 2021 season.
"Yeah, I'm not going to get [into] the specifics again. Good try, though," he said, according to ESPN.
All of this drama comes after the Packers drafted Rodgers' potential replacement last offseason in Jordan Love. Rodgers also made some interesting comments after the team's NFC Championship Game loss.
"[The Packers have] a lot of guys' futures that are uncertain — myself included," he said, per ESPN. "That's what's sad about it, most, getting this far. Obviously, it's going to be an end at some point, whether we make it past this one or not, but just the uncertainty's tough and finality of it all."
Whether Rodgers plays in Green Bay past 2021 or not, his former teammate thinks that his potential beef with the team is the reason he played at such a high level in 2020.
Jeff Saturday thinks the Packers' QB is motivated by a potential beef
RELATED: Aaron Rodgers Was Once Reportedly Told To 'Shut the Hell up and Go Play Football' by the Green Bay Packers
Jeff Saturday is known for being Peyton Manning's center. In 2012, though, he played with Aaron Rodgers on the Packers. Saturday recently discussed Rodgers' situation with Green Bay on ESPN, too.
"This team is a very good football team," Saturday said on the April 1 episode of First Take. "… [When] they draft a quarterback in the first round that you know will probably not play for four years, maybe five with the way that Aaron Rodgers is playing. Did that really make them a better football team? … When you look at Aaron Rodgers and the level of play he's at, I think the beef with the Packers is what's producing part of that. This guy is a motivated guy. … Aaron Rodgers takes things very personally, and that's what takes good to great."
Saturday also took issue with the Packers not showing Rodgers that he is in their plans beyond 2021.
"It's interesting that they restructured six or seven other players to make space. They may have went to Aaron to ask him but not wanted to do an extension with it," Saturday said, speculating about the situation. "… If Aaron felt like he really had the leverage and he could make the Packers show him how much they think of him in the future, he could have possibly tied an extension on to it. I'm not sure exactly how it played out, but if the Packers wanted to show him, they could have. That's my only issue is, you continually get out in front of the public and say, 'Ah, no, we're not going stay committed to him.'"
If one thing is clear about this situation, it's certainly messy. No matter what happens this offseason, though, it appears that Aaron Rodgers is going to take this drama with the Packers and use it to fuel his elite-level play.
Aaron Rodgers has proven to the Packers that he is still elite
RELATED: Aaron Rodgers May Finally Bury the Hatchet With 1 of His Worst Enemies This Offseason
Aaron Rodgers turned 37 years old during the 2020 season. Age didn't keep him from playing at a high level, though.
Rodgers threw for 4,299 yards, an NFL-leading 48 touchdown passes, and five interceptions. This helped him win his third NFL MVP award. It also helped Green Bay go 13-3 record and reach the NFC Championship Game for the second consecutive season.
It's simple: his 2020 season was incredible. If Aaron Rodgers' contract situation with the Packers doesn't have a resolution by the end of this offseason, we can probably expect another spite-fueled run by Rodgers.
Stats courtesy of Pro Football Reference