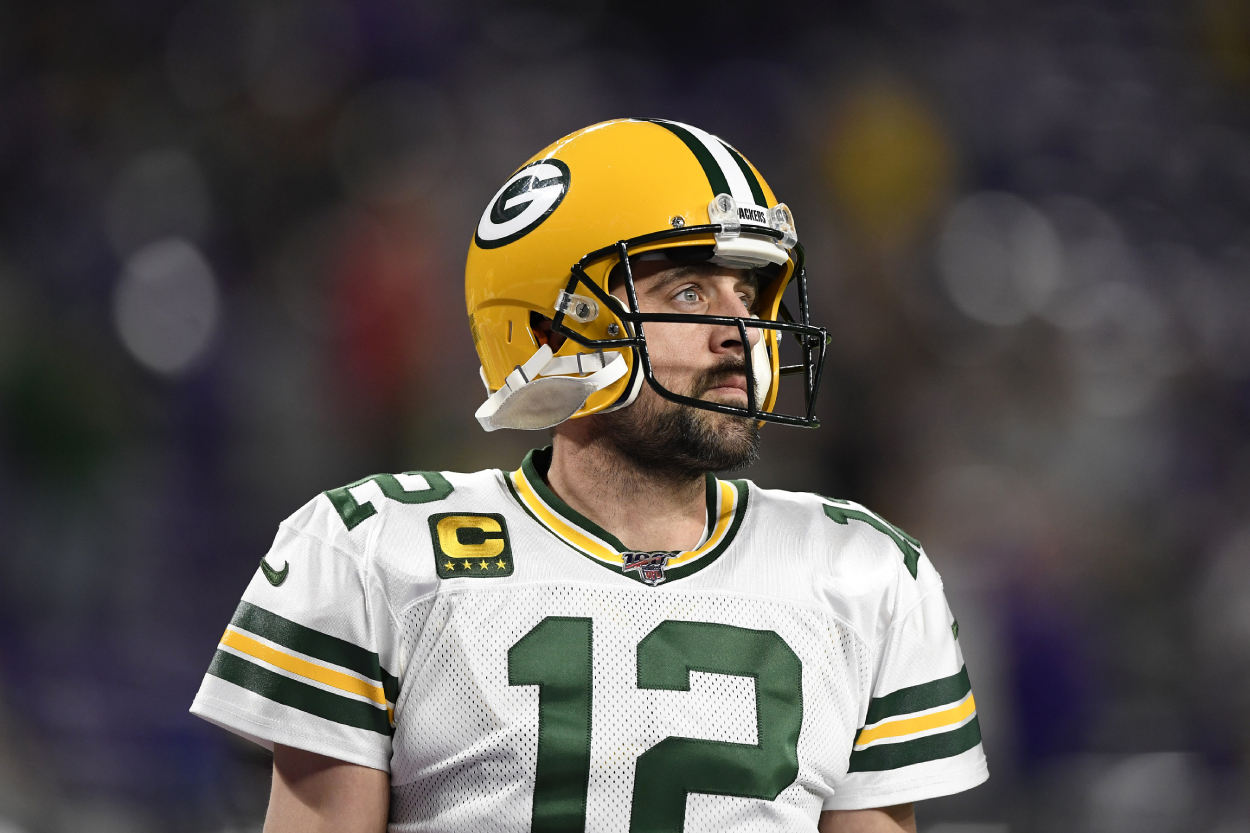 Aaron Rodgers' Friend and Former Teammate Sends a Stern Message About the QB's Future: 'That's the Dumbest Thing I've Ever Heard'
Aaron Rodgers' future with the Green Bay Packers is unknown, but his friend and former teammate has a stern message about one possibility. This looks at Rodgers' problems with the Packers, what his former teammate said, and how Rodgers is still an elite quarterback no matter where he plays in 2021.
What's the NFL offseason without some quarterback controversy? OK, we typically don't get controversy of this magnitude as Aaron Rodgers is one of the greatest quarterbacks of all time and the reigning league MVP, but it appears he could realistically leave the Green Bay Packers if they don't start showing him some respect.
Several different scenarios have been floated about Rodgers' next potential move. Could he force a trade? Will he just not show up to training camp or practice? Could he retire and host Jeopardy!? Rodgers' friend and former teammate recently addressed the latter and had a strong message about the quarterback's future.
Reports say Aaron Rodgers could retire instead of playing for the Packers
Fans and experts have wondered about Rodgers and the Packers potentially heading toward divorce ever since Green Bay drafted Jordan Love in the first round last year. In the past few months, rumors and reports have emerged about Rodgers wanting the Packers to prove they are committed to him, and those have added fuel to the fire.
However, the biggest bombshell surfaced right before the 2021 NFL draft when ESPN reported that Rodgers told people in the organization that he doesn't want to return to Green Bay. More reports then followed, including one from Yahoo Sports, saying he only wants to return if general manager Brian Gutekunst is gone, and another from NFL Network's Ian Rapoport that suggested Rodgers is seriously considering retirement.
It's hard to imagine Rodgers retiring unless it's a scenario like Carson Palmer's with the Cincinnati Bengals, in which he essentially threatened to retire just so he could force his way out.
Rodgers' friend and former teammate A.J. Hawk, though, has a strong message about that speculation.
A.J. Hawk thinks there's no chance Rodgers retires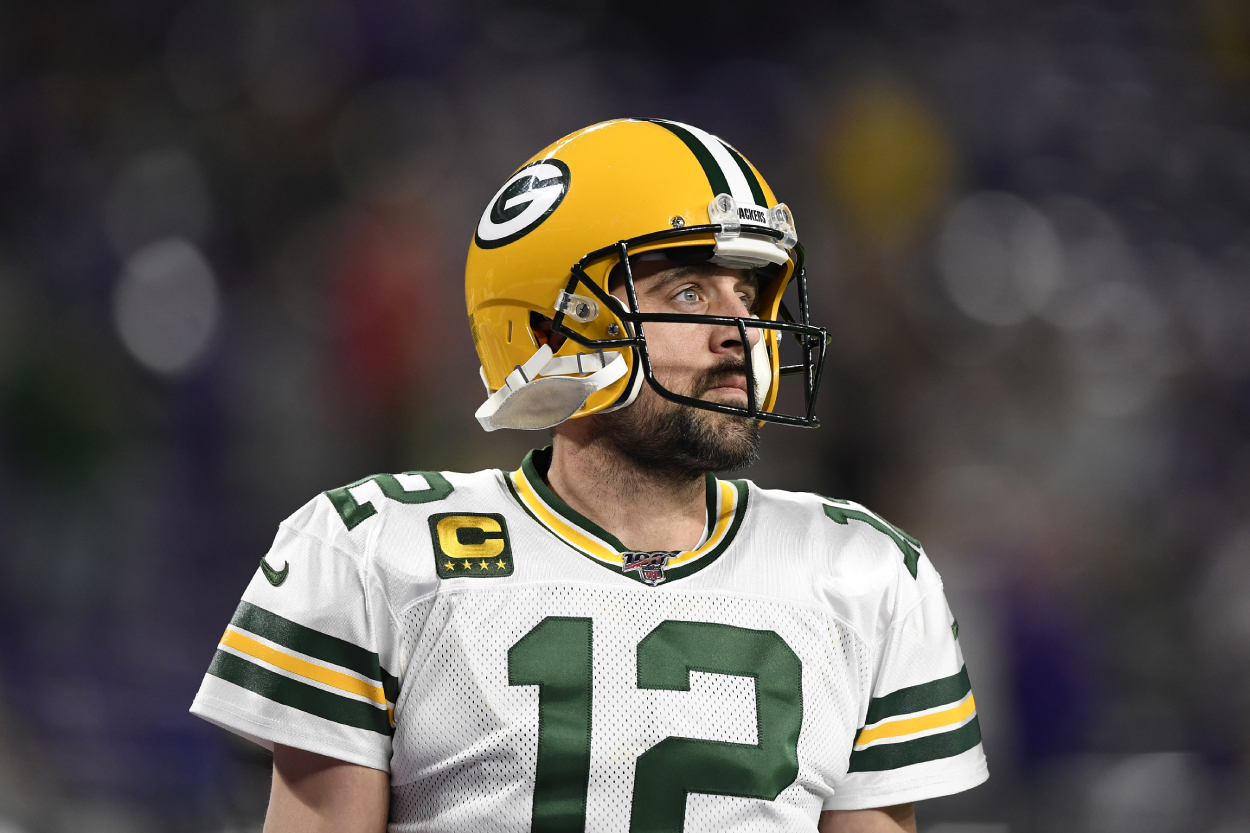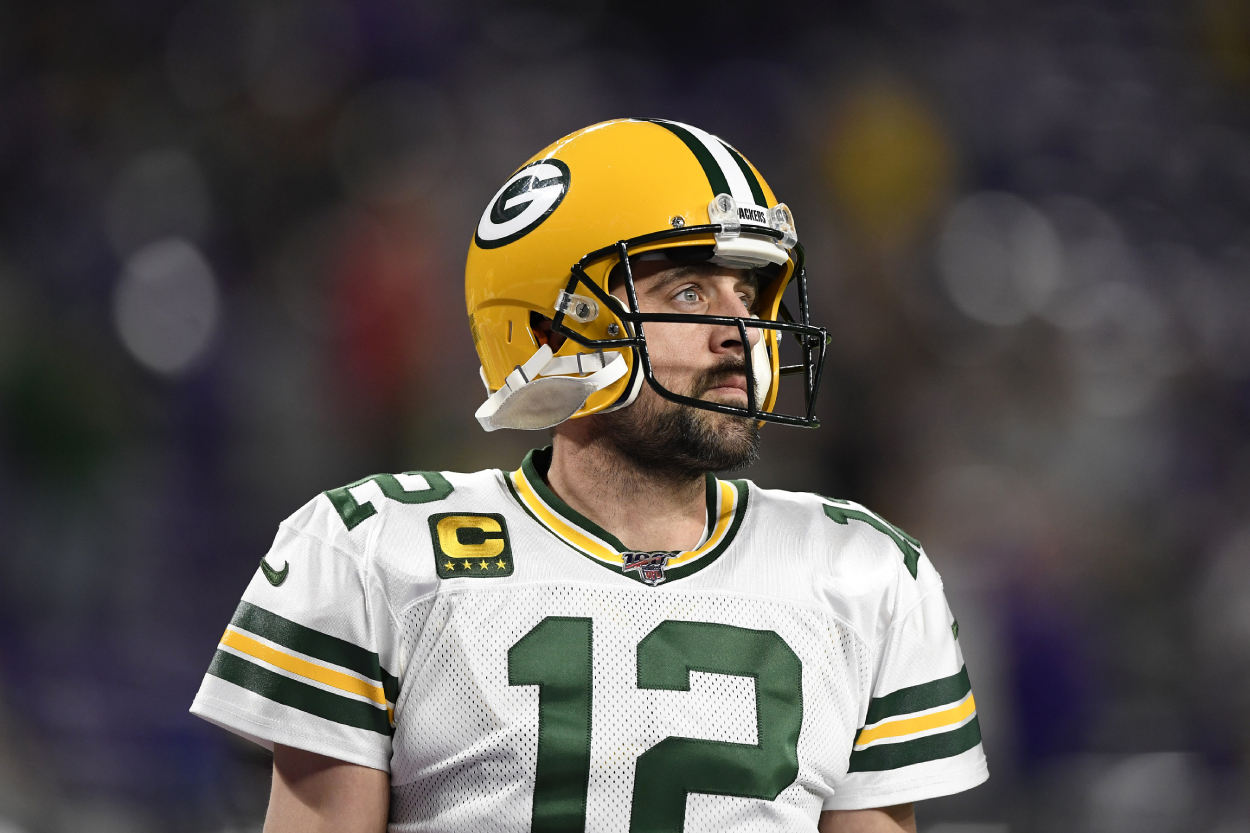 Hawk played with Rodgers on the Packers from 2006 through 2014. He also attended the 2021 Kentucky Derby with Rodgers and then, on May 3, made his regular appearance on The Pat McAfee Show.  He ultimately had some strong words about Rodgers' situation.
"My opinion would be there is a 0% chance Aaron retires," Hawk said on the May 3 episode. "… If you go back and you listen to him speak on the competitive nature of what football is and what it brings him. You really think that dude's gonna walk away from the game? … When I heard that floated out there, I was like, 'That's the dumbest thing I've ever heard. I guarantee you he's not retiring.'"
Hawk also said he doesn't think the reports about Rodgers giving the Packers an ultimatum regarding Gutekunst are accurate.
"That's garbage too, I think," Hawk said. "I definitely do not think that Aaron is out there trying to say, 'Fire Gute.' … I'm not speaking for him. I'm just telling you what my feelings are from being around him."
The Packers' defensive legend didn't stop there, though. He also cleared up a common misconception about the situation.
"It's not about drafting Jordan Love," he added. "That wasn't like a big pivotal moment. … It's just things over time, I feel like, probably tiny little things they could have done to make him be like a partner with them,  make him feel like, 'Hey you have some kind of say or we're gonna keep you in the loop.'"
Based on all the reports from around the media landscape, it appears Rodgers just wants the Packers to commit to him and would also like more say in personnel decisions. It's unclear, though, whether he will get either of those things.
Aaron Rodgers is still an elite quarterback
No matter where Rodgers plays in 2021, he's still one of the best quarterbacks in the NFL.
Rodgers led the Packers to two straight 13-3 seasons and consecutive NFC Championship Game appearances in 2019 and 2020. He is also coming off his third MVP season in 2020 after throwing for 4,299 yards, 48 touchdowns, and only five interceptions.
It's unclear what team Rodgers will play for in 2021. But no matter where it is, he still has a chance to lead a team to a ton of success.
Stats courtesy of Pro Football Reference