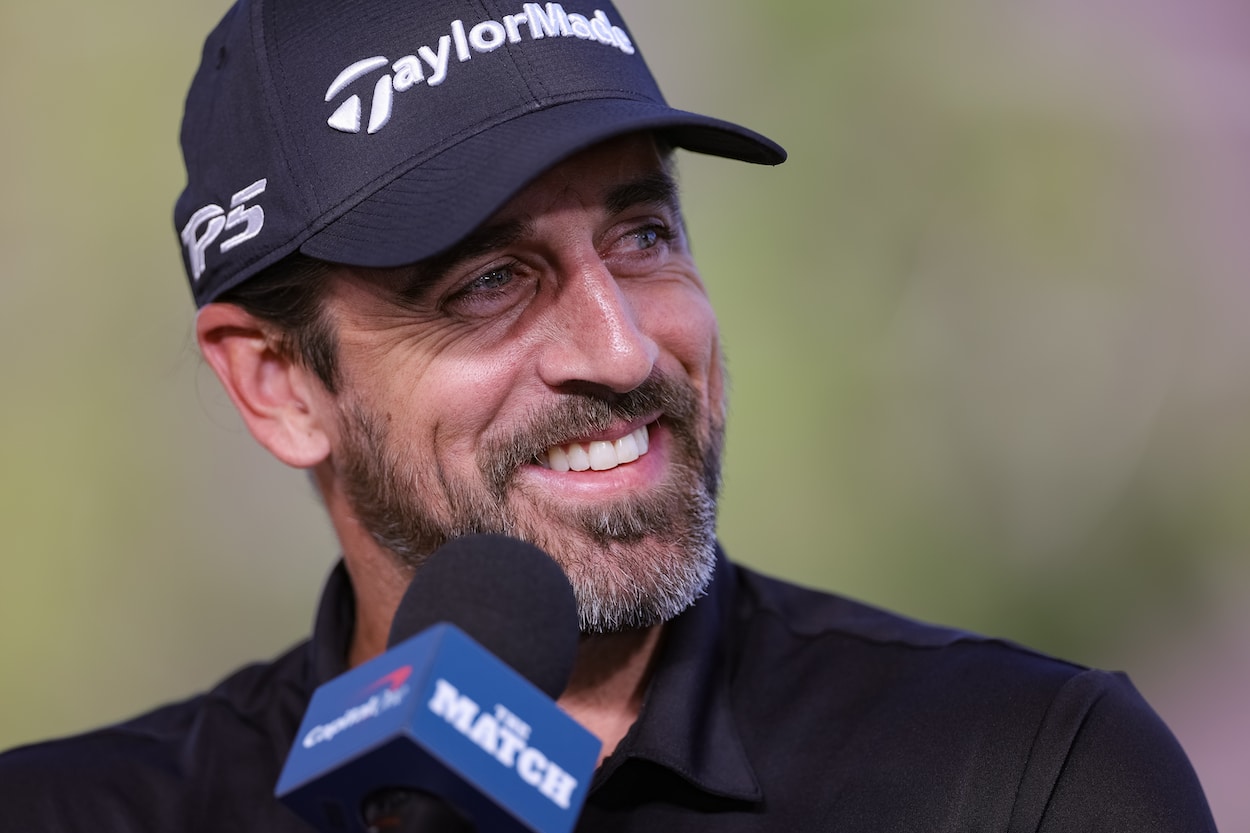 Aaron Rodgers Gets Blasted by ESPN's Keyshawn Johnson and Dianna Russini for Retirement Talk: 'I Really Don't Give a Damn'
Aaron Rodgers discussed his retirement after 'The Match' but many who've been talking about the QB nonstop for a year plus don't care anymore.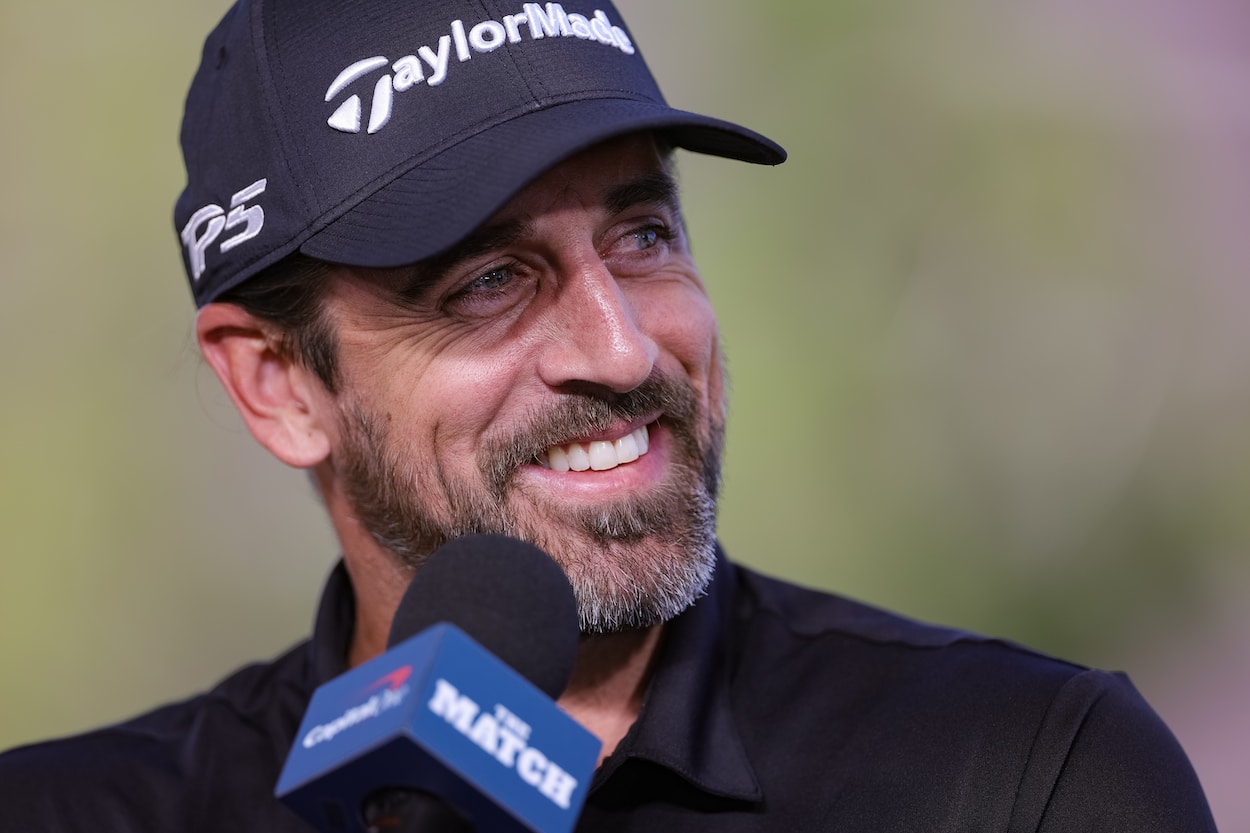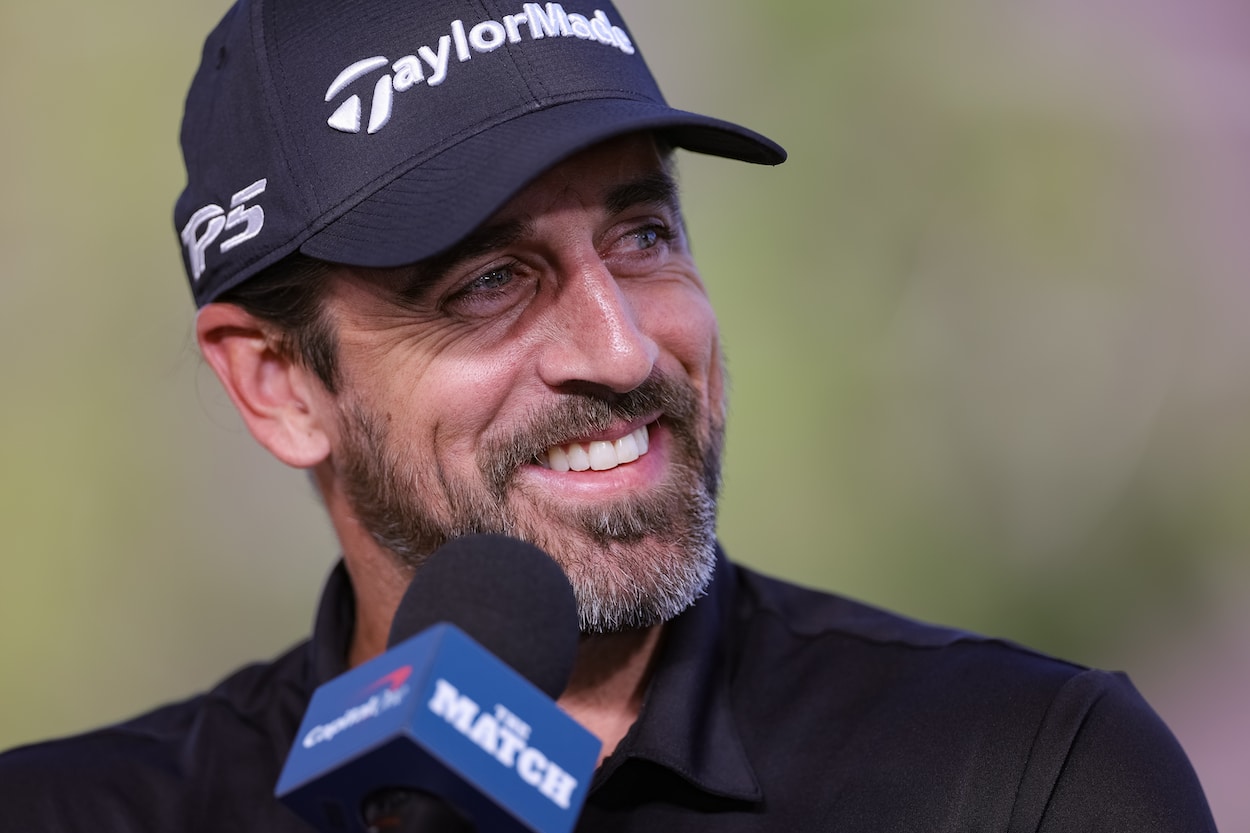 Despite it being the dog days of the NFL calendar, Green Bay Packers quarterback Aaron Rodgers can still make news for the smallest thing. This time, the media frenzy is because the polarizing passer discussed retirement while promoting The Match golf tournament. While this is big news to some, ESPN insider Dianna Russini and former NFL wider receiver Keyshawn Johnson are over all the Rodgers drama.
Aaron Rodgers discussed retirement leading into 'The Match'
On Wednesday, June 1, 2022, Green Bay Packers quarterback Aaron Rodgers and Tampa Bay Buccaneers signal-caller Tom Brady took on the young QBs from the Buffalo Bills and Kansas City Chiefs in Josh Allen and Patrick Mahomes in a made-for-TV golf challenge, The Match.
The old vets won the match, but Rodgers was (of course) the one to make news following the round.
Speaking with TNT's Ernie Johnson, Rodgers said, "I think about [retirement] all the time."
The Packer passer added, "When you commit, you're 100 percent. But the older you get, the interests change, and the grind, I think, wears on you a little more."
"The football part is the easy part," Rodgers told EJ. "That's the joy. It's the other stuff that wears on you and makes you think about life after football. Tommy [Brady] obviously set the bar so high with playing so many years, but I can definitely see the end coming."
For Packers fans and dedicated Rodgers watchers, all this might be fascinating. However, to the fans and football media that don't breathlessly follow Rodgers' every move, all the constant Rodgers coverage/speculation is getting a bit old.
No one feels this more, apparently, than ESPN insider Dianna Russini and former Pro Bowl WR Keyshawn Johnson.  
Keyshawn Johnson and Dianna Russini went off on Rodgers for retirement talk
ESPN's NFL insider Dianna Russini joined the Keyshawn, JWill, and Max morning show on ESPN Radio ahead of Aaron Rodgers reporting to Green Bay Packers. Russini started the segment by going off on Rodgers and dissecting his retirement comments:
Congratulations, Aaron Rodgers. You now get the headlines again. Because guess what we're talking about to start out this football segment? Aaron Rodgers again! We did this all last year. … Now we're going to have conversations about him retiring? … The grind — I believe him. When I talk to players about camp, training, just dealing with everything that comes with football, it's exhausting. Just like everyone driving to work right now. We're all tired of work. But I truly believe he loves the game and I do think it's going to be very hard for Aaron Rodgers to walk away from football with just one Super Bowl. … I don't think he wants his legacy to be one of the greatest quarterbacks to ever play the game, and only won once.  

Dianna Russini on Aaron Rodgers retirement talk
Keyshawn Johnson agreed with Russini that Rodgers' comments are "not news."
He said that this is a common response for all longtime, great athletes. Johnson believes Rodgers' retirement will come when the time is right. But until then, the 1996 overall No. 1 pick says, "I'm not going to talk about whether or not Aaron Rodgers is going to retire all the way to January, because I really don't give a damn!"
Where does the Green Bay QB rank on the all-time greatest list?
Whenever Aaron Rodgers does hit retirement, he will go directly to the Pro Football Hall of Fame. Don't pass Go. Don't collect $200. Just go straight to Canton.
But where does Rodgers rank among the best NFL quarterbacks of all time?
Rodgers is currently 10th all-time in passing yards (55,360) and completions (4,651), second in passer rating (104.5), and fifth in passing touchdowns (449). He has 10 Pro Bowl appearances and four All-Pro nods. His four NFL MVP Awards are second, only behind Peyton Manning's five. Tom Brady, Brett Favre, and Johnny Unitas are one behind with three.
His one Super Bowl puts him behind the NFL QBs with multiple Lombardi trophies. This list includes Brady with seven, Joe Montana and Terry Bradshaw with four, Troy Aikman with three, and eight QBs with two, including both Manning brothers, Ben Roethlisberger, and John Elway.   
The one Super Bowl club includes Rodgers' predecessor, Favre, and other Hall of Fame (or future HOF) signal-callers like Phil Simms, Steve Young, Kurt Warner, Drew Brees, Russell Wilson, and Patrick Mahomes.
The quarterbacks in the all-time conversation without a Super Bowl win include Jim Kelly, Dan Marino, and Philip Rivers, among others.
By the numbers, QB Math ranks Rodgers fourth of all time. My personal list — taking into account numbers, dominance, accolades, and intangibles — has the Green Bay QB at No. 7 all-time:
Tom Brady
Joe Montana
Peyton Manning
John Elway
Aaron Rodgers
Steve Young
Jim Kelly
Dan Marino
Drew Brees
Brett Favre
Where does Rodgers rank on your list?
All stats courtesy of Pro Football Reference