Aaron Rodgers Gets Huge NFL MVP Endorsement From Packers WR Marquez Valdes-Scantling: 'Is It Cold in Green Bay?'
What is the first thing you think of when you hear the name Aaron Rodgers? Simple: a Green Bay Packers legend.
The future Hall of Fame quarterback has been wearing green and yellow for 17 seasons. Rodgers is a nine-time Pro Bowler, three-time NFL MVP, and has a Super Bowl ring on his resume.
In 2021, Rodgers continues to play at a high level and has the Packers atop the NFC. More than that, Rodgers' name keeps coming up in NFL MVP conversations, and why not?
Well, the Packers signal-caller got an exciting vote of confidence from teammate Marquez Valdes-Scantling.
Aaron Rodgers is playing at an MVP level and the Packers are loving every second of it
Fresh off of a thrilling victory over the Baltimore Ravens — one in which John Harbaugh called another decisive two-point conversion — Rodgers flew to the top of the MVP leaderboard.
Rodgers' numbers are impressive, even with a bad toe. The former Cal star has thrown for 3,487 yards with 30 touchdowns and just five interceptions in 13 games.
He missed a game after testing positive for COVID-19, which made his numbers a bit smaller than one would think. But, he is worthy of the MVP award once again.
The Packers have been ravaged by injuries on both sides of the ball, but Rodgers hasn't seemed to skip a beat. Over the past four games, he has thrown for 13 touchdowns with zero interceptions, including three games with more than 300 yards.
Moreover, Tom Brady's shocking performance against the New Orleans Saints helped Rodgers' case, although Rodgers had a valid MVP argument before that.
Marquez-Valdes Scantling gives Aaron Rodgers a massive endorsement after helping the Packers star inch closer to history
After the victory against the Ravens, Valdes-Scantling couldn't help but rave about Rodgers. The Packers mastermind engineered another beautiful offensive drive that ended with a touchdown pass to Valdes-Scantling in the fourth quarter.
With the pass, Rodgers tied Brett Favre for most touchdown passes in Green Bay history (442), but the receiver ended up keeping the ball (h/t Wes Hodkiewicz of Packers.com).
"That's just a crazy accomplishment, and I definitely kept that football. That one's not going anywhere. If it was broken, I would have gave it to him, but that one's mine. That's just a great accomplishment for him, and I just love that I'm a part of it."

MVS on Rodgers' 442nd TD pass
What a throw, and what a catch by Valdes-Scantling. With Davante Adams bottled up all night thanks to a brilliant gameplan from Baltimore, the No. 2 pass-catcher in Green Bay stepped up.
Valdes-Scantling kept complimenting Rodgers and offered up a massive NFL MVP endorsement for his quarterback.
Valdes-Scantling's answer was brilliant. "Is it cold in Green Bay?"
Yes. The answer is yes.
At this stage, there is no other answer. Indianapolis Colts running back Jonathan Taylor has a case to be made, as does Brady. But what Rodgers has done, with far fewer weapons and a plethora of injuries, is incredible.
Green Bay is on a crash course for another top seed in the NFC if Rodgers keeps playing like the NFL MVP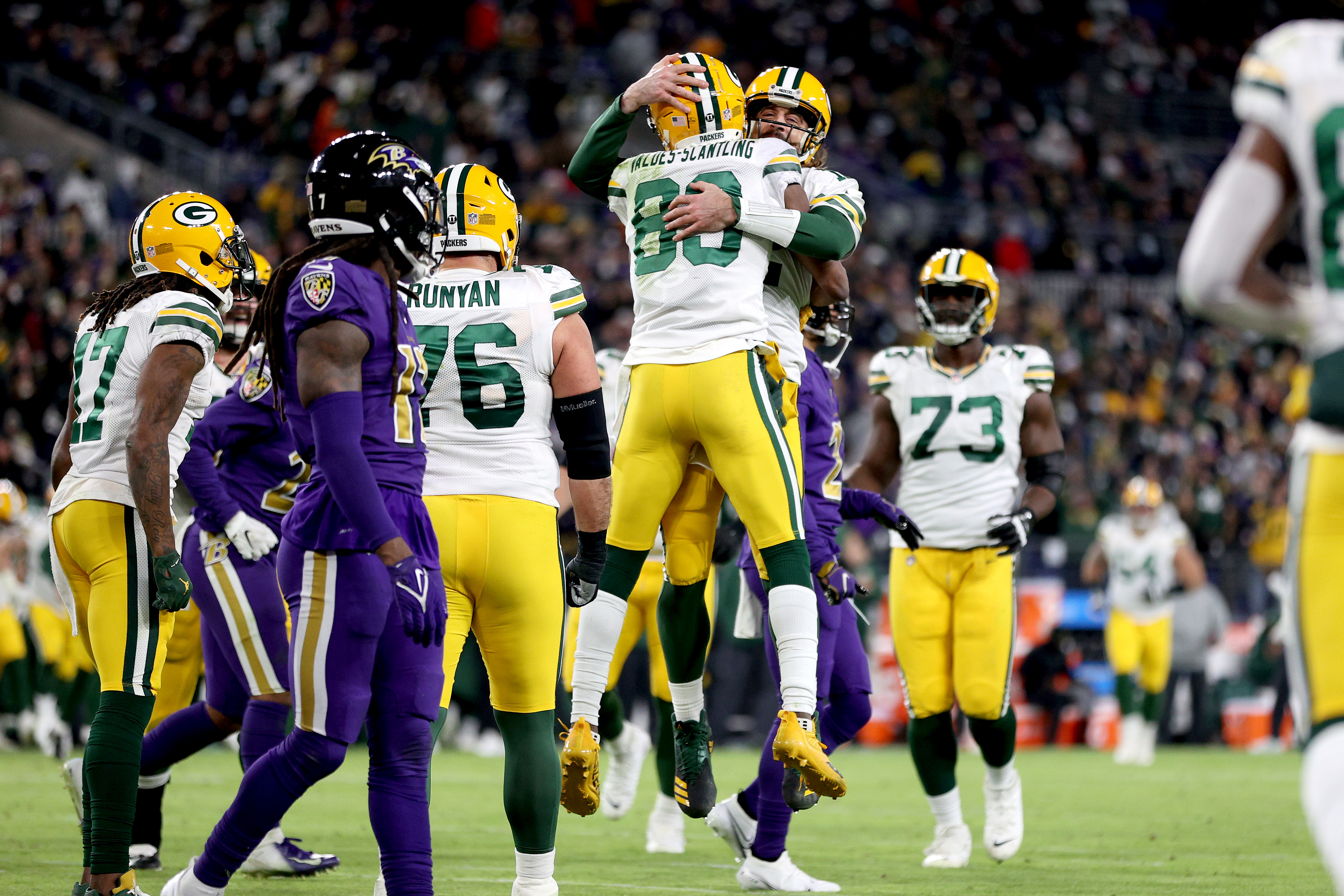 The Packers are 11-3 with three weeks left. They lost to the New Orleans Saints in Week 1 in a bizarre effort all around. The Packers also fell to the Kansas City Chiefs in the game Rodgers missed — and Jordan Love's first career NFL start.
The other loss was a three-point defeat at the expense of the Minnesota Vikings, one that they will surely remember on January 2 when they face the Vikings at Lambeau Field.
If things continue on this path, the Packers will claim home-field advantage again and force opponents to come to them in the Frozen Tundra.
Rodgers seems well on his way to back-to-back MVPs and, perhaps, a trip to the Super Bowl. Buckle up. The next few weeks are going to be a wild ride.
Stats Courtesy of Pro Football Reference