Who Is Aaron Rodgers' Girlfriend, Danica Patrick? How Did They Meet?
Most people know Aaron Rodgers is taken. But do you know who the Green Bay Packers quarterback is currently dating? That would be Danica Patrick, a former professional racing driver and the most successful woman in the history of American open-wheel racing. The high-powered couple met years ago but weren't linked until early 2018.
Here's what you need to know about Aaron Rodgers' girlfriend, Danica Patrick, and what the two have in common.
How did Aaron Rodgers and his girlfriend meet?
USA Today that Aaron Rodgers met his current girlfriend, Danica Patrick, at the 2012 ESPYs, where Rodgers won the award for the Best NFL Player. And though they kept "in vague touch" over the years, the couple didn't get together until the beginning of 2018. The reason for the long wait? They were both involved with other people. Patrick spent five years with fellow NASCAR driver Ricky Stenhouse Jr., and Rodgers dated actress Olivia Munn for three.
Patrick explained that once they were out of those relationships, "One thing led to another, and we realized how similar we were, and yeah, that got the ball rolling." But there was something unusual about the way they first met (even for two elite athletes). As The NY Post reports, Rodgers gave his future girlfriend his email address, not his phone number. Patrick later recalled, "I got his email address, and I remember thinking to myself, 'Oh, not a phone number? Just an email address?'"
They had cute nicknames for each other when they started talking
The NY Post reports that during the years that Aaron Rodgers and Danica Patrick kept in touch as friends, they communicated on and off. But it took them a long time to exchange numbers. Patrick revealed, "It wasn't until, obviously, recently that we actually had phone numbers." And they also used two cute nicknames for each other when things began heating up. "We referred to each other as Chicago and Green Bay," Patrick says. "It was very cute."
USA Today reports that Danica Patrick grew up rooting for the Chicago Bears. And she said when her relationship with Rodgers first went public, "I told him a long time ago I'd always root for him as a player. Now I am probably going to cheer for the whole team. Take out the word 'probably.' Now I'm going to cheer for the whole team." Patrick's father was a little more blunt about it. He told Autoweek, "Danica is still a Bears fan, but that doesn't mean she can't be an Aaron Rodgers fan."
They make an incredibly athletic couple
E! Online characterizes Aaron Rodgers and Danica Patrick as "one of the most athletic couples in sports." Patrick, who recently released a health and fitness book called Pretty Intense, told USA Today that Rodgers has tried some of her workouts with her. She explained, "I wrote a workout, (and) we worked out together and things like that. Put him through some ab workouts."
But that's not the only thing they have in common. She also told USA Today, "We both just have similar hobbies and interests — the kind of life that we live and wanting to travel and various different things, liking dogs." E! reports that the couple has traveled to Mexico, Africa, and India together.
Danica Patrick even thinks Rodgers is a good driver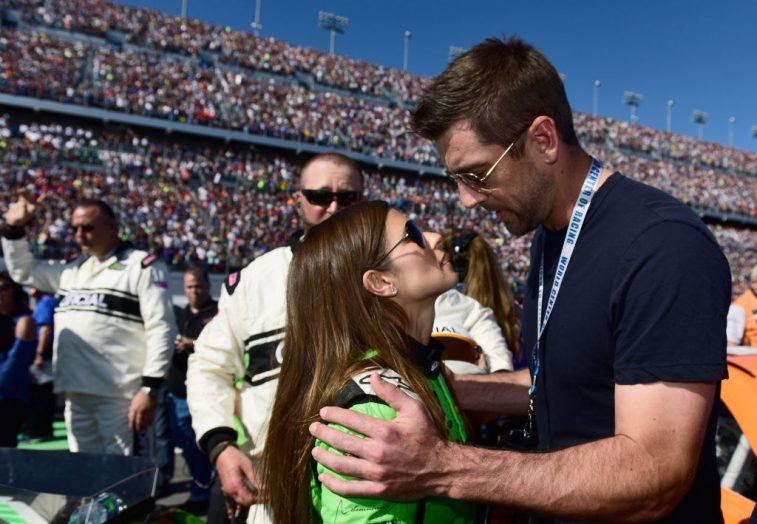 You might wonder whether Aaron Rodgers shares Danica Patrick's talent or passion for driving. There's no way he's as good as she is. But E! reports that she's pretty complimentary about his skills behind the wheel. "Aaron is a really good driver actually," Patrick once said when asked who drives when the two go on dates. She also said that Rodgers has probably gotten fewer traffic tickets than she has. (She even confessed that she once got pulled over three times in three days.)
Autoweek notes that since Rodgers and Patrick began dating, "Rodgers has been a loyal supporter of his race-driving girlfriend." He went to the 2018 Daytona 500 and sat on the team's pit box to watch the final race of her NASCAR career. And he also attended the 102nd Indianapolis 500, the last race of her career.
Rumors have swirled about a wedding
Though rumors have swirled that Aaron Rodgers and Danica Patrick might tie the knot, with Hollywood Life reporting that they are "on the fast track" to marriage, we're not so sure that the couple is in a rush. But The Chicago Tribune did report that Patrick had been married before her relationship to Stenhouse, and "has made no secret of a desire to marry again."
She also revealed that she chose to freeze eggs to prepare if she wants to have children one day. Hollywood Life claimed that a source said of Patrick and Rodgers, "She is all in to make this work and be with him forever," and "as of right now, he is having many similar thoughts on the situation."
Read more: Aaron Rodgers' Net Worth: What He Really Makes On and Off the Field