Aaron Rodgers Has Gone From Terrorizing the Chicago Bears to Providing Hope in Glowing Review of Justin Fields
Fans of the Chicago Bears probably don't have many good feelings associated with Green Bay Packers quarterback Aaron Rodgers. This is despite the fact that Rodgers could very possibly own their team, or at least he thinks he does.
Rodgers has now played Chicago's rookie quarterback, Justin Fields, twice, and he likes what he sees from the young quarterback. A three-time MVP and future Hall of Famer, Rodgers went as far as to say that his biggest rival's quarterback has star potential.
How's that for good feelings, Chicago?
Aaron Rodgers delivers a glowing review of Justin Fields
Recently talking on the Pat McAfee Show for his weekly appearance, the Green Bay quarterback was asked his thoughts on Fields now that they've played against each other twice.
The Packers are 2-0 against the Bears this season, and Fields has looked like a rookie in both games. He has flashed incredible potential as well, though. That's potential that Rogers can see.
"I think he's a really talented kid," Rodgers said of the Bears' rookie. "He's got a good arm on him. He can really move around and extend the play and make plays outside the pocket."
The legendary quarterback also provided some insight into how Fields, or any young player for that matter, can continue to work on their game.
"The most important thing for young players is to continue to work on the little things and little details," Rodgers said. "Even as an older player, every year, you go back and watch the previous year's film and try to work on one specific thing during training camp and the offseason."
Fields has had an up-and-down rookie season for the Bears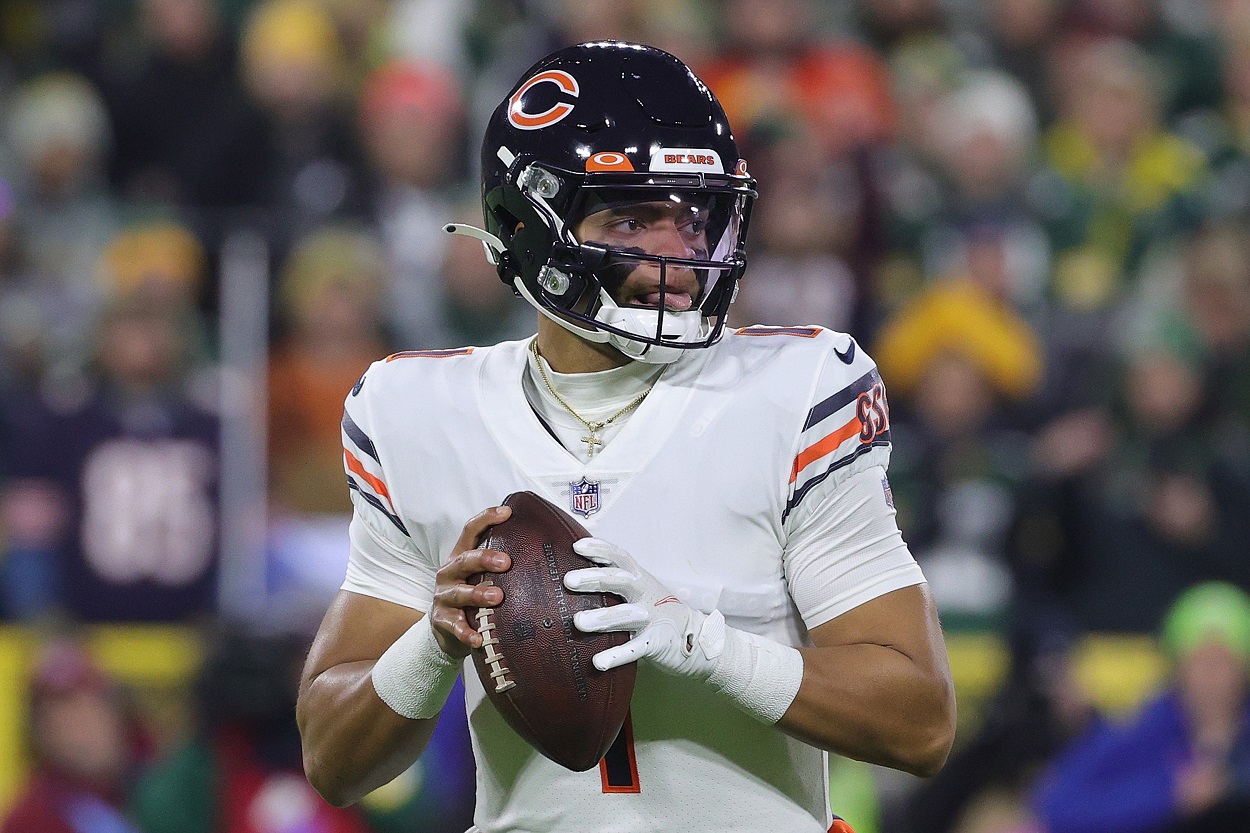 Playing quarterback as a rookie is never easy. Mind you, Rodgers sat behind Brett Favre for three seasons before getting a chance to start in his fourth. Even with that experience within the organization learning behind one of the greatest to ever do it, Rodgers threw 13 interceptions his first year as a starter. He did throw 28 touchdowns, but he was still developing into the MVP-level quarterback we know today.
If anything involving Rodgers can encourage Chicago fans, it would be remembering the developmental curve he had, even as a fourth-year pro. Fields hasn't had close to the same advantages Rodgers did and he certainly doesn't have the talent Rodgers had around him at that point. That's what makes the six touchdown passes compared to 10 interceptions thrown bearable when evaluating Fields in his rookie season. That's also not even considering the fact that his head coach is most likely going to be fired this offseason and has probably spent most of this season as a lame-duck.
No, the stats don't look great for Fields, but everything considered, they don't really matter that much.
What matters is the flashes of greatness he has shown. Whether that's the 74 yards he notched on the ground against a great Green Bay defense, or the two touchdown passes he threw to keep Chicago in the game early. Those are also just two points from this past game. Also, consider the 103 rushing yards and two touchdowns (one on the ground) he put up against the 49ers in a loss.
It hasn't always been pretty, but there have been flashes.
Rodgers thinks Fields has star potential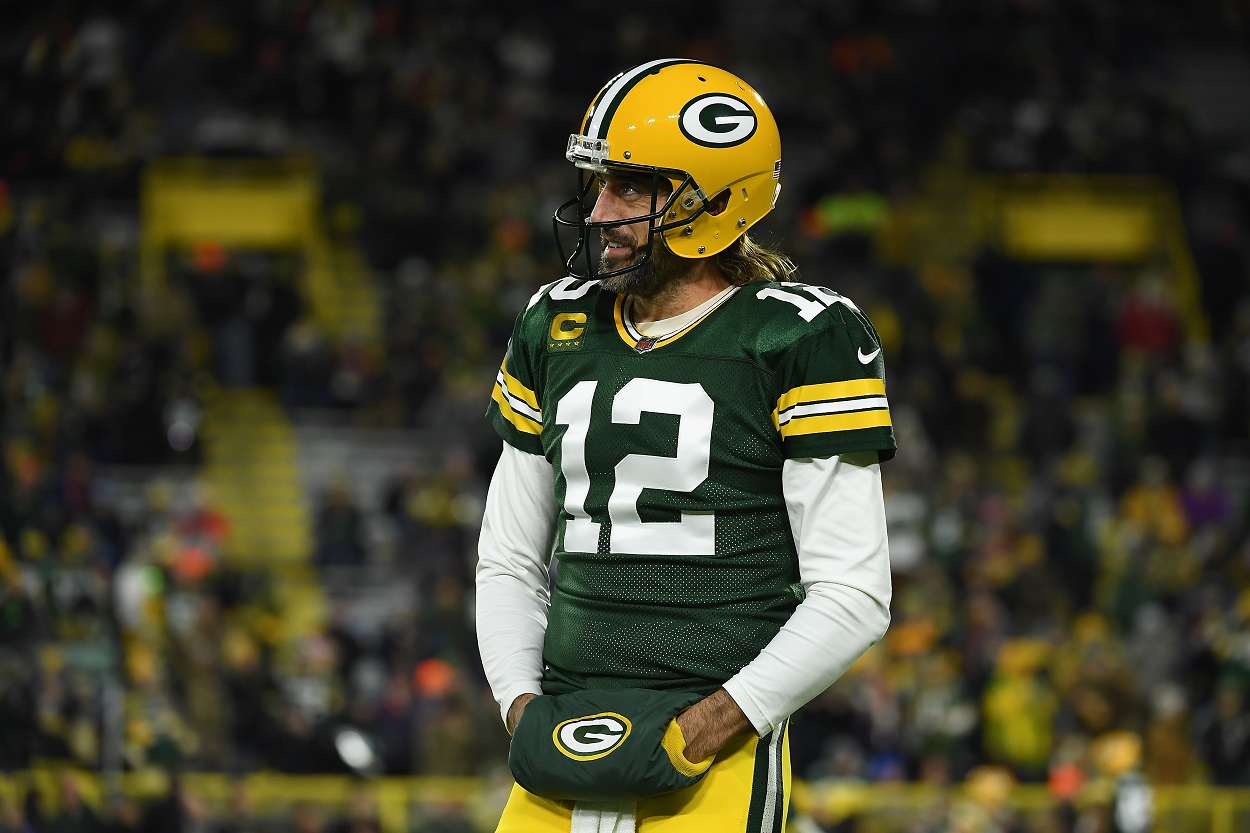 Rodgers knows how heated the rivalry between Chicago and Green Bay is, so if he's willing to stick his neck out there and say great things about the rival quarterback, they must be true. It's not like Green Bay fans want to hear this evaluation, but there's a lot of like about Fields, and Rodgers isn't afraid to say it.
Quarterback has been a sore spot in Chicago. Most recently, Mitch Trubisky failed to live up to his high draft pick standing, but the Bears have been shuffling from quarterback to quarterback for years now. He was just the latest on the scrap heap. Especially when juxtapositioning the steadiness the Packers have had at the position, transitioning from Favre to Rodgers, Chicago's quarterback issues are even more glaring. The Bears have had 35 starting quarterbacks since Favre took over the Green Bay gig in 1992. There have been five backup quarterbacks to have started games in Green Bay during this stretch, but they account for only 21 starts over hundreds of games. Either Favre or Rodgers played the rest of those contests.
Finding at the very least a steady quarterback is vital for Chicago, but in today's NFL, you need a star to compete at the highest levels.
Continuing to talk about taking one or two aspects of the game and working on them during the offseason, Rodgers dropped a line that should have Chicago fans excited. He does see star potential in Fields.
"Start stacking years and years of really trying to work on one or maybe two specific things, [and] you can really become the star," Rodgers said.
Speaking specifically about Fields, Rodgers made a bold statement that should have Chicago buzzing.
"He has a lot of star qualities," the MVP quarterback said of his rookie counterpart.
Perhaps the Bears finally have their guy.
Stats courtesy of ESPN and Pro Football Reference.