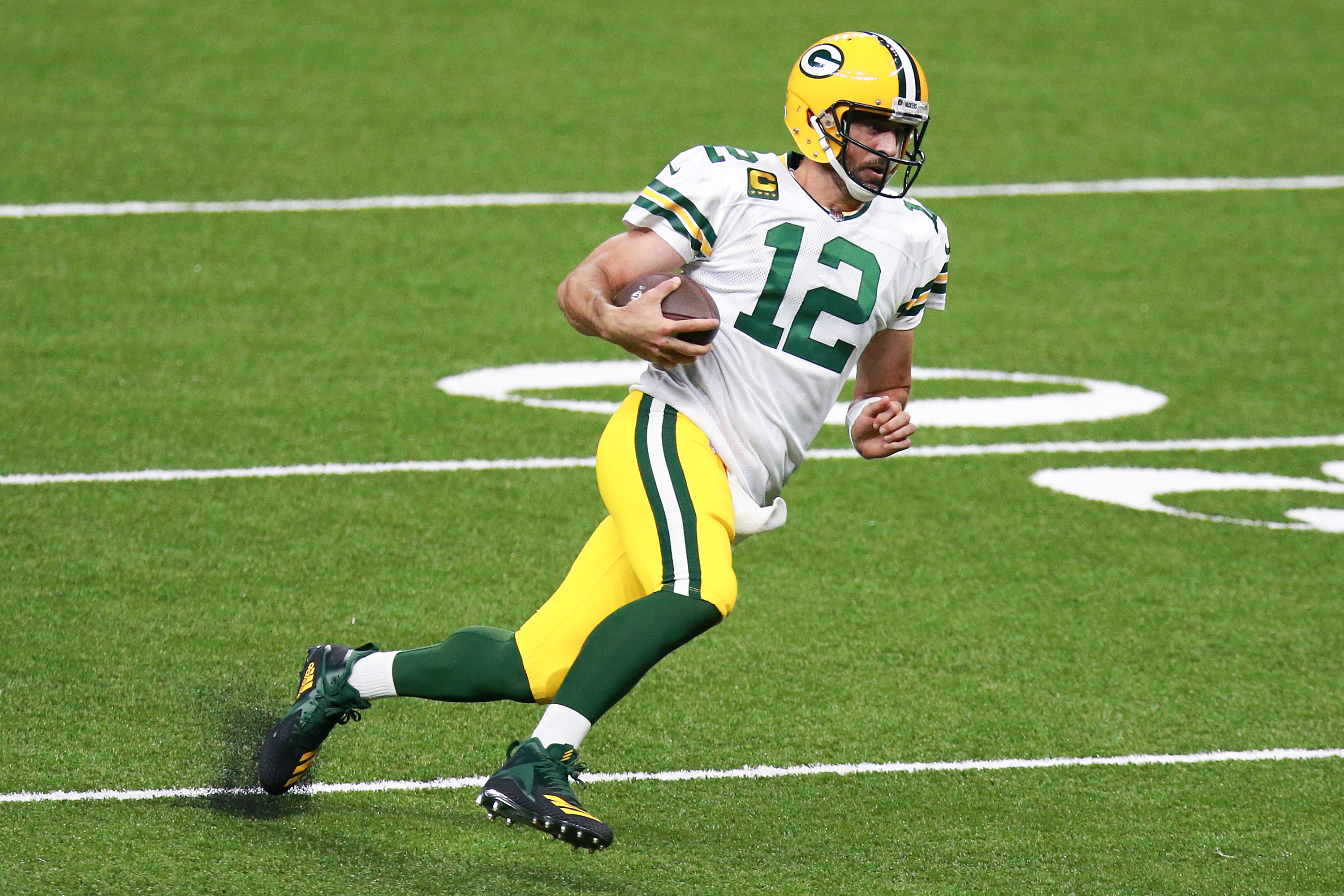 Aaron Rodgers, Green Bay Packers are Making History During Their Perfect Start
Quarterback Aaron Rodgers and the Green Bay Packers are making history during their perfect start to the 2020 season.
The 2020 NFL season is off to a flying start with tons of points being scored. Entering Week 4, the Green Bay Packers are leading the way in the points department, averaging better than 40 points per game. Quarterback Aaron Rodgers has been spectacular despite having played without his top wide receiver for almost two full games. Rodgers has the Packers re-writing history with their torrid start.
Aaron Rodgers is on a mission
Is Aaron Rodgers trying to prove a point? Was a fire lit underneath Rodgers when the Green Bay Packers selected quarterback Jordan Love in the first round of the 2020 NFL draft? In any case, Rodgers and the Packers are putting on quite an offensive show through the first three weeks of the season.
Through three weeks, the Packers are one of two teams to have already eclipsed the 100-point mark for the season. Green Bay has scored 122 points en route to their 3-0 start. Only the Seattle Seahawks, also 3-0, have reached 100 points, scoring 111.
Rodgers has been very impressive, especially with top wideout Davante Adams missing last week and most of Week 2 with a hamstring injury. Rodgers has completed 67% of his passes and has thrown nine touchdowns without an interception. The eight-time Pro Bowler looks like he's in his prime, rather than the 36-year-old that he is.
Rodgers and the Packers dealt another injury blow on offense
The Green Bay Packers saw their No. 3 wide receiver Allen Lazard go down after playing through a core muscle injury in last week's game against the New Orleans Saints. Lazard stepped up big time against New Orleans, catching six passes for a career-high 146 yards. It's not sure how long Lazard will be out after undergoing surgery.
"It's an unfortunate deal," Packers head coach Matt LaFleur told Packers.com. "(Lazard) is as tough as they come. That's what you love about the guy. He's a gritty competitor. It's unfortunate but it is what it is. It's an opportunity for other guys to step up and make their mark."
Rodgers gives credit to LaFleur for making him feel more comfortable in the offense this year. "We've gotten in a good flow," Rodgers said. "I feel so much more comfortable in the offense this year, and I think Matt has really settled into the rhythm of the play calling, and it's made my job a lot easier."
The Packers are setting records and making it look easy
When the Green Bay Packers defeated the New Orleans Saints 37-30 last Sunday, it was the first time this season they failed to score 40 points in a game. Despite not hitting 40, they managed to set a couple of marks with the victory.
Green Bay became the first team to score at least 35 points and not have a turnover in each of their first three games to begin a season. The Packers, for the first time in franchise history, also played turnover-free ball through the first three games of a season.
The offense is clicking. Aaron Rodgers is putting up some big numbers and looks like he's having a lot of fun out there. The Packers are showing that no matter who's down and out, if you take care of the ball, good things will happen.