Aaron Rodgers and the Green Bay Packers Have Everything They Need to Win a Super Bowl…Besides a Competent Special Teams
Now at 10-3 and one game away from clinching the NFC North, Aaron Rodgers and the Green Bay Packers can start planning for the postseason and yet another run at the Super Bowl. This regular season is basically a wrap.
The NFC North is all but won. The No. 1 overall seed in the NFC is still in play, so there still is work left to do. Still, the Packers proved in a 45-30 win over the Chicago Bears on Sunday Night Football that they've got everything it takes to win a Super Bowl.
Well, everything besides a competent special teams unit. That's going to be an issue.
The Green Bay Packers were dominant in the second half against Chicago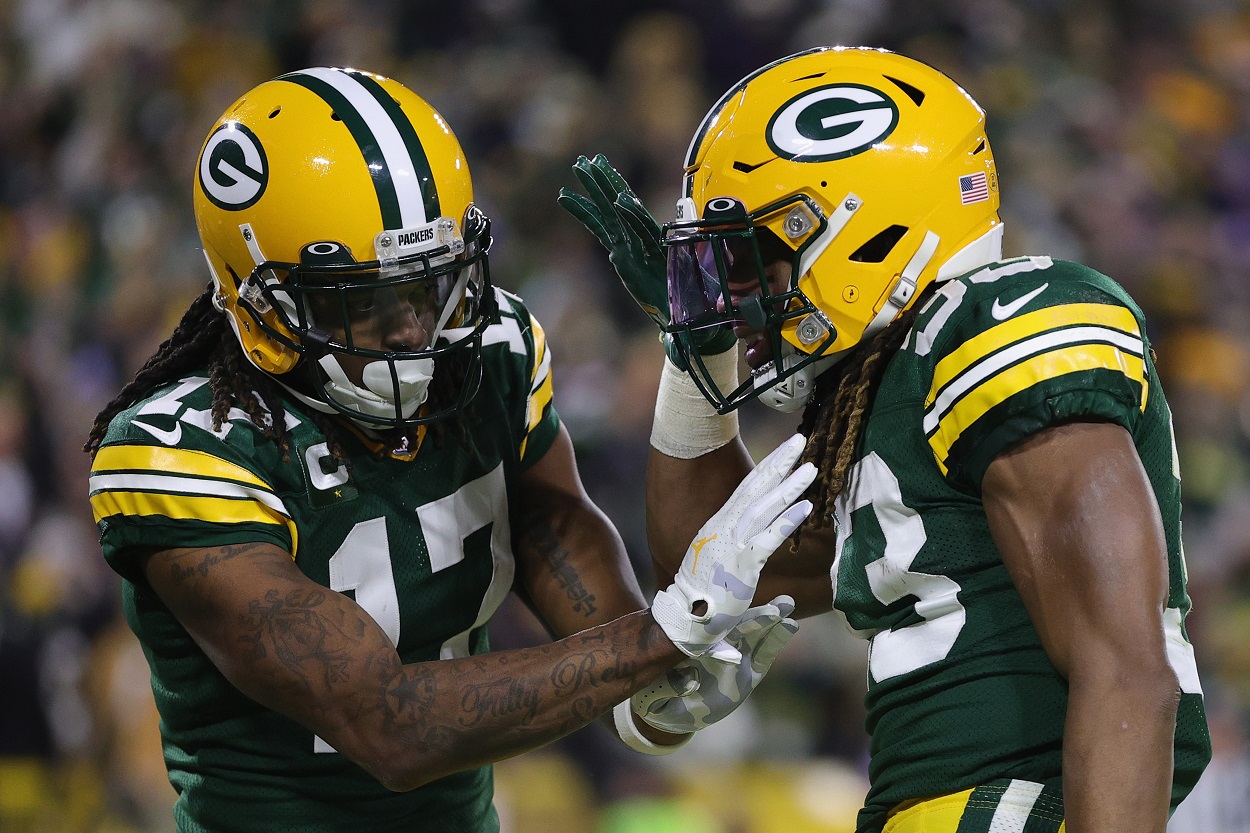 Credit to the Bears, they gave the Packers their best shot. There was a point in the waning minutes of the first half when Chicago actually had a 24-14 lead. Jakeem Grant fielded a Green Bay punt and reversed field to take it 97-yards to the house. That gave the Bears their 10 point lead, and it looked like they had actually sucked all the energy and momentum away from the Packers.
They didn't have it for long, though.
Rodgers got the ball back with 44 seconds to go in the half and orchestrated an impressive 75-yard touchdown drive culminating in a beautiful touchdown pass to Davante Adams. Even though the Bears responded with a quick field-goal drive before the game went to halftime, the Packers had essentially taken Chicago's best shot, and they responded with a haymaker of their own.
They weren't going to let the lesser team walk out of Lambeau with a win.
After orange slices and Gatorade, Green Bay got the ball back and went 75 yards to paydirt to start the second half. Aaron Jones found a hole on the left side of the line and scampered in for a three-yard touchdown.
The Packers took the lead, 28-27, and that was as close as Chicago got for the rest of the game. The Bears scored a total of three points in the second half, and those came with 1:22 to go.
Green Bay put up 24 points after halftime.
Aaron Rodgers has an explosive offense and an elite defense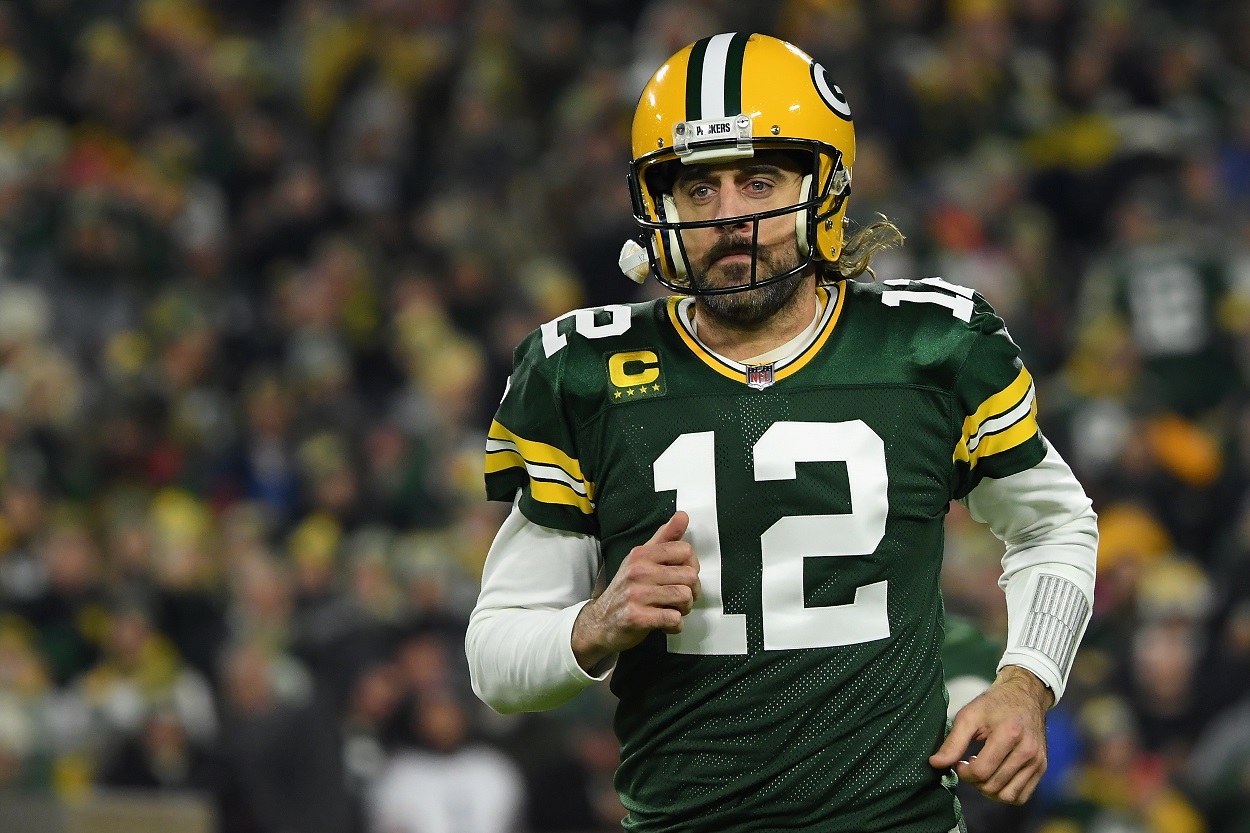 The Packers showed they have elite potential on both sides of the football on Sunday night.
The offense put up an incredible 439 total yards. The defense continues to take the football away at an impressive pace.
Rodgers was once again MVP-esque, completing 29-of-37 passes for 341 yards and two touchdowns, with no interceptions. Davante Adams was a huge reason for that. Adams is regarded as arguably the best overall wideout in football, and he proved that argument right again against Chicago. He caught 10 passes for 121 yards and two touchdowns. Despite the Bears' best efforts to contain him early, he used his incredible route-running ability and athleticism to absolutely torch Chicago.
There's nobody like Adams right now. He's in a league of his own. He's playing on Mars.
A.J. Dillon and Aaron Jones continued to provide a potent one-two punch for the Packers in the backfield. Dillon led the way with 15 carries for 71 yards, picking up 4.7 tough yards per carry. Jones was as explosive as always, picking up a touchdown as a rusher as well as one through the air. He only rushed for 35 yards on five carries, but he averaged seven yards a pop. He also caught three passes for 30 yards and the aforementioned score as a receiver.
Green Bay's defense came into the game as a top-five unit, and they might expect to move even further up the rankings after a great performance against the Bears. Sure, Justin Fields is a rookie (and he looks like it), and Matt Nagy is likely to be fired after the season. And yes, the Bears did show some spark in the first half with two big touchdown passes from Fields. One was a 46-yard strike to Grant, who had himself a tremendous individual night. The other was a 54-yard catch-and-run from Damiere Byrd, who showed off incredible speed.
Other than that, Green Bay's defense proved to be as opportunistic as ever. The Packers turned the Bears over three times, including (another) pick-six from cornerback Rasul Douglas and a strip-sack by Preston Smith that Rashan Gary recovered. Chandon Sullivan also stepped in front of a Fields' jump-pass to ice the game for Green Bay.
The Packers forced three turnovers, a defensive touchdown, and two sacks. That's not a bad day at the office for what has become an elite unit, even without Jaire Alexander and Za'Darius Smith.
One shudders to think how good Green Bay could be on defense if and when those two superstar players return.
Special teams could very well cost the Packers in the playoffs
For as good as the offense and defense played on Sunday night, Green Bay's special teams were absolutely abysmal. Against a better team, special teams could very well have cost the Packers a big victory, and that has to be extremely concerning for head coach Matt LaFleur. He has an elite offense and a tremendous defense, but special teams could knock him and his Hall of Fame quarterback out of Super Bowl contention in a hurry.
Mason Crosby has been the main culprit this season, having missed multiple field goals and even a few extra points. He's having the worst year of his otherwise great career, and he's gotten to the point where Green Bay undoubtedly holds its collective breath whenever he steps up to the plate. That's the scary thing about Sunday night's game at Lambeau, though. Crosby made his only field goal attempt, and he was 6-of-6 on extra points.
Crosby was actually good, yet the Packers' special teams were still scary bad.
First, there was the punt return by Grant. That happens from time to time in the NFL because the other team gets paid to play too. Still, the Packers were sloppy in punt coverage and allowed Grant to flip the field on them completely. That's not a good look. That's unacceptable.
Speaking of bad looks, rookie wideout Amari Rodgers has struggled to return punts all season, and he muffed another one on Sunday night. With 13:31 to go in the fourth and the Pack up just 11 at that point, he looked the punt directly into his facemask and muffed it. Chicago would have recovered the football in a great position to score and again make it a game, but the Bears were penalized because one of their players voluntarily ran out of bounds on the kick. Chicago had to punt again, and this time Rodgers fielded it, but the Packers were that close to finding themselves back in a heated contest.
The last blunder on special teams may go unnoticed because it came at the end of what became a blowout, but true Packers fans know how important successfully returning an onside kick can be.
The Bears attempted and recovered an onside kick with 1:22 to go in the game, which essentially gave them one more chance to add garbage time points. The thing is, if this were a close contest, the ball bouncing off Marquez Valdes-Scantling's fingers and into the hands of Chicago's kick team could be the difference between winning and losing. That's not even to mention the bad feelings Packers fans associate with the hands team failing to do its job on an onsides kick. If you love Green Bay football, click this link at your own risk.
If offense wins games and defense wins championships in the NFL, special teams can be the difference between winning and losing close games.
The Packers have an MVP quarterback and an elite defense. They've got to get their special teams issues figured out before what should be a routine play ends up costing them another Super Bowl, though. They're lucky that none of their special teams blunders came back to haunt them against Chicago, but the playoffs are a different animal.
In a close game against a good team in the playoffs, mistakes like the ones Green Bay suffered on Sunday night, as well as Crosby's off-year as a whole, could be the difference between hoisting the Lombardi Trophy again and playing golf.
Stats courtesy of ESPN and Pro Football Reference.