Aaron Rodgers' Finally Revealed Halloween Costume Is as Scary as He Is to NFL Defenses
Green Bay Packers star quarterback Aaron Rodgers and John Wick have a few things in common.
They both have long hair. They both have gritty beards.
If you're a bad guy in a John Wick movie, you know you're in big trouble when you see Wick coming your way. He's not one of the most well-known hitmen in the fictional world for no reason, after all.
The same can be said for Rodgers on the NFL field. Going up against the three-time MVP is an absolute nightmare if you're an opposing defender or defensive coordinator. You know you're in trouble when you see No. 12 on the other sideline.
All of this is to say that Rodgers crushed his Halloween costume this year. 
Aaron Rodgers' John Wick costume is on point
Rodgers has been teasing this Halloween costume for some time now. Those with a casual observance of the NFL may have noticed that the 37-year-old quarterback has been looking rather wild lately. He's been letting his hair grow to lengths it hasn't been at since he was a much younger quarterback, and along with his now-grey beard, he's been looking more and more like the "Game of Thrones" character he really is.
According to the MVP quarterback, the long hair and gritty beard have all been a part of the Halloween plan. The character he was going to pull off has always been a mystery, but it was finally revealed on his Instagram that he'll be going trick-or-treating as the famed hitman.
It's worth noting that Rodgers has previously mentioned Keanu Reeves as one of his "hair heroes" in an episode of The Pat McAfee Show.
"I've been getting some advice from some hair connoisseurs on the squad," he said. "My hair heroes growing up were Chuck Norris and Steven Seagal, guys like that. Keanu Reeves, of course, has also been a personal hero of mine, whatever he's doing."
Looking back on that comment, Rodgers was providing a teaser for his Halloween costume.
Rodgers has become known for his off-field personalities
While Rodgers is most known for his contributions to the Packers, the quarterback is no stranger to the off-field spotlight. He's dated multiple famous people, including Danica Patrick and Olivia Munn, and he's currently engaged to actor Shailene Woodley. 
From hosting Jeopardy! to appearing in The Office, Rodgers has become a pop-culture icon as much as he is a superstar in the NFL. He's so famous that his signature "the belt" celebration became an ad campaign for insurance company State Farm. His multiple looks and styles, from Cowboy to California surfer dude, are constantly popping up in headlines.
Rodgers' creative Halloween costumes have also garnered much attention throughout the years. He dressed up as Uncle Rico from "Napoleon Dynamite" one year. It wasn't on Halloween, but he once crushed a costume dressing up as Ben Stiller's orderly character from "Happy Gilmore." 
One may surmise that Rodgers takes dressing up rather seriously.
Rodgers is John Wick on the field for the Green Bay Packers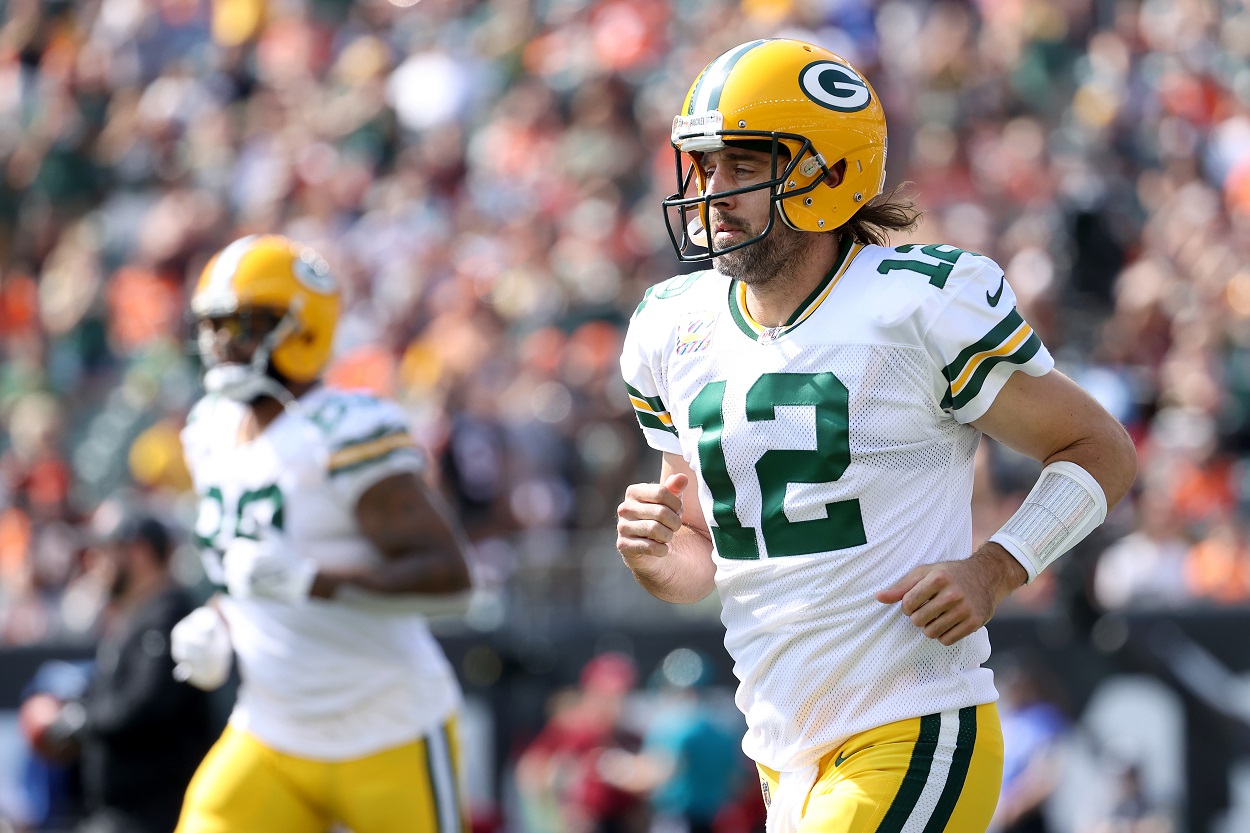 Rodgers dressing up as a famous hitman for Halloweeen is apropos because he's been killing NFL defenses for years now.
Fresh off his third MVP award, the veteran quarterback also doesn't appear to be slowing down. The 2020 season saw him throw for an incredible 4,299 yards and 48 touchdown passes, compared to five interceptions.
Impressive enough as the MVP season was, the context of it is just as important to understand.
A few seasons ago, in the final years of Mike McCarthy in Green Bay, it looked like Rodgers was riding a slow decline to being average. And while an average Rodgers is still better than most NFL quarterbacks, the fact that he's been able to regain his MVP form as he's gotten older is genuinely incredible. He completed 70.7% of his passes last season. That's the highest percentage of his career since completing 71.4% in 2007. 
Much of his success should be attributed to head coach Matt LaFleur and the two genius football minds' combined offensive scheme. Still, Rodgers is going out there in his 17th NFL season and outplaying much younger star quarterbacks like Lamar Jackson, Josh Allen, and even Patrick Mahomes.
Rodgers has thrown for 1,894 yards and 17 touchdowns with just three interceptions so far in 2021. He's also turned back the clock with his legs, having rushed for two touchdowns. One of those touchdowns gave him ownership over the Chicago Bears.
If John Wick is the one person you never want to see in his fictional world, Rodgers has proven to be his counterpart in the NFL. 
Stats courtesy of ESPN and Pro Football Reference.
RELATED: Aaron Rodgers Finally Has a Defense That Can Lead the Green Bay Packers to the Super Bowl