Aaron Rodgers Isn't the Only Packers Star Making Bold Statements as Davante Adams Had One of His Own
One of the week's biggest stories has been Green Bay Packers quarterback Aaron Rodgers delivering a strong message to the Chicago Bears at Soldier Field this past Sunday. Rodgers yelled "I own you" at the crowd and once again flexed his muscles on the NFC North division rivals.
But Rodgers isn't the only Packers star to make some bold claims this past week. Wide receiver Davante Adams issues an interesting take that might rile up fellow wide receivers Tyreek Hill and DeAndre Hopkins, to name a few.
Davante Adams drops truth bomb on the rest of the NFL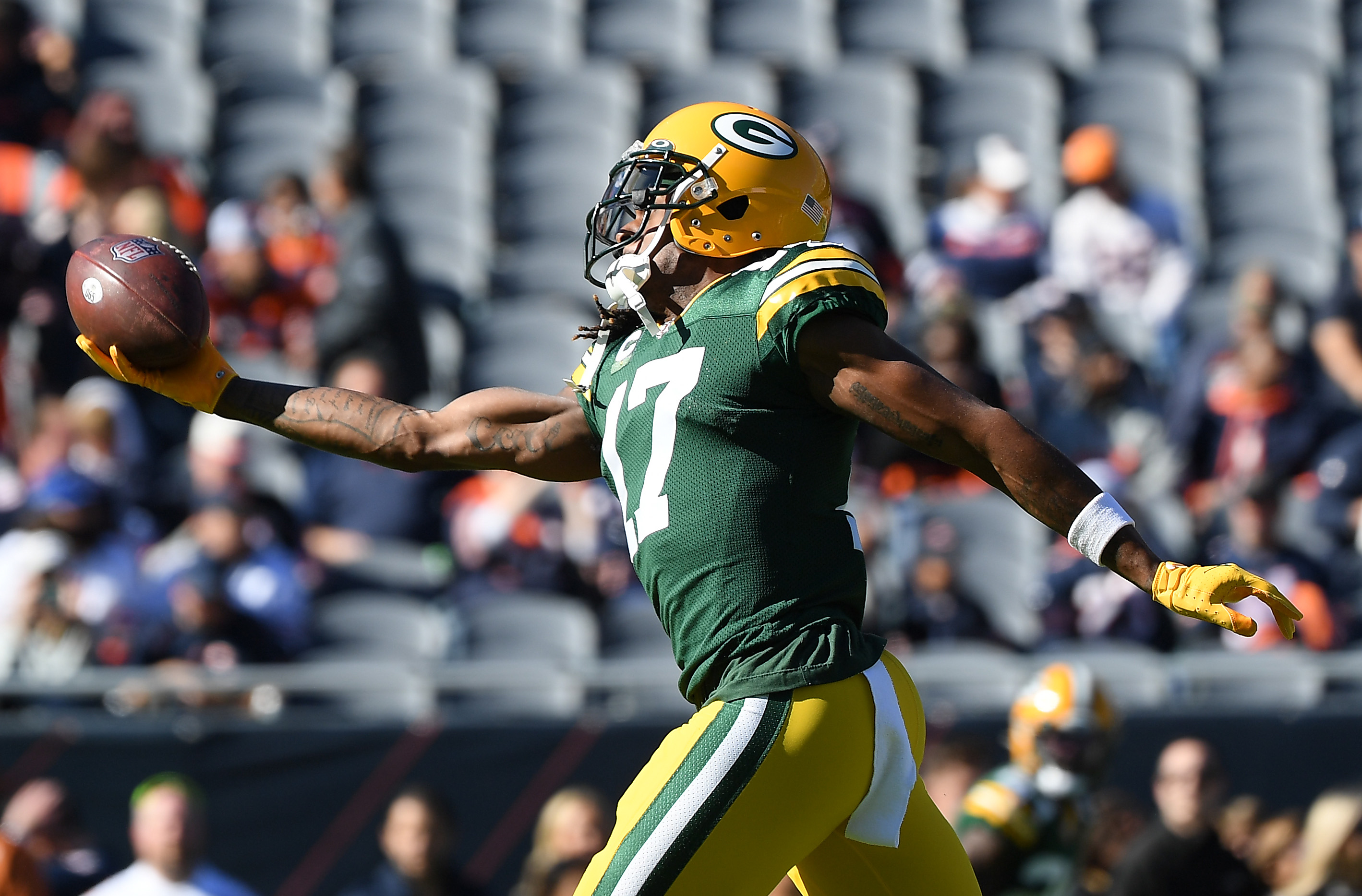 After finishing the 2020 season as the NFL's top receiver, Adams is once again having a terrific season in 2021. The former Fresno State star is consistently among the discussions of the NFL's top pass-catcher, and he said he's done discussing who the best is in the league (h/t Stacey Dales of NFL Network).
"There's no debating … I'm done making the lists and talking about myself, but I feel like I've shown with my work, and consistency that it's me."

Davante Adams on WR discussions
He has a fair point. Adams is in the conversation and continues to post unworldly numbers. In 2020, he finished the year with 1374 yards and 18 touchdowns, both of which led the NFL. His career-high in yards came back in 2018 when he posted 111 catches for 1386 yards and 13 scores.
Adams has 668 yards already this year and is on pace to surpass his total from last season, especially with the added game. However, thanks to Aaron Jones and others preventing him from putting up the six points, he has only two trips to the endzone all year.
Nonetheless, Adams is one of the best in the game and an absolute nightmare for opposing defenses.
The Adams-Rodgers connection is one of a kind
After a rumor-filled offseason regarding the Packers quarterback, he decided to give it at least one more go with Green Bay. While Adams is a unicorn, it is no secret that the pairing of Rodgers and Adams is one of — if not the best — QB/WR duos in the NFL.
Adams has always spoken highly of Rodgers, including this gold nugget from last season (h/t Zach Kruse of Packers Wire).
"He's a dream to play with. You're talking about an elite talent who can also be a leader and one of your best guys on the team as far as people. That's kind of unheard of in this league. I'm just thankful to have him."

Davante Adams on playing with Aaron Rodgers
The duo is one of a kind and has developed a terrific relationship on the field. Rodgers is on fire, Adams is one of the top receivers in the NFL., and his claim as the best is right there.
The Packers hot start is exactly what Rodgers and Adams wanted all year
Both Rodgers and Adams want a Super Bowl, and Matt LaFleur's team is off to a 5-1 start with all arrows pointing up. All-Pro left tackle David Bakhtiari is back at practice after spending the first chunk of the year on IR in other news and will add more protection up front.
Aaron Jones is having a tremendous year once again, and Randall Cobb has been an excellent addition. On the other hand, the Packers' defense is banged up and just sent Jaire Alexander to the IR, which is a considerable loss.
Nonetheless, the Packers are one of the top teams in the NFL, and as long as Rodgers and Adams are out there, the offense will be clicking.
If Adams continues at this pace, he could once again finish the year as the NFL leader in receiving yards and certainly back up his claim as the best in the league.
Stats Courtesy of Pro Football Reference
RELATED: Aaron Rodgers and Davante Adams Are the Superstars, but the Green Bay Packers' Offense Really Clicks Because of a Fifth Round Pick