Aaron Rodgers Just Gained Even More Respect After Watching Mike McCarthy's Cowboys
The Dallas Cowboys are the singular disaster among a division packed with horror stories. It's almost difficult to recall that this season started with promise, as Dak Prescott was supposed to finally hit his stride. Ezekiel Elliott, too, was seen as a sure thing, worthy of a big payday to share the offensive load.
To be fair, there was always a question mark in hiring Mike McCarthy. Injuries obscured any answers on whether the former Packers head coach was to blame for the team's rapid decline. Then the Cowboys went up against the Washington Football Team, got creamed, and perhaps proved that McCarthy was carried by Aaron Rodgers all along.
Mike McCarthy just went from bad to worse with the Cowboys
Much like the Cowboys' season, Sporting News reports that their Week 12 matchup with Washington started off decently enough. They quickly pushed through to the red zone on a fierce initial drive. Then, as if remembering that the 2020 Cowboys are a cursed team, right tackle Zack Martin and left tackle Cameron Erving were both injured.
The game was never quite out of reach until the fourth quarter. Yes, their woes were set up by yet another uncharacteristic fumble by Elliott. But things became truly disastrous thanks to McCarthy, personally. A team wracked with injuries needs their head coach to help them. Instead, McCarthy called for a fake punt play that failed spectacularly. It was one of several baffling fourth-down calls, but this one gave Washington the ball at Dallas's 23-yard line.
Rookie running back Antonio Gibson turned that into a centerpiece for his highlight reel, immediately running that 23 yards for a score. This wasn't about injuries, it wasn't even about Zeke's ball-handling woes. That scoring play was entirely on McCarthy, and it proves that he's harming, rather than helping, his ailing team.
Why did McCarthy get the Cowboys head coaching job?
McCarthy's record is one that any head coach could envy. He spent 13 seasons in Green Bay, with only one losing season in his first 11 years there. He won the Super Bowl in 2010. Eventually, his Packers fell apart, even with Rodgers at the helm. The two started openly clashing over the course of two miserable final seasons until McCarthy was fired in 2018.
He was a coach in decline, at least in the context of Green Bay. Even with his long run of winning seasons, many fans wondered if Rodgers, clearly the best active quarterback in the league for much of his career, should have more than one ring. There was only one way to fully settle that question, and it was Jerry Jones, the Cowboys' hands-on, controversial owner, who took the plunge.
Rodgers himself explained Jones' likely thinking. In an interview with Packers News, the future Hall of Famer said, "We've had a lot of success down there [in Dallas]. We won some big games down there over the years. So I'm not surprised that Jerry had an infatuation with Mike."
Aaron Rodgers' legacy just got a big boost from McCarthy's Cowboys disaster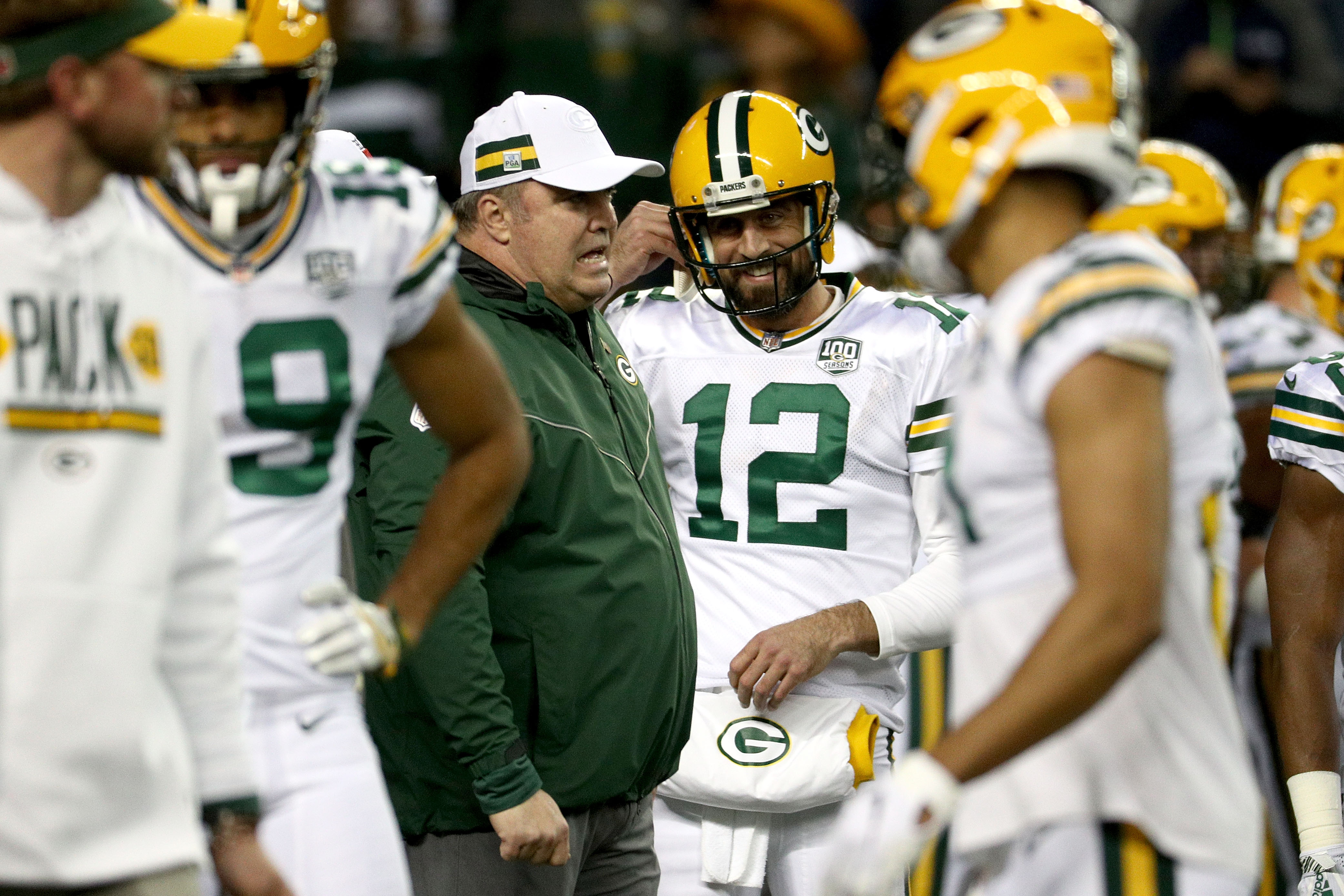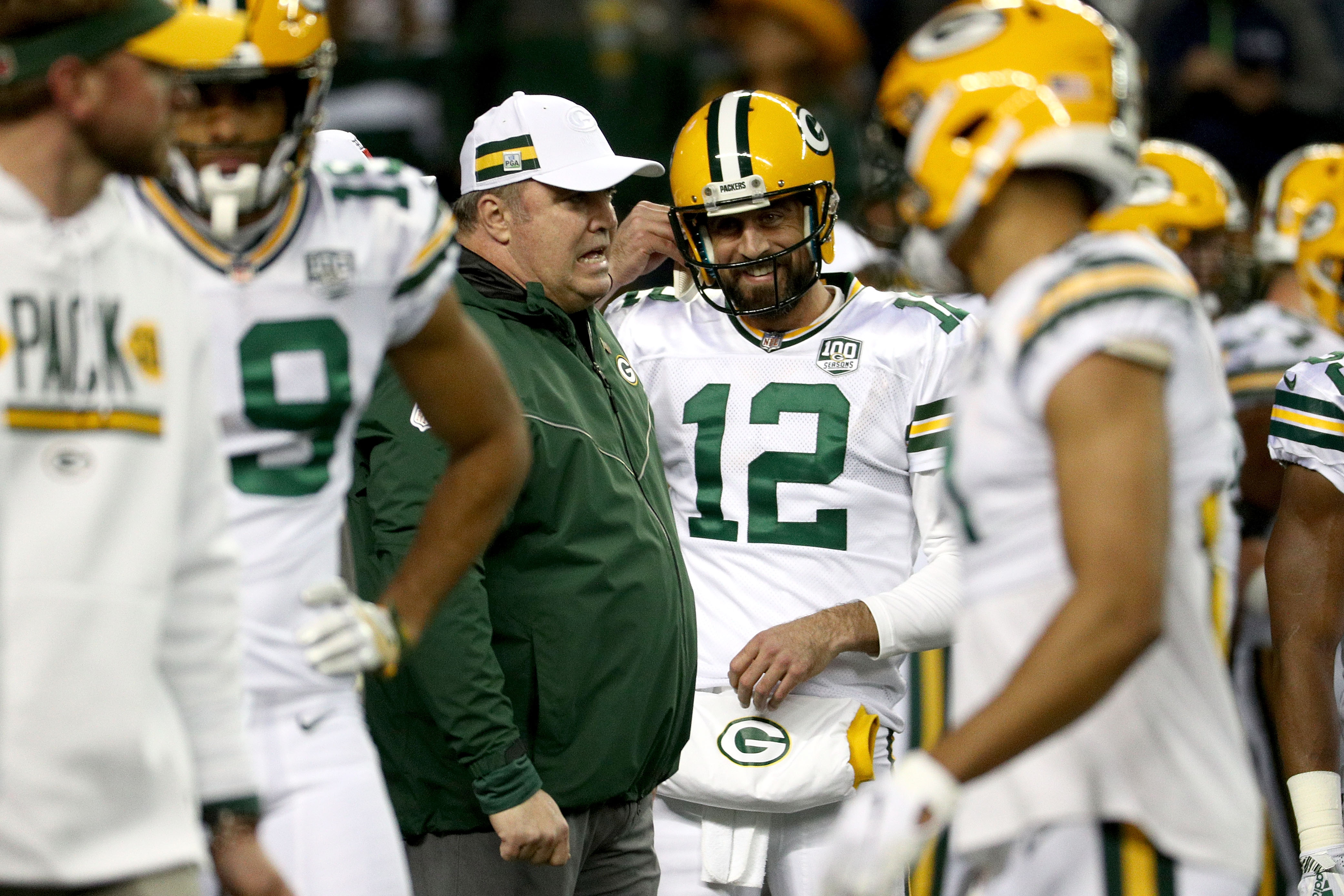 It's increasingly looking like the McCarthy era will be a one-and-done sort of deal. Jones already spent years propping up a head coach who seemed to consistently undermine his own team's chances. For Packers fans, this mess could be the definitive answer to whether McCarthy needed Rodgers, or if Rodgers needed McCarthy.
Rodgers is putting up MVP numbers in 2020, against all odds for an aging QB. Even Tom Brady is struggling to match up with his personal expectations in Tampa Bay, in contrast. The Packers organization clearly wasn't expecting this, having hedged their bets by drafting Jordan Love. CBS Sports reports that even while Green Bay was harried by COVID-19 absences, Rodgers played an outsized role in guaranteeing recent victories.
That MVP-caliber work is a contrast to McCarthy's continued struggles. It doesn't matter how many times Elliott fumbles or how many players get injured. A head coach should not contribute to worsening things from the sideline. McCarthy's fourth-down thinking is harming the Cowboys gravely at a crucial moment. Meanwhile, Rodgers is capable of putting an ailing team on his back and pushing for big wins.