Aaron Rodgers Just Sent a Strong Message To Russell Wilson
Despite there being a bunch of speculation about Aaron Rodgers' future with the Green Bay Packers following the team's decision to draft his successor instead of a valuable weapon for him in this year's NFL draft, Rodgers and the Packers are off to a hot start. The Packers are 4-0 so far this year and potentially look even better than the team that reached the NFC Championship Game last season. Rodgers has played great too. In fact, during the Packers' Monday Night Football win over the Atlanta Falcons, Rodgers sent a strong message to Seattle Seahawks quarterback Russell Wilson.
Russell Wilson has been the MVP favorite through four weeks
Russell Wilson has been a spectacular quarterback over the years for the Seattle Seahawks. Somehow, though, he has not even received one MVP vote in his career.
This year, it looks like he knows it too, as he is playing with a chip on his shoulder. Through four games during the 2020 NFL season so far, Wilson is off to one of the hottest starts in league history. He has thrown for 1,285 yards, an NFL-leading 16 touchdowns, and only two interceptions.
He has had some massive games too, as he threw for five touchdowns in two consecutive weeks against the New England Patriots in Week 2 and the Dallas Cowboys in Week 3. The Seahawks' offense has also looked great, as it is second in the NFL in points per game with 35.5, and it has led Seattle to a 4-0 record.
Wilson has certainly made a strong case for MVP so far this year. However, so has Rodgers.
Aaron Rodgers just sent a strong message to Russell Wilson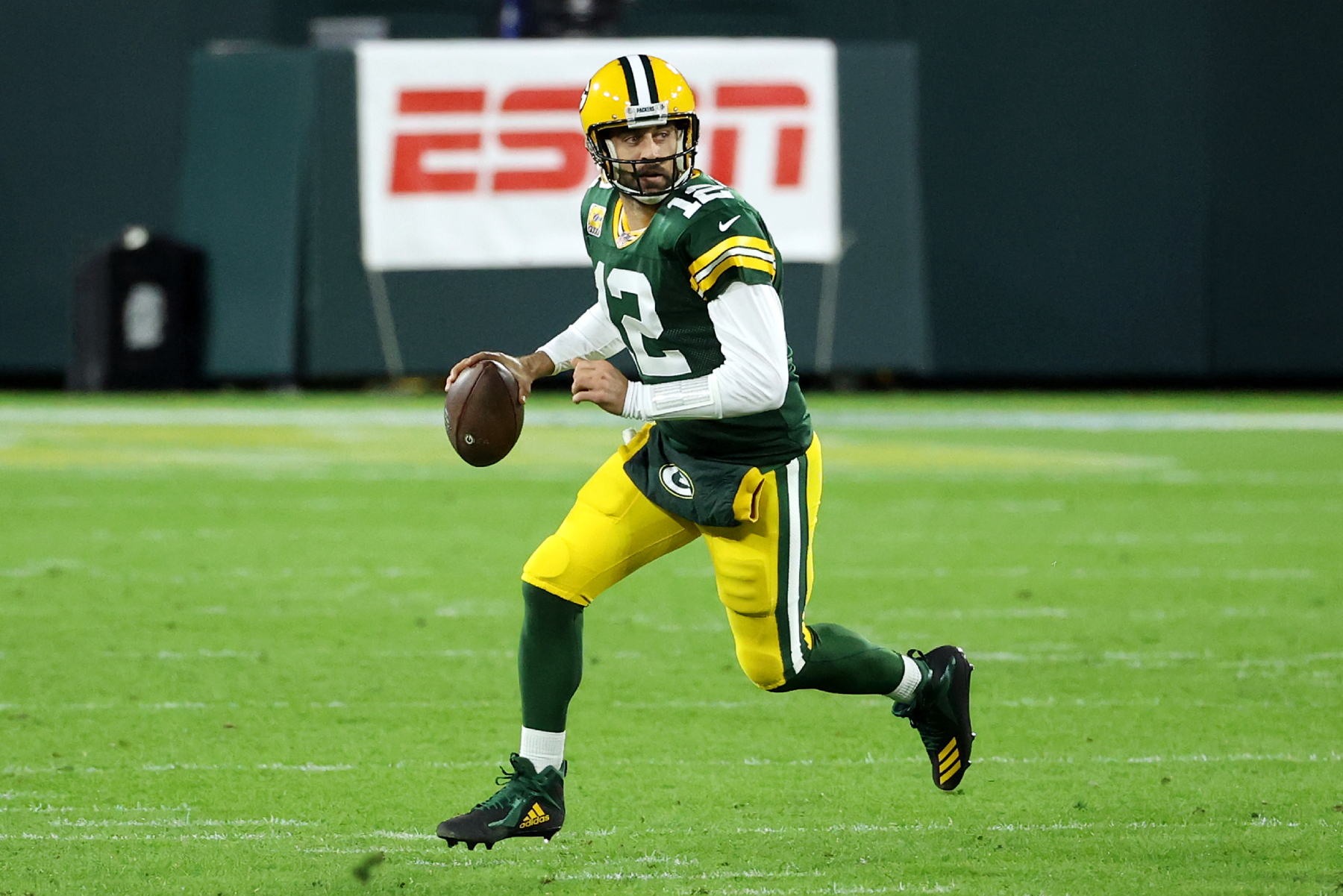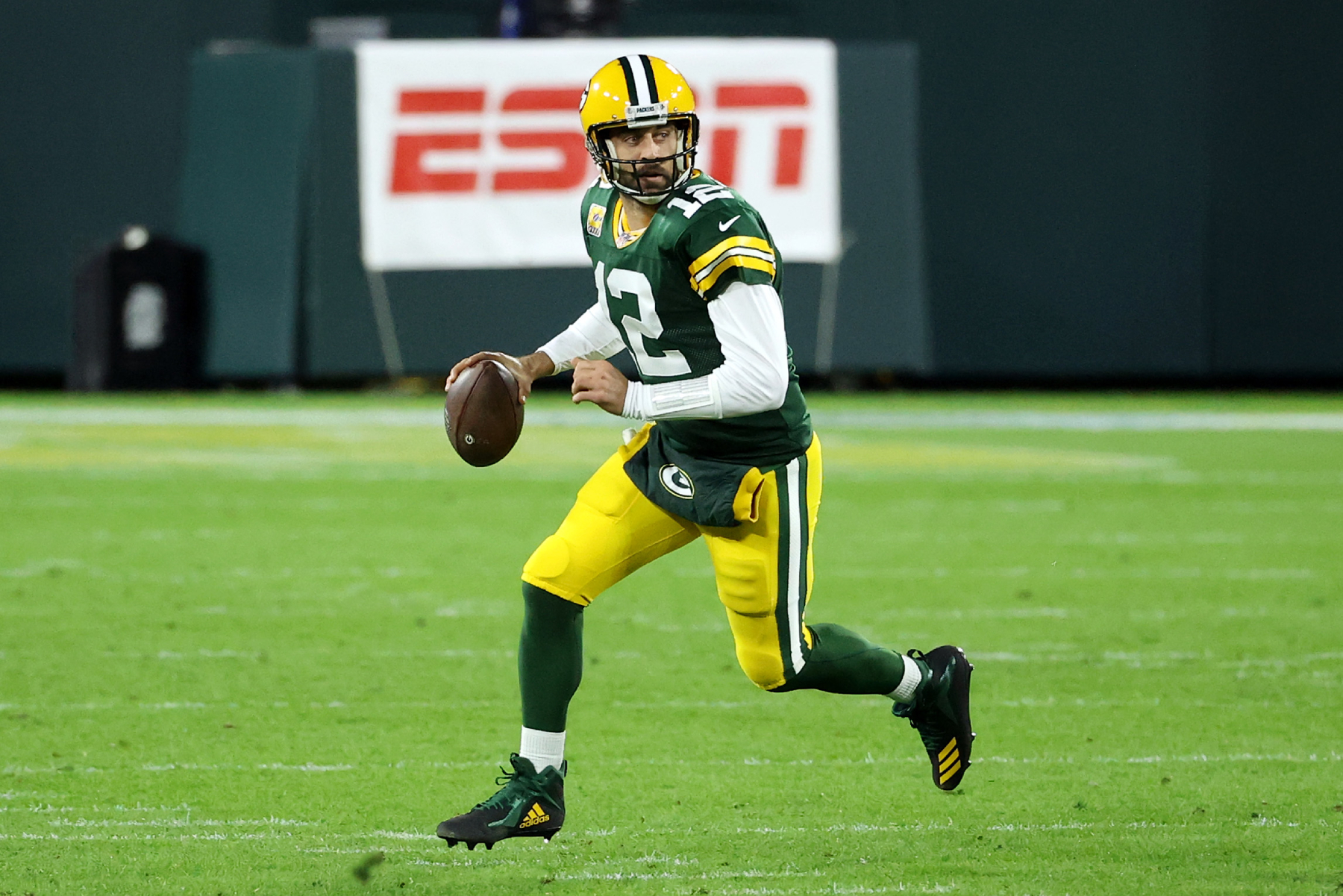 Rodgers had a good year in 2019. He threw for 4,002 yards, 26 touchdowns, and only four interceptions, and he led the Packers to the NFC Championship Game. However, some people wondered if he had maybe lost some of his powers. This is because he is on the wrong side of 35 years old, and his completion percentage was the second-lowest since he became the Packers' starter in 2008.
Rodgers is proving that he is just as good as he has always been, though.
Through four games in the 2020 NFL season so far, Rodgers has thrown for 1,214 yards, 13 touchdowns, and no interceptions. That last mark is extremely impressive as he hasn't thrown one pick yet through four games. This comes after he was first in the NFL in interception percentage each of the the last two seasons.
Rodgers has had some big games so far this year too, especially in the Packers' win on Monday Night Football over the Atlanta Falcons in Week 4. He ultimately completed 27-of-his-33 passes for 327 yards, four touchdowns, and, of course, no interceptions. The performance not only sent a strong message to Wilson, but it also improved the Packers to 4-0 on the season.
Additionally, as mentioned earlier, the Seahawks' offense is No. 2 in the NFL in points per game. Who is No. 1? The Packers with 38 points per game.
Who are the other MVP contenders?
So far through four weeks, Wilson and Rodgers are pretty much the two main frontrunners for MVP. Four games is still pretty early into the season, though, so who are the other contenders?
Buffalo Bills QB Josh Allen certainly has a case so far, as he has led the Bills to a 4-0 record with his 1,326 passing yards, 12 touchdowns, and only one interception. Allen also has three rushing TDs this season. Patrick Mahomes is always in the conversation too. He has unreal talent, but his stats aren't too bad either this year as he has thrown for 1,134 yards, 11 touchdowns, and no interceptions, which has led the Kansas City Chiefs to a 4-0 record.
Additionally, if the Cowboys can turn things around after starting the year 1-3, Dak Prescott should also get some consideration. He leads the NFL with 1,690 passing yards to go with nine passing touchdowns and three interceptions. Prescott also has three rushing touchdowns on the year.
The MVP award is typically an award given to quarterbacks, as the last non-QB to win the award was Adrian Peterson in 2012. However, there are still some non-quarterbacks this year who have also made strong cases so far. 
One is Rodgers' teammate, running back Aaron Jones, who is second in the NFL in rushing yards with 374, and second in yards from scrimmage with 509 to go with six rushing/receiving touchdowns. A couple of others are Saints RB Alvin Kamara, who is first in the NFL in yards from scrimmage with 557 to go with seven rushing/receiving touchdowns, and Arizona Cardinals wide receiver DeAndre Hopkins, who leads the NFL in catches with 39 to go with 397 receiving yards.
The NFL MVP race is wide open, but Aaron Rodgers and Russell Wilson have the strongest cases to win the award so far.
Stats courtesy of Pro Football Reference