Aaron Rodgers' Lengthy Instagram Post Is a Farewell One Way or Another
The Green Bay Packers and the entire NFL wait patiently to see whether Aaron Rodgers will retire. Despite winning another NFL MVP, the future of Rodgers remains uncertain.
Will he play one more year in Green Bay? Will he ask for a trade and head to the Denver Broncos to team up with former Packers offensive coordinator Nathaniel Hackett?
Nobody has the slightest idea what Rodgers will do. But, as the days get closer and closer to free agency, the decision is coming soon. On Monday night, Rodgers dropped a lengthy Instagram post that just might be a retirement announcement — or, at least, it seems like it. Either way, this shows that he is saying farewell to somebody.
Aaron Rodgers appears to drop a massive hint towards his retirement
Rodgers sent the internet into a frenzy once again, this time with a 10-slide post on his Instagram account. Is this a retirement announcement? Who knows, but it sure sounds like it.
The entire 2021 NFL offseason was spent with Rodgers deciding whether or not to play for Green Bay. On draft night, trade rumors circulated then fizzled out. Months later, they opened up again just to disappear without real traction.
Then, Rodgers returned to the Packers and won the NFC North, the top seed in the NFC, and another NFL MVP.
The Packers lost to the San Francisco 49ers in the Divisional Round game at Lambeau Field, and instantly the Rodgers rumors picked up once again. The last photo in Rodgers' post is something to keep an eye on as well, although, knowing Rodgers, this could be all for show.
The frustration and disappointment might finally be too much to overcome for the franchise he has spent his entire NFL career with. But, this latest post looks like a goodbye. The question is, is this a goodbye to the NFL or to the Packers?
The Packers star QB could be signaling a changing of the guard — and a departure to another NFL franchise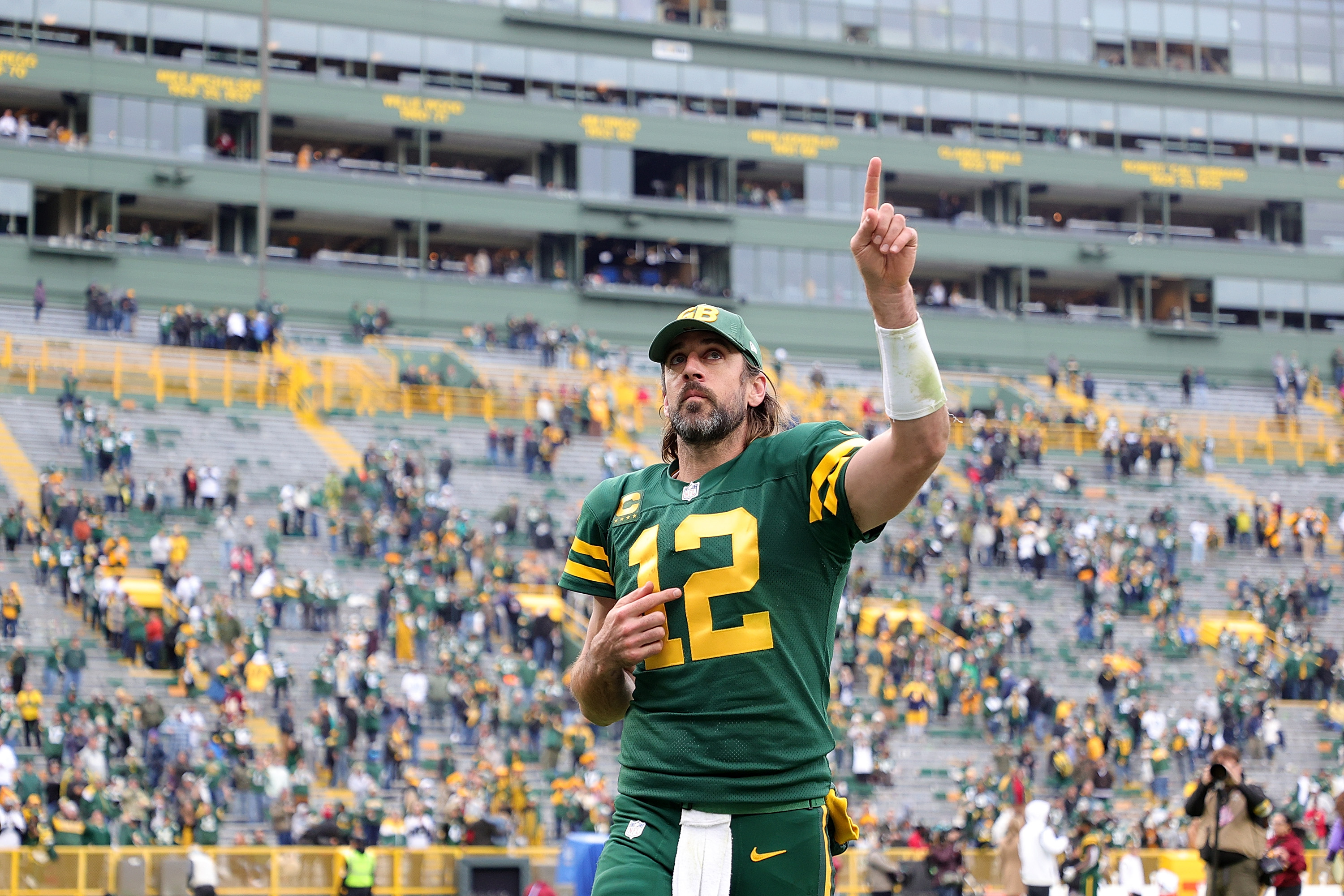 What does all of this mean?
Nobody knows until Rodgers himself explains. But, Broncos insider Benjamin Albright brought up some valid points after the post dropped on Monday evening.
This could very well be a retirement hint from Rodgers. Or, it could be just the opposite. This might mean that he is leaving Green Bay and playing quarterback for another NFL team.
Could it be the Broncos? The Hackett connection is too obvious to pass up, not to mention the flurry of pass-catchers and weapons the Broncos have on offense.
Nonetheless, this is pure speculation at this point. But it sure is an interesting time to do so with a press conference from Packers general manager Brian Gutekunst scheduled for Wednesday and Rodgers set to appear on The Pat McAfee Show on Tuesday.
The Gutekunst interview has been planned, but the McAfee appearance could very well mean something.
Everybody will be holding their breath waiting for Rodgers' decision, and the Broncos and Packers appear to be the teams most interested in where the NFL MVP plays next season — if he plays.
The Packers losing Aaron Rodgers would send them into full-fledged rebuild mode
Reports surfaced that the Packers were willing to go "all-in" to bring Rodgers back, and they must do that.
Without Rodgers, the Packers most likely don't even make the playoffs. Jordan Love clearly isn't the future of this franchise, and NFL teams haven't exactly been too excited or anxious to make a deal for him.
As Albright reports, he "isn't in demand." That means a lot about how Green Bay and the NFL views Love. With that being said, the Packers can't afford to let Rodgers go.
If they do, it essentially signals a massive rebuild in Green Bay and the likely departure of Davante Adams as well if they don't place the franchise tag on the talented wide receiver.
Aaron Jones is another player that could be dealt if the Packers decide to blow it up, and it all hinges on the decision of Rodgers. If he leaves — whether to retirement or another team — the Packers will be forced to scramble for an answer at QB.
The bad news is that their cap space isn't friendly at all, so their options would be minimal.
This lengthy Instagram post means something, and whether it's retirement or a departure to another team, this must be worrisome for the Packers.
Of course, knowing how Rodgers has been lately, this could be nothing. However, there are far too many layers and way too many farewell-type messages for this to be meaningless.
We sit and wait, and perhaps he will make his decision soon.
Stats Courtesy of Pro Football Reference
RELATED: Aaron Rodgers Contract: How the Packers Can Keep or Trade the $46M QB