Aaron Rodgers Made Himself an NFL Star and Nearly Got Married Before Dating Danica Patrick
When looking at some of the best quarterbacks to ever play in the NFL — Aaron Rodgers is certainly on that list. He has not only made unreal plays throughout his entire career, but he seems to make the Green Bay Packers contenders for a Super Bowl every season.
Since entering the NFL, Rodgers has had a pretty interesting life. In addition to becoming an NFL star and one of the greatest quarterbacks of all-time, Rodgers has also been in three (what have appeared to be) serious relationships. Rodgers actually almost got married once, and then had two other relationships with other massive celebrities, including former pro driver Danica Patrick.
Aaron Rodgers became a star in college at Cal before going to the NFL
RELATED: The Green Bay Packers Just Sent a $12 Million Message About Aaron Rodgers' Future
Believe it or not, Rodgers was just a three-star recruit out of high school, according to CBS Sports. No FBS programs offered him a scholarship, so he chose to go to a junior college.
Rodgers ultimately played at Butte Community College. He threw for 28 touchdowns and led his team to a 10-1 record, as well as the NorCal Conference championship. His play ultimately got noticed by the University of California, where he ultimately transferred to.
He first started the 2003 season at Cal as the backup, but Rodgers became the starter in the fifth game, according to CBS Sports. He ultimately threw for 2,903 yards, 19 touchdowns, and only five interceptions that season.
Rodgers then became a star in 2004 as he led Cal to a 10-1 record in the regular season with their lone loss coming to No. 1 USC. He threw for 2,566 yards that season to go with 24 touchdowns and eight interceptions. After that stellar season, Rodgers declared for the NFL draft.
Rodgers has become an NFL legend after sliding to the Packers in the draft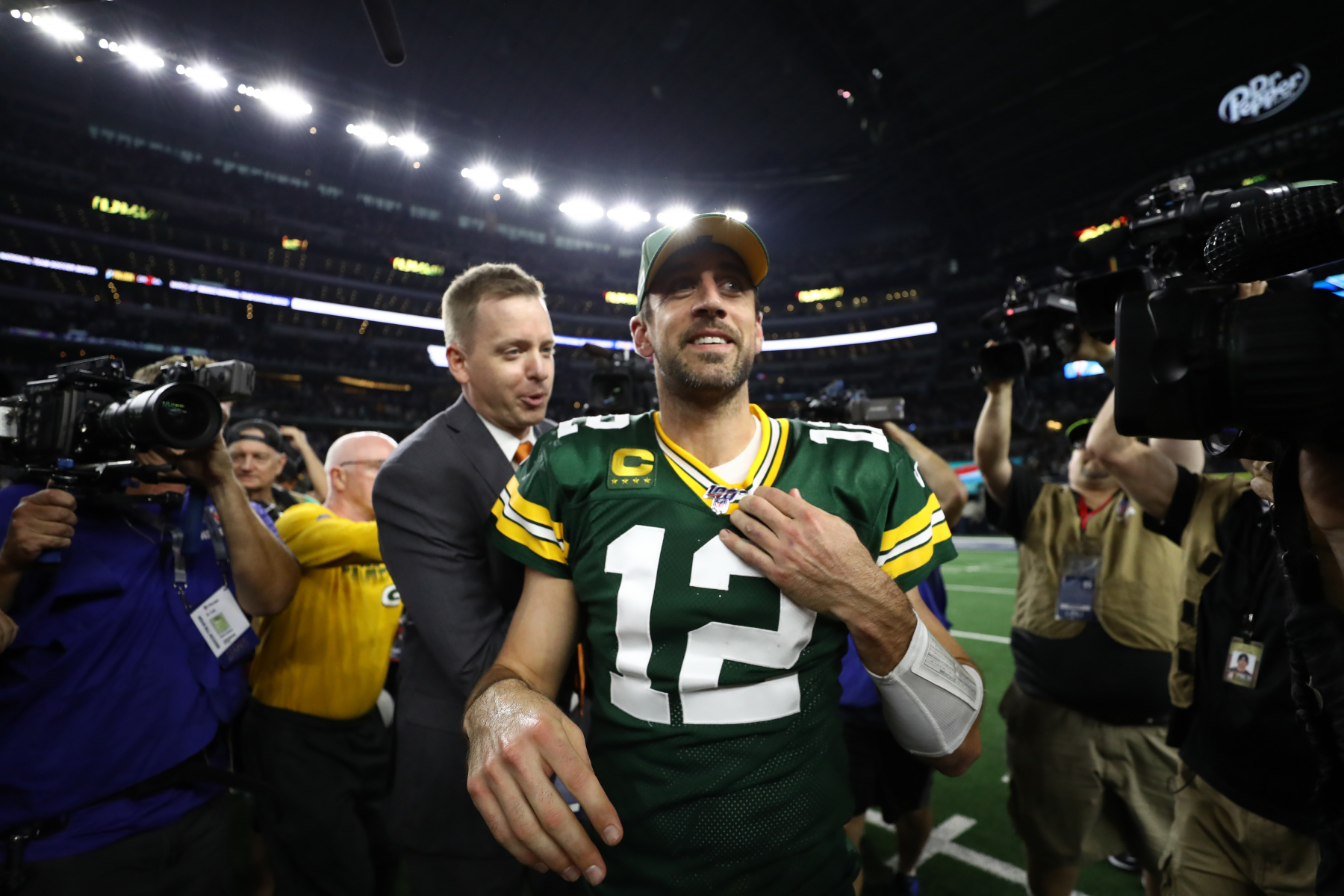 RELATED: Brett Favre's Strange Plan for Jordan Love Will Set Packers Rookie Up For Career Failure
Heading into the 2005 NFL draft, Rodgers and Alex Smith were two of the top quarterbacks being discussed. Smith ultimately went to the San Francisco 49ers with the No. 1 overall pick. Rodgers, on the other hand, slid in the draft. He ultimately went to the Green Bay Packers with the No. 24 overall pick.
Rodgers ultimately spent his first three seasons backing up the legendary Brett Favre. He then became the starter for the Packers in 2008, and he immediately had success. The Packers only went 6-10, but Rodgers threw for 4,038 yards, 28 touchdowns, and 13 interceptions. He has since only thrown for 10 or more interceptions in one other season in his entire career.
In 2009, Rodgers earned a Pro Bowl selection as he threw for 4,434 yards, 30 touchdowns, and seven interceptions. He also led the Packers to an 11-5 record and the playoffs. In 2010, however, Rodgers accomplished the ultimate goal — he won a Super Bowl with the Packers. In the Super Bowl win over the Pittsburgh Steelers, Rodgers threw for 304 yards, three touchdowns, and no interceptions.
Since then, Rodgers has led the Packers to the NFC Championship Game three other times, most recently just last season. He has become a legend too as he is an eight-time Pro Bowl selection, a two-time First-Team All-Pro, and he won the NFL's MVP award in 2011 and 2014.
For his career, Rodgers has thrown for 46,946 passing yards, which is 13th all-time, and 364 touchdowns, which is eighth all-time. Additionally, his career 102.4 passer rating is No. 1 all-time.
He has certainly cemented himself as one of the greatest quarterbacks ever.
He has had multiple relationships while being an NFL star
RELATED: Who'll Last Longer in Football, Aaron Rodgers or His Brother Jordan?
Rodgers has certainly become a massive celebrity because of his success with the Green Bay Packers. His stardom has led to him being in multiple high-profile relationships too.
Starting in 2014, Rodgers began dating actress Olivia Munn. The two, however, broke up in 2017, according to ESPN.
He then later began dating former professional driver Danica Patrick in 2017. However, according to E! News, there had been rumors swirling in July 2020 about their relationship. Fans noticed that Patrick did not support Rodgers at the American Century Championship, where he was competing in a celebrity golf tourney. Her rep then confirmed to E! News that they were no longer together.
Before his relationships with Munn and Patrick, though, ESPN reported that Rodgers was previously engaged to someone he knew from high school. This relationship was not widely reported on, and ESPN did not even give her name in the article.
Upon further investigation, however, it appears that his former fiance was Destiny Newton. Bleacher Report speculated whether the two were engaged in 2012. According to Bleacher Report, the two reportedly had known each other for about 10 years at the time and had met at church camp.
Aaron Rodgers has become an absolute star in the NFL over the years. He has also lived a pretty interesting life as the massive celebrity that he is.
Stats courtesy of Sports Reference and Pro Football Reference