Aaron Rodgers Drops a Major Hint About His Future With the Green Bay Packers After He Broke the Hearts of Bears Fans
The Green Bay Packers (5-1) and quarterback Aaron Rodgers are a lot like a troubled couple that has gone through therapy and is seeing the other side. They're riding a five-game win streak and are fresh off beating their bitter rivals, the Chicago Bears (3-3), on the road at Soldier Field.
The drama that plagued Green Bay this offseason seems like a distant memory. It's tough to remember that only a few months ago, Rodgers reportedly wanted to be traded away from Green Bay. He was even open about some of the issues he had with the Packers' front office, and he admitted to thinking about retirement.
The Packers and Rodgers appeared to be on the brink of divorce, but winning cures all ills, doesn't it? Riding high after a 24-14 victory over the Bears in which Rodgers put the nail in Chicago's coffin with a fourth-quarter touchdown run, the MVP quarterback is now hinting that his future in Green Bay may not be so murky.
Aaron Rodgers doesn't think this was his last time playing at Soldier Field with the Packers
Yes, much of Green Bay's offseason drama centered around Rodgers wanting more say in the personnel decisions considered by the front office. That was a big part of his dissatisfaction, but the fact that Green Bay selected his heir apparent in Jordan Love during the first round of the 2020 NFL Draft is the specter that hung over everything, and it frankly still does.
You don't draft a quarterback in the first round if you don't intend to play him sooner rather than later, and Rodgers clearly felt that the writing was on the wall for him. He felt like he was no longer a part of Green Bay's future.
"I felt like if you can't commit to me past 2021 and I'm not a part of a recruiting process in free agency, if I'm not a part of the future, then instead of letting me be a lame-duck quarterback, if you want to make a change and move forward, then go ahead and do it," Rodgers said upon his return to training camp this offseason, according to Bill Huber.
Keep in mind that Rodgers' future in Green Bay is still an open question, which is why the thought of Sunday's game potentially being his last time on the road in Chicago wearing green and gold was brought up. Rodgers said he thought about that in the pregame, but then he dropped a line that should have the rest of the NFL taking notice.
"I don't think this is my last one, but I've enjoyed every single one of them," he said, according to Ryan Wood.
Rodgers is all-in on the Packers' 2021 campaign
For as many fans as Rodgers has, he has made several detractors over the years. Those who don't believe in Rodgers might tell you that sometimes he can be aloof or even seem disinterested, especially if things aren't going well for the team. There have also been questions about his leadership, though they have always seemed to come from certain ex-teammates.
While he can certainly be moody, Rodgers has been completely locked in this season outside of Green Bay's season-opening loss to the New Orleans Saints (3-2). To be fair to him, the whole team looked uninterested in that 38-3 drubbing.
Rodgers has been engaged on the field and even on the sidelines. He also showed perhaps more fire than he has in years when he ran in what essentially became the game-winning touchdown against the Bears. The Green Bay quarterback flashed "the belt" and was even heard yelling at Chicago fans in the stands.
"I've owned you all my f****** life! I own you! I still own you!" he shouted at the crowd.
He was clearly in the moment and feeling himself. There's also the fact that he does, in fact, own the Bears. Rodgers is 22-5 overall against Chicago and 11-3 against the Bears at Soldier Field.
"Sometimes you blackout on the field – in a good way," he said after the game, according to Packers.com.
His head coach, Matt LaFleur, saw that moment as a look into the MVP's competitive side.
"There's a lot of stuff that gets said out on that football field. Again, it's a competitive game and I think that's one of those moments where you see the competitor in Aaron come out," LaFleur said.
It's still too early to predict Rodgers' future in Green Bay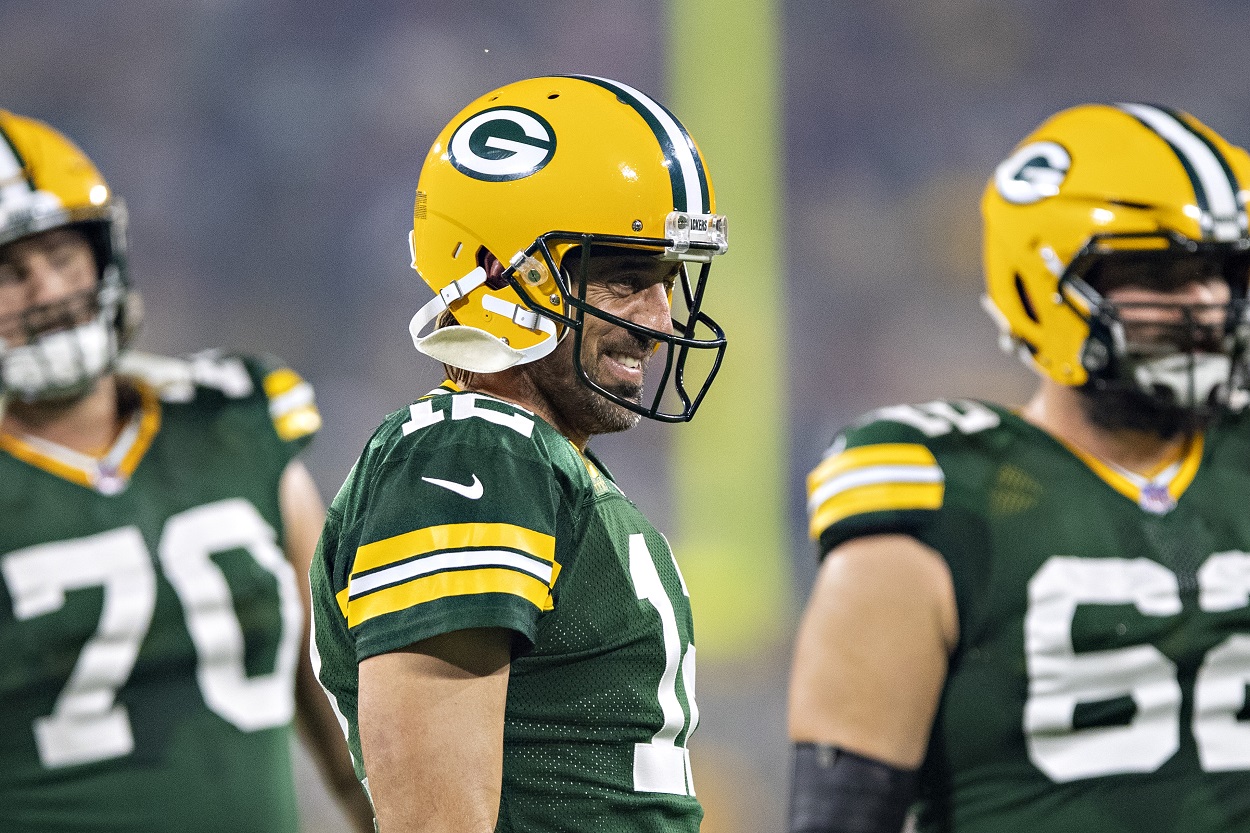 It's probably smart to take what Rodgers had to say after the game with a grain of salt. His comments came in the afterglow of a big win, remember, and there's still plenty of season left to play.
The Packers have what should be an easy win coming up at home against the Washington Football Team (2-4), but then they have to travel to Glendale to play the currently undefeated Arizona Cardinals. That game is on a Thursday night, so it will be a quick turnaround for an already beat-up Green Bay squad.
Rodgers is having another MVP-like season, and Green Bay should end up being healthier with the potential return of Pro Bowl-level players like offensive tackle David Bakhtiari and cornerback Jaire Alexander. Still, the meat of Green Bay's 2021 schedule is coming up, so it remains to be seen how Rodgers and the Pack will react to situations that could put them in some real adversity.
After the Thursday Night Football game against the Cardinals, Green Bay has to play the Kansas City Chiefs (3-3) at Arrowhead, the Seattle Seahawks (2-3) at home, and the Minnesota Vikings (3-3) in a divisional game on the road, then finish that stretch against a powerhouse Los Angeles Rams (5-1) team.
The Packers and Rodgers are apparently smelling the roses, and counseling appears to be working out. Let's hold our breath and see if the happy feelings can stick through the winter, though.
Stats courtesy of ESPN and Pro Football Reference.
RELATED: NFL Insider Jay Glazer Says 2 NFL Teams Have the Inside Track on Getting a Star QB Next Season and They Played Last Week in the 'Aaron Rodgers Bowl'