Aaron Rodgers Makes His MVP Aspirations Clear: 'Would It Be Cool? Hell Yeah'
Aaron Rodgers has had an incredible season with the Green Bay Packers. His play has helped give the Packers a chance at clinching the No. 1 seed in the NFC and has made him a favorite to win the 2020 NFL MVP award. So, how does Rodgers feel about winning the award? He recently answered that question, and it appears that he would actually really like to win it.
Aaron Rodgers is a favorite to win the NFL MVP award
RELATED: Aaron Rodgers Finally Addresses the GOAT Debate: 'I'm Probably in That Conversation'
The Green Bay Packers aren't just 12-3 and one of the NFL's best teams this season, but Aaron Rodgers is also having one of the best years of his career.
He has thrown for 4,059 yards, an NFL-leading 44 touchdown passes, and only five interceptions. He also leads the NFL in touchdown percentage, which is the percentage of touchdowns per pass attempt, with 8.8%.
According to Yahoo Sports, BetMGM has Rodgers as the favorite to win the MVP award, as his odds are at -150. Behind him are Patrick Mahomes (+160) and Josh Allen (+1800).
So, how do their numbers compare?
Mahomes has thrown for an NFL-leading 4,740 yards to go with 38 touchdowns and six interceptions. Allen, on the other hand, has thrown for 4,320 yards, 34 touchdowns, and nine interceptions. He has also run for 418 yards and eight touchdowns.
If Mahomes were to win MVP, it would be the second time he has won it in his career. Allen, on the other hand, has not won one yet, but Rodgers has already won two. Winning one this season would give Rodgers the third MVP award of his career.
He has already won two MVP awards with the Green Bay Packers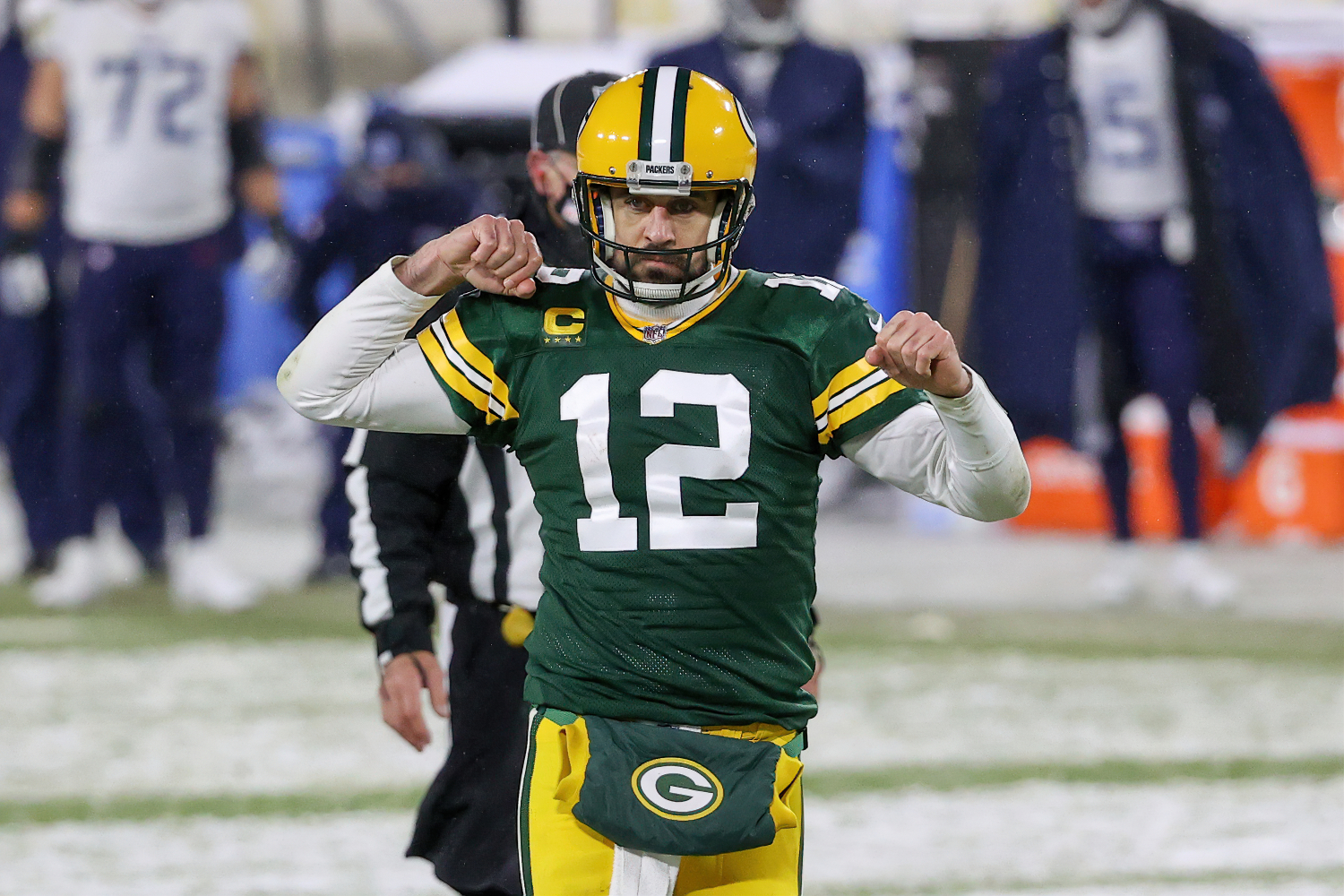 RELATED: Aaron Rodgers Reacts To Former Packers Coach Mike McCarthy Smashing Watermelons With the Cowboys
Another MVP award would really prove how legendary of a quarterback Aaron Rodgers has been in his career. Only five players have won three or more MVP awards in their careers. Tom Brady, Johnny Unitas, Brett Favre, and Jim Brown all won three, while Peyton Manning won five.
Rodgers' first MVP award came in 2011, the season after he led the Packers to a Super Bowl title. Green Bay went 15-1 in 2011, and Rodgers threw for 4,643 yards, 45 touchdowns, and six interceptions.
He then won his second MVP award during the 2014 season. Rodgers threw for 4,381 yards, 38 touchdowns, and only five interceptions that season. Those numbers certainly line up with the season he is having this year, and he even has a chance to set a new career-high in passing touchdowns this season, as his 45 in 2011 were the most for him in a single season in his career. Just one TD pass in Week 17 would ultimately tie that career-high, and two would set a new career mark.
So, since Rodgers has already won two MVP awards and has a chance to win a third, how does he feel about the award?
Aaron Rodgers sent a strong message about the NFL MVP award
RELATED: Aaron Rodgers Just Sent a Strong Message To the Entire League About His Favorite Weapon
Rodgers recently appeared on The Pat McAfee Show, and he addressed the importance of winning MVP.
"I think there's preseason goals and things you'd like to accomplish," Rodgers said on the Dec. 29 episode. "… Beginning of the season, for sure. You know if you have a type of performance week to week that you want to have, you're going to be in the mix for a Pro Bowl, an All-Pro, and an MVP."
What he said next, though, was pretty funny but also pretty telling of what winning the award means to him.
"Anyone who says that stuff's not important to them is just a robot who probably's not someone that you or I would want to spend time with," Rodgers said, "because I don't know why people would shy away from just sharing their feelings on that. Like, why would you not want to be voted Pro Bowl? Why would you not want to be voted All-Pro? Why would you not want MVP? Those are markers in our game that are voted on by people who have studied the game for a long time. Would it be cool? Hell yeah, it would be awesome."
That's interesting to hear. Some players try to downplay those types of accomplishments, but Rodgers seems to embrace them.
Whether he wins MVP or not, Rodgers is certainly having an incredible season this year for the Green Bay Packers. He has a chance to win more than just the regular-season MVP award this season, too, though. He has a chance to win the whole thing.
Stats courtesy of Pro Football Reference