Aaron Rodgers and Matt LaFleur Put Their Faith in an Old Friend When the Packers Needed Him Most Versus the Bengals
For Mason Crosby and the Green Bay Packers, it will be the type of game film you throw into an old shoebox, douse in lighter fluid, and then send to the moon in a blaze of glory.
The Packers (4-1) technically "beat" the Cincinnati Bengals (3-2) by a score of 25-22. It will go down as a win in the standings, but for a while, the Packers and Bengals both played as if they were trying to lose the game.
The kickers for both teams, specifically, had a rough day in every sense of the word.
If you weren't watching the game, you would have thought there was a glitch in the play-by-play. The Packers and Bengals missed a whopping four field goals in a row. Ultimately, the Packers prevailed, though. Crosby, despite his overall horrific day, found the remaining ice left in his veins and kicked the game-winner with 2:19 left in overtime.
Green Bay showed ultimate confidence in Mason Crosby
Though it may have been hard in the moment, head coach Matt LaFleur was wise to remember that Crosby — a 15-year veteran — has won the Packers far more games than he's lost over his career. He had made 82% of his 428 attempts before this game, and he's drilled some extremely clutch kicks over the years.
Every kicker misses, and every now and then Crosby has been known to have an off-game (he missed five kicks against the Detroit Lions in 2018). Crosby has been among the top kicking names in NFL throughout his career, though, so LaFleur, and even Aaron Rodgers, had confidence asking him to win the game despite misses on his previous three attempts. ​
This was also despite the fact that the Packers had just been the beneficiaries of a beautiful third-down catch from Randall Cobb, who again came up clutch for Green Bay with a 15-yard catch in traffic on 3rd-and-16.
LaFleur could have easily decided to trust his MVP quarterback with a 4th-and-short situation to extend the drive and perhaps shoot for a touchdown instead of a field goal. That decision would have been justifiable considering Crosby's woes, but both quarterback and coach were confident in their kicker, according to ESPN.
Rodgers had asked special teams coach Mo Drayton if Crosby would be able to kick it in this time. "Hell yeah he's going to make it," Drayton said. To which Rodgers replied, "Let's kick it then."
For his part, LaFleur had consulted with his veteran kicker and felt safe to kick it on 4th-and-short.
"I've got this," Crosby told his head coach. "All right, you got it," LaFleur said.
Both kickers had a game worthy of 'Yakkety Sax'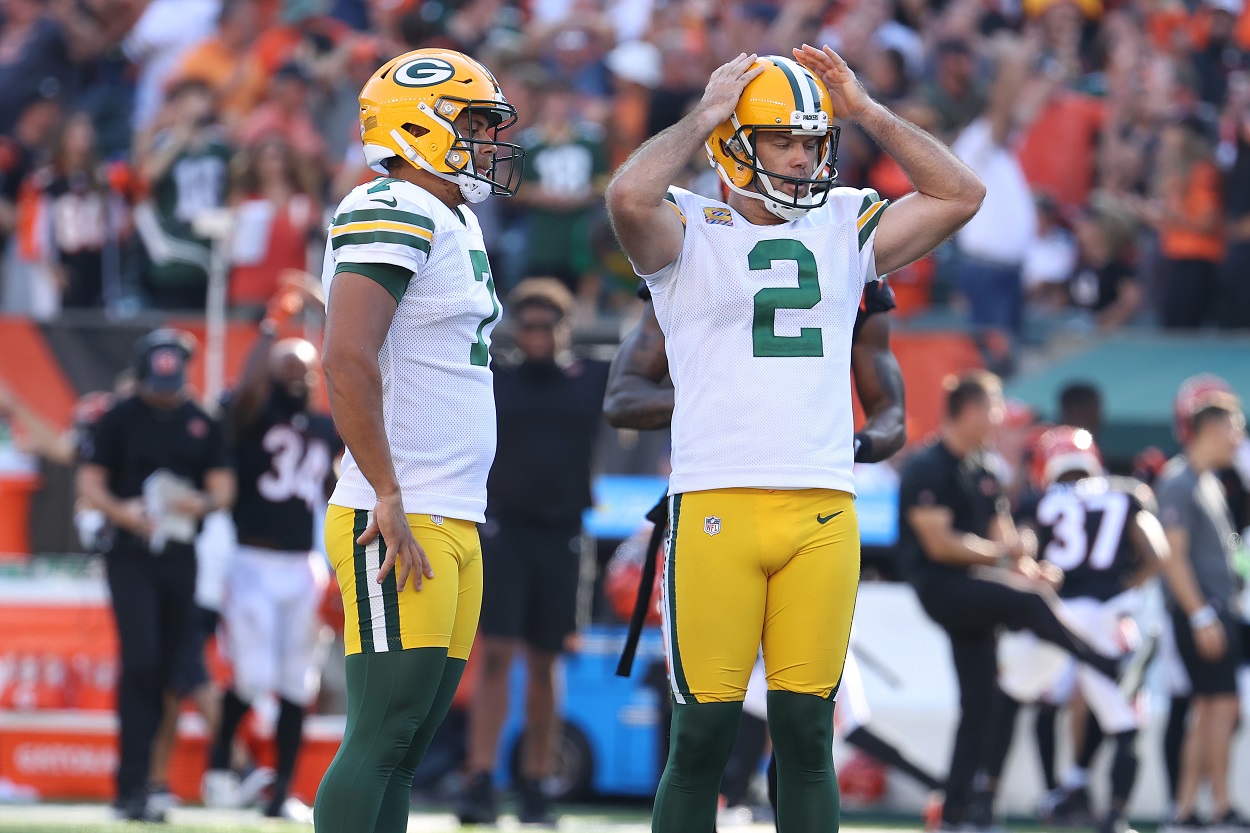 Fans of both the Packers and Bengals would be wise to forget this game ever happened. Cardiologists all throughout the Midwest likely received a record number of calls as this thing went into overtime. If you're brave enough to watch the highlights (or lowlights, depending on your perspective), may I suggest using "Yakkety Sax" as a fitting soundtrack?
The two teams missed three field goals in the last 2:14 of regulation, and each kicker shanked a game-winning opportunity in overtime before the game finally ended.
It was a shank-fest of epic proportions.
Crosby missed his field goal at the 2:14 mark of regulation, which led to what seemed to be a game-winning opportunity for Joe Burrow and the Bengals. Cincinnati dinked and dunked its way down the field to set up rookie kicker Evan McPherson with his own shot to become a hero. McPherson's kick clanked off the right upright, and Aaron Rodgers took advantage of the good field position by hitting Davante Adams for 33 yards to set up Crosby for another game-winner.
Crosby went wide left, and away we went to overtime.
It seemed like neither team wanted to win
Crosby couldn't even get the coin flip right.
He called tails, which awarded Cincinnati the ball and a chance to win the game with a touchdown.
The Bengals had momentum, and they had proved throughout the course of the game that their offense could move the ball on an otherwise impressive Green Bay defense. Burrow had connected with star rookie wideout Ja'Marr Chase multiple times, a connection both players forged at LSU that has undoubtedly paid dividends in the NFL.
Burrow made a huge mistake. A timely interception from De'Vondre Campbell set Green Bay up on its own 17-yard line in what would normally be no-doubt territory for the Packers' veteran kicker. Burrow inexplicably didn't see Campbell stepping into the lane on a crossing route, and three plays later, Crosby was set up for a relative chip shot (for him) at 40 yards.
Wide left.
The comedy of errors was unfortunately far from over, though.
You know things are bad when you celebrate a game-winning kick that actually never went through the uprights. That was probably the lowest of lowlights for McPherson, who celebrated as if he won the game despite missing a 49-yarder just left of the upright with 4:19 to go.
Green Bay got the ball back and, with a few nice passes for Rodgers, had one more chance to win the game. The rest is some kind of strange history that fanbases of both teams will always remember but never talk about.
Overall, it may have been one of the most back-and-forth NFL overtime periods in recent memory before Crosby finally put the Bengals out of their misery.
In fact, he probably did us all a favor.
Stats courtesy of Pro Football Reference
RELATED: Aaron Rodgers Weighs in on the Biggest Problem With the Urban Meyer Scandal: 'In College You Call Your Coaches Coach, and in the NFL, You Call Them by Their Name'