Aaron Rodgers Nearly Quit Football After Receiving Zero Division I Scholarship Offers out of High School
When Packers starting quarterback Aaron Rodgers arrived in Green Bay in 2005, he had to wait three years to get in the game. Brett Favre was still playing, and the young football star from Southern California had to wait his turn. The 37-year-old MVP had become accustomed to waiting for his big break. As a football player for Pleasant Valley High School, Rodgers didn't receive a single Division 1 college scholarship. In fact, Aaron Rodgers almost decided to quit football altogether, but thankfully stuck it out to become one of the greatest quarterbacks in NFL history.
The Green Bay star quarterback almost didn't make it to the NFL
Surprisingly, college recruiters were not knocking on Rodgers' door when he graduated from high school. Since he was not receiving any scholarship offers, the young student decided to attend a local community college. Rodgers played for a year at Butte College, ultimately being recruited in 2003 to play at the University of California, Berkeley. According to Britannica, Rodgers became the Golden Bears' starting quarterback. In 2004, the team had a 10-2 record, and Rodgers was named first-team All-Pacific-10 Conference.
In the first round of the NFL draft in 2005, the Green Bay Packers picked up the young quarterback, and Rodgers was on his way.
In a 2010 interview with In Depth With Graham Bensinger, Rodgers revealed "it was a combination of a number of things" as to why he didn't receive any scholarship offers coming out of high school.
Rodgers explained that where he grew up is not heavily recruited. He said not many people knew about him and his family wasn't aware of how the process worked. While there are "many outlets now for kids to get exposure," Rodgers admits to not taking advantage of those opportunities.
The MVP quarterback acknowledged the whole experience "made me work that much harder."
Aaron Rodgers almost quit playing football
In high school, Rodgers played baseball in the off-season. When the college scholarship offers didn't come his way, he almost decided to quit playing football. The legendary quarterback was considering giving professional baseball a try.
When asked by Bensinger how close he came to giving up on football, Rodgers replied he had given it "some serious consideration." He explained, his spring baseball year went "pretty well." As a pitcher, he claims he was "throwing pretty hard" but struggling with batting.
Rodgers revealed, "there were supposedly a couple of scouts that came and looked at me at some point." He explained, "I was really considering playing summer baseball with an opportunity to play with the legion team in town."
Undecided on his path, Rodgers thought about intensifying his training and going to Butte College. He also considered "doing something completely different."
After carefully weighing his options, the veteran quarterback determined "football was his first love," and he chose to pursue a career in college football. Packers fans couldn't be happier with his decision.
Rodgers boasts a number of career achievements in the NFL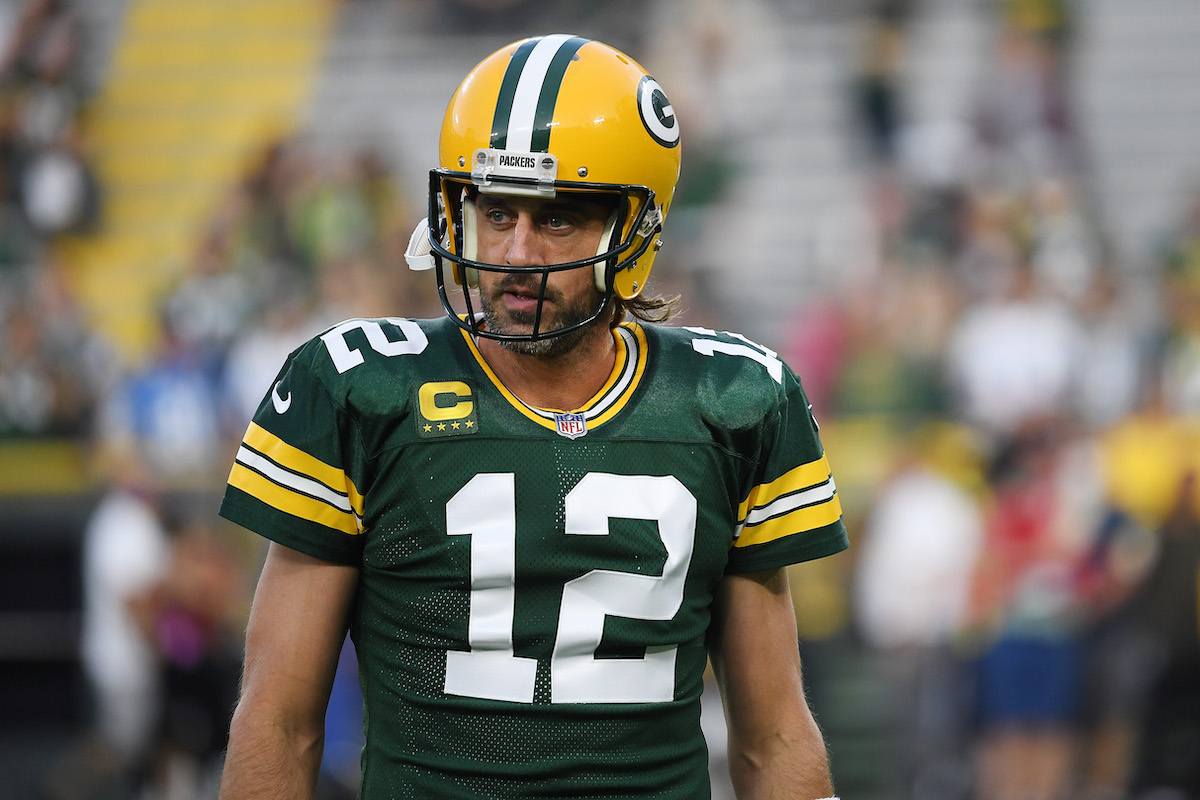 Now, with 17 years of experience under his belt, Rodgers has accomplished quite a bit in his professional football career.
According to the Green Bay Packers team website, Rodgers ranks third in the NFL in career passing, second in TD/INT ratio, and first in interception percentages. He has played in nine out of the last 12 Pro Bowl games and holds more than 30 NFL records. In 2011, the elite quarterback led the team to victory in Super Bowl XLV, beating the Pittsburgh Steelers.
Rodgers is one of only four NFL players named the league's Most Valuable Player three or more times. Tom Brady, Peyton Manning, and Brett Favre share the honor.
RELATED: Aaron Rodgers Nearly Quit Playing Football Years Before Reaching the NFL