Aaron Rodgers' Net Worth: What He Really Makes On and Off the Field
You've probably heard that Aaron Rodgers is now the highest-paid player in the NFL. In a single season, Rodgers (and other NFL quarterbacks) make the kind of money that the rest of us could never even dream about seeing in our bank accounts. But what are the details of his latest contract? How much money is Rodgers really making, both on and off the field?
Below, discover everything you need to know about Aaron Rodgers' net worth and how he makes (and spends) his money.
Aaron Rodgers' contract extension makes him the highest-paid NFL player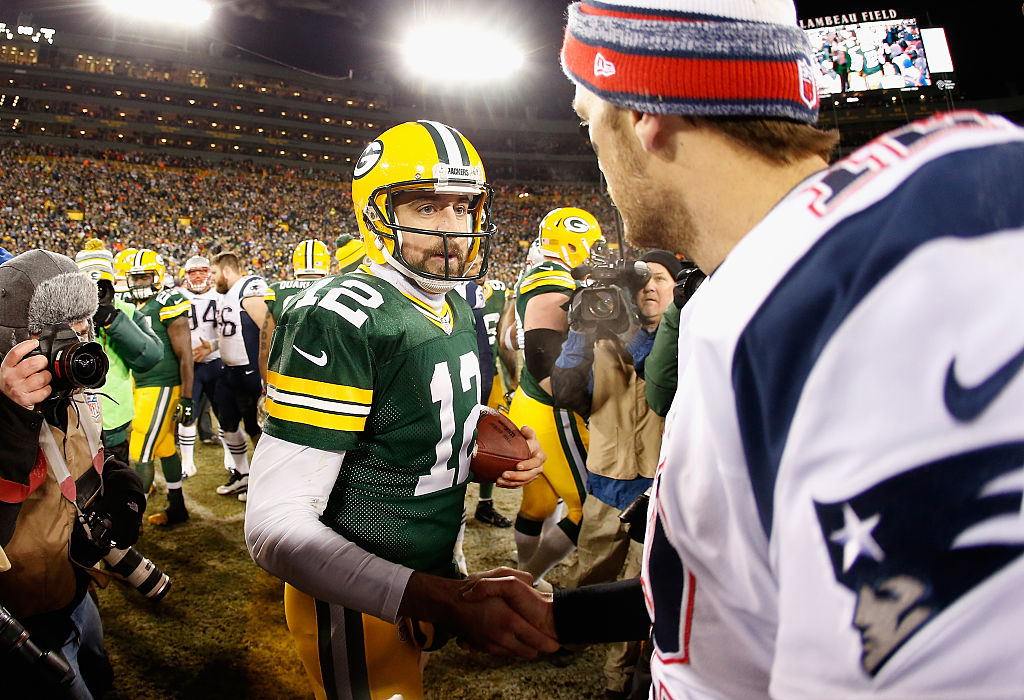 NFL.com reports that the Green Bay Packers and Aaron Rodgers recently came to an agreement over the quarterback's contract extension. Rodgers signed a four-year, $134 million extension. He's also receiving a $57.5 million signing bonus. Forbes reports that including endorsements and appearances, "Rodgers' earnings over the next 12 months should reach $90 million."
Fox News notes that Rodgers' contract extension makes him the highest-paid player in the NFL. Rodgers now earns more than Atlanta Falcons quarterback Matt Ryan. Ryan agreed to a five-year, $150 million deal in May. Under their new contracts, Rodgers will make $33.5 million per year, while Ryan will make $30 million. Rodgers had previously signed a five-year, $110 million extension in 2013. And he was set to enter the regular season with two years remaining on his contract. That contract would have paid base salaries of $19.8 million in 2018 and $20 million in 2020.
Celebrity Net Worth notes that Rodgers' contract "will actually be worth around $180 million when it's all said and done thanks to bonuses and guaranteed cash flow." The publication explains, "Approximately $103 million of his deal is guaranteed, of which $80 million will be paid before March 2019. In other words, between August 2018 and March 2019, the Packers will pay Aaron $400,000 PER DAY." No wonder Aaron Rodgers' net worth is so high!
Plus, Aaron Rodgers' net worth is staggering
As you might expect for someone who will get paid $33.5 million per year — or $400,000 per day — Aaron Rodgers' net worth is pretty impressive. Wealthy Gorilla estimates that Rodgers is worth about $30 million, the same figure currently given by The Street. However, Celebrity Net Worth thinks that Rodgers has a lot more in the bank. The publication puts the quarterback's net worth at an eye-popping $70 million. Plus, The Daily Mail reports that Aaron Rodgers' net worth "is likely to increase dramatically in the years ahead," given the magnitude of his new contract extension.
Someone with a net worth like Aaron Rodgers' typically has a lot of investments. And Rodgers recently made a very high-profile investment. Sports Pro notes that Rodgers became a minority owner of the NBA's Milwaukee Bucks. The deal makes him the only active NFL player to become a minority owner of an NBA team. And as we all know, an NBA team can prove a good investment.
Rodgers makes money off the field with endorsements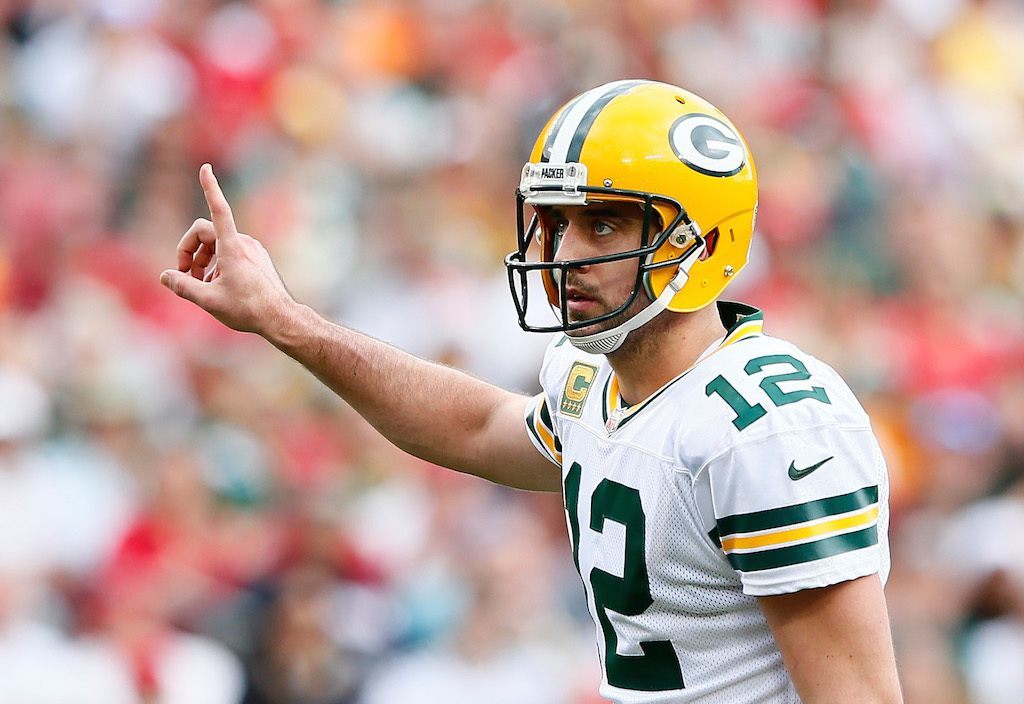 Aaron Rodgers' net worth keeps going up thanks to Rodgers' activities off the field, too. Forbes reported in 2015 that Rodgers was "one of the top-paid football guys in the Nike stable, and his commercials for State Farm are a national hit." At the time, the publication estimated the worth of his endorsements at about $7.5 million. After endorsing Nike, Rodgers moved on from that deal in September 2015. He then switched to Adidas, PlayersWiki reports.
Rodgers has also endorsed brands such as Associated Banc-Corp, Ford Motors, State Farm, Prevea Healthcare, Bergstrom Automotive, Sharpie, and IZOD. Players Wiki estimated early in 2018 that Rodgers continues to earn about $7.5 million per year through his endorsements. And as The Street notes, that figure doesn't even include residuals from recurring ads. Heavy notes that his most visible ad campaign is with State Farm. And his "Discount Doublecheck" ad has become a pop culture hit.
Some speculate that Rodgers' State Farm deal alone is worth $2 million, and note that he has "numerous small and one-time deals." Rodgers has done ads for Pizza Hut and for local companies in the Green Bay area, according to Heavy. And each of those deals further bolsters his bottom line.
Rodgers spends his money on houses, cars, and. . . costumes?
As Players Wiki notes, Aaron Rodgers has spent some of his money on a home in Del Mar, California, and a house in  Suamico, Wisconsin. But more importantly, the publication also characterized Rodgers as "desperately in love with luxury cars." His car collection includes vehicles from Mustang, Ford, and Tesla. He also owns a Chevrolet Camaro and an $8 million Mercedes-Benz Maybach Exelero.
Rodgers also spends some of his money on dressing to the nines for the annual Welcome Back Packers Luncheon at Green Bay's Lambeau Field. The Washington Post notes that Rodgers has worn an "unconventional" ensemble to the luncheon every year since 2010. In 2010, some Packers wore cowboy hats to signify their intent to make it to Dallas for that season's Super Bowl. Green Bay won the Super Bowl that year. So "a tradition was born." He's worn cowboy hats, bolo ties, star-spangled clothes, lots of denim, a fighter pilot ensemble, even a Men in Black getup.
Rodgers has also made headlines with his philanthropy, lending financial support to the MACC (Midwest Athletes Against Childhood Cancer) Fund, Raise Hope for Congo, and other organizations. He also founded itsAaron, which Heavy characterizes as a "video series that includes Rodgers surprising local children and families who are in need, and bringing awareness to local organizations that support hospitals and the military."
Read more: The 10 Best Games of Aaron Rodgers' Career