Aaron Rodgers Finally Reveals His Plans for His New Hairstyle: 'I've Been Getting Some Advice From Some Hair Connoisseurs'
Throughout the offseason and leading into the 2021 campaign, Aaron Rodgers' future with the Green Bay Packers has been the biggest storyline in football. However, the drama has forced many of us to overlook what should be a major topic of conversation: his hair. Rodgers no longer has the clean-cut look he has had for several years, but he's rocking a Trevor Lawrence-like flow, which always looks incredible in a helmet.
So, since his new style is obviously one of the more pressing issues in football, what are his plans for his hair? Well, it appears it's here to stay.
Aaron Rodgers has rocked a new hairstyle amid his Packers drama
Throughout the offseason, no one had any idea what Aaron Rodgers' future in the NFL and with the Packers looked like. Rumors flew around from every direction, with some saying he wanted to play for another team, and others claiming retirement was potentially on the table.
In the end, there seemed to be some truth to the rumors. Rodgers eventually showed up to Packers training camp and admitted he has, in fact, had issues with the organization and that he just wants to be a part of personnel conversations. But it's still unclear if anything will change, and his recent contract restructure will make it easier for him to leave Green Bay after this season.
However, while all of those reports were fun and important to cover, fans noticed something different about Rodgers when he showed up to training camp. OK, real fans probably began noticing this within the past year or so, as the quarterback's hair started getting longer and longer last season. It then became a subject of conversation on social media when he hosted Jeopardy! earlier this offseason, as he had it slicked back.
Now, at training camp, Rodgers' hair has been flowing out of his hats and helmet, looking almost comparable to Trevor Lawrence's.
So, what are his plans for it?
The Packers quarterback addressed his new hairstyle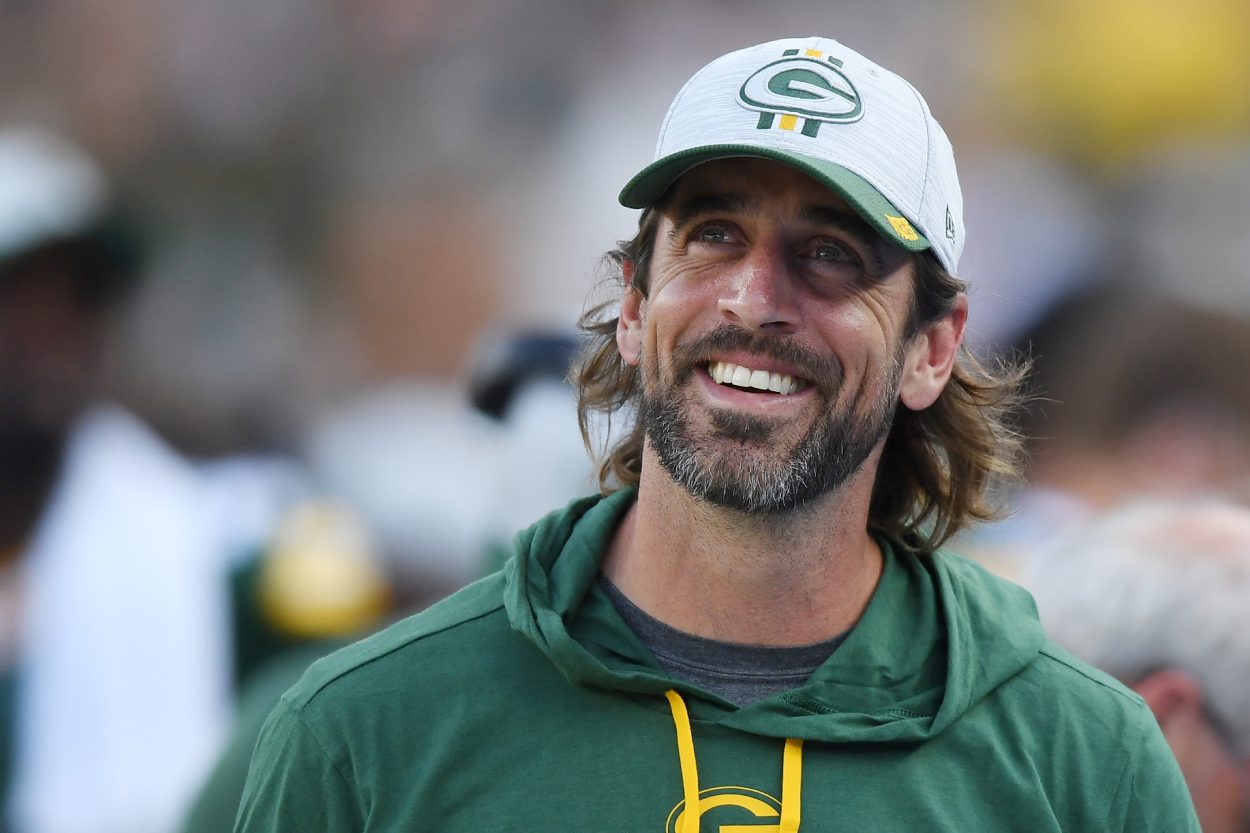 Rodgers recently appeared on his good friend Pat McAfee's show, and he finally addressed the question that fans really want answered.
No, we don't care about why there were so many rumors about him wanting to leave Green Bay this offseason, or whether he plans to go to another team next year. We want to know what's going on with his freaking hair. And not because it looks bad or anything. On the contrary, it looks great. We just want to know if we can expect to see the long locks all season or if he plans to eventually shave it.
"I'm gonna rock out with my hair out," Rodgers said on the Aug. 25 episode of The Pat McAfee Show. "I don't plan on cutting it anytime soon. I think there's some things you can do with maybe the back of the hair; I've been getting some advice from some hair connoisseurs on the squad. My hair heroes growing up were Chuck Norris and Steven Seagal, guys like that. Keanu Reeves, of course, has also been a personal hero of mine, whatever he's doing."
He continued: "I do think it's important in times like this to talk to the experts. The experts in the locker room would be probably Bobby Tonyan and David Bakhtiari, among others. So, I've been talking to them about products to use, the types of ways to clean up around the back and the ears to make the pony or the bun, whatever you choose, as good looking as possible."
Wow, so it appears Rodgers is all-in on his new 'do, which means Lawrence and Patrick Mahomes better watch out; they may have some competition for the best hair in football.
Does Rodgers really have to win everything?
Can Aaron Rodgers win another MVP this season?
If Aaron Rodgers claims the title for best hair in football this season, he has a chance to do it while also maybe winning his fourth NFL MVP on the Packers.
A-Rod is currently the reigning MVP after leading Green Bay to a 13-3 record for a second consecutive season in 2020 and throwing for 4,299 yards, an NFL-leading 48 touchdowns, and only five interceptions. For 2021, Green Bay essentially has everyone back, including Rodgers' favorite weapon Davante Adams. He has also welcomed back his old friend Randall Cobb.
So, to put it simply, Rodgers has the pieces around him to win another MVP award, and the Packers have the talent needed to be one of the best teams in football. They just have to put everything together and get over the hump by winning in the NFC title game.
All in all, Rodgers may have a new hairstyle, but he still has that signature arm and his talented squad around him. The Green Bay Packers are a force to be reckoned with.
Stats courtesy of Pro Football Reference