Aaron Rodgers, Owner of the Chicago Bears, Doesn't Need to Defend His Epic Smack Talk. The Numbers Are on His Side
The last time the Green Bay Packers and Chicago Bears met on a football field, quarterback Aaron Rodgers provided us with one of the greatest trash talk moments of all time.
The "I own you game", as it shall be known, is right up there with Muhammad Ali floating like a butterfly and stinging like a bee. It's the type of trash talk that would make greats like Kobe Bryant and Michael Jordan proud.
It's also something Rodgers has no regrets about
Remembering the time Aaron Rodgers took ownership of the Chicago Bears
In the fourth quarter of that fateful contest, the Packers were up 17-14, looking to bleed the clock and put the dagger in their bitter rival. Chicago had just scored to pull within three points, and the Bears had a ton of momentum.
Getting the ball back on their own 25 with 8:44 to go, Rodgers directed a seven-play, 75-yard drive that took 4:14 off the clock and ended with that much-needed dagger plunging through the hearts of Bears fans everywhere.
His six-yard touchdown scramble to the corner of the end zone put the Packers up 24-14 after the extra point, and that ended up being the final score of the game. The run also put Rodgers directly in the corner of the field, facing thousands of angry and disappointed Chicago fans.
Rodgers, clearly pumped up, yelled his now-famous taunt.
"I've owned you all my f****** life! I own you, I still own you," he yelled to the crowd, instantly increasing his legend in Green Bay and becoming a viral meme around the NFL at the same time.
Rodgers has no regrets about his epic rant
Recently speaking with Ryan Wood of the Green Bay Press-Gazette, Rodgers once again related that his comments were mostly directed to fans who were giving him "the bird" on that fateful day, not Chicago as a whole.
He does agree that his apparent ownership of the Bears is based in fact, though, so he didn't walk his smack talk back all that much.
"I don't know if you can question a whole lot of what I said. We've had a good record over the years against them and won a lot of games," Rodgers said. "At some point, it will be used against me. It is what it is. I don't regret saying it at all."
With the Packers and Bears meeting one again, but this time at Lambeau Field, Chicago at least has a shot to use Rodgers' words against him.
The problem for the Bears is that history is not on their side.
Rodgers' ownership claim over the Bears is statistically accurate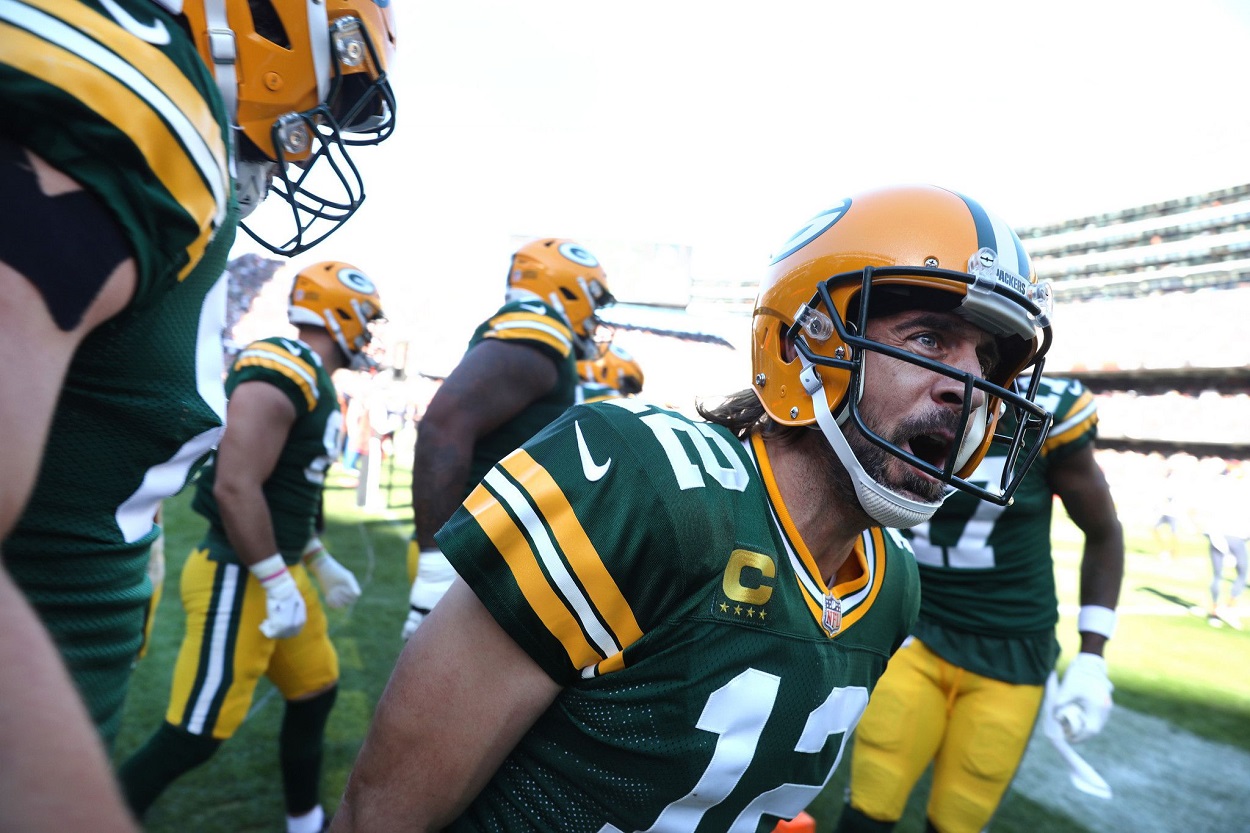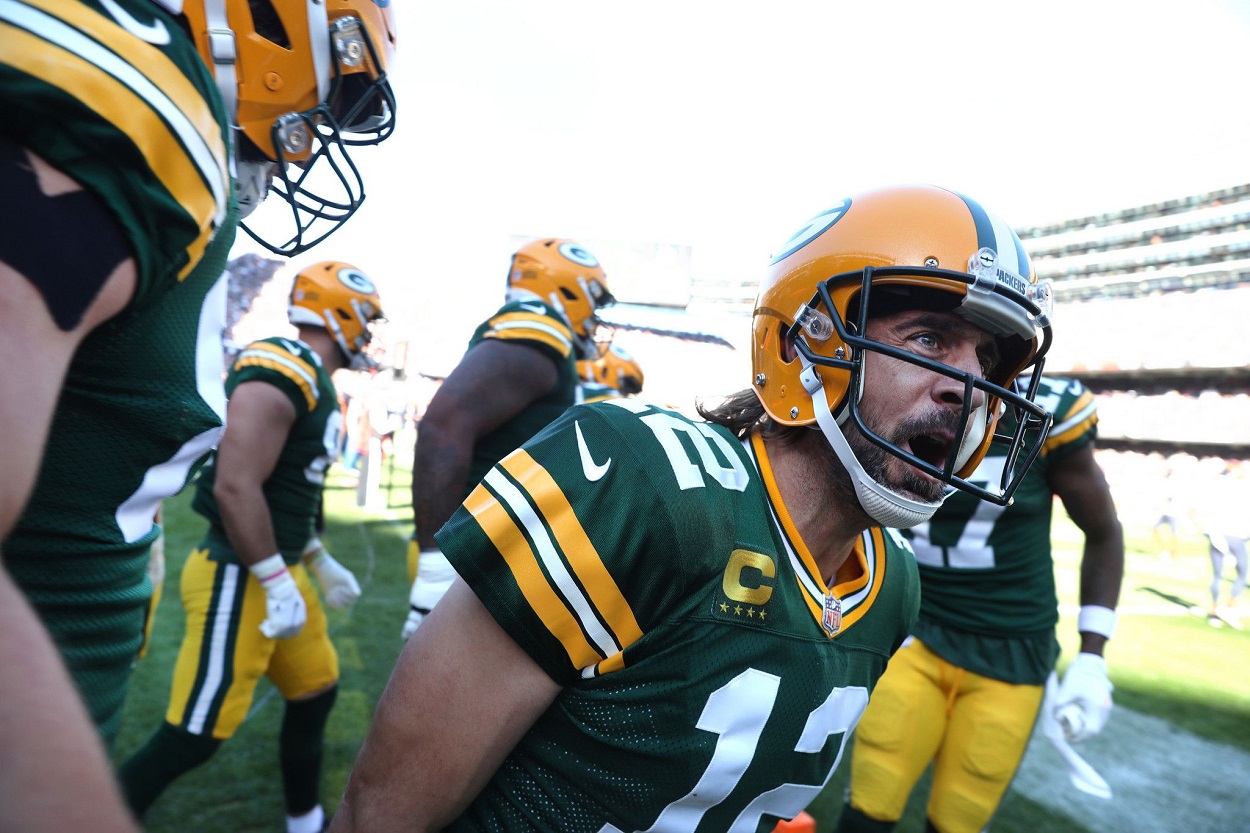 The Packers Week 6 win over Chicago improved Rodgers' record over the Bears to 22-5 overall, and that includes the playoffs. He's thrown from 6,352 yards and 57 touchdowns against the Bears, with just 12 interceptions. He's 11-3 when playing Chicago at Soldier Field.
Things aren't much better when playing on the road for Chicago. The Bears haven't won a game at Lambeau Field since 2015. Shoot, the last time the Bears actually beat the Packers was in 2018, and the person in charge of Green Bay at that point was interim head coach Joe Philbin. Mike McCarthy had been fired earlier in that season.
Speaking of coaching, since Matt Nagy has taken over in Chicago, the Bears have gone 1-6 against the Pack. That one win was the one mentioned above against Philbin.
"The bottom line is that recently, in these four years since I've been here, we haven't beat them enough," Nagy said, according to Jason Wilde. "We've got to win these games — and we haven't.
Green Bay comes into Sunday night's game at 9-3 and still vying for the top spot in the NFC. The Packers can also clinch the NFC North with a win over Chicago, though they'd also need the Vikings to lose or tie in the process. Still, the North is a lock for the Packers; it's just a matter of when it's theirs.
Things are much different for the Bears. Chicago is 4-8, and Nagy could be facing his last few games as head coach. There were reports before Thanksgiving that he could have been fired in-season, and though those reports were proven false, there doesn't appear to be much optimism that he's "the guy" to lead the Justin Fields-era of Chicago football.
His record against the Packers aside, Nagy started his career in Chicago strong with a 12-4 season and a trip to the playoffs, but he's gone 8-8 in the two seasons since, and this season is bound to end in a losing record.
One would have to think Chicago's ownership will be looking to go in a different direction this offseason. Though if you were to ask Rodgers, he'd probably want to cast his ownership vote to keep Nagy around as long as possible.
Stats courtesy of ESPN and Pro Football Reference.