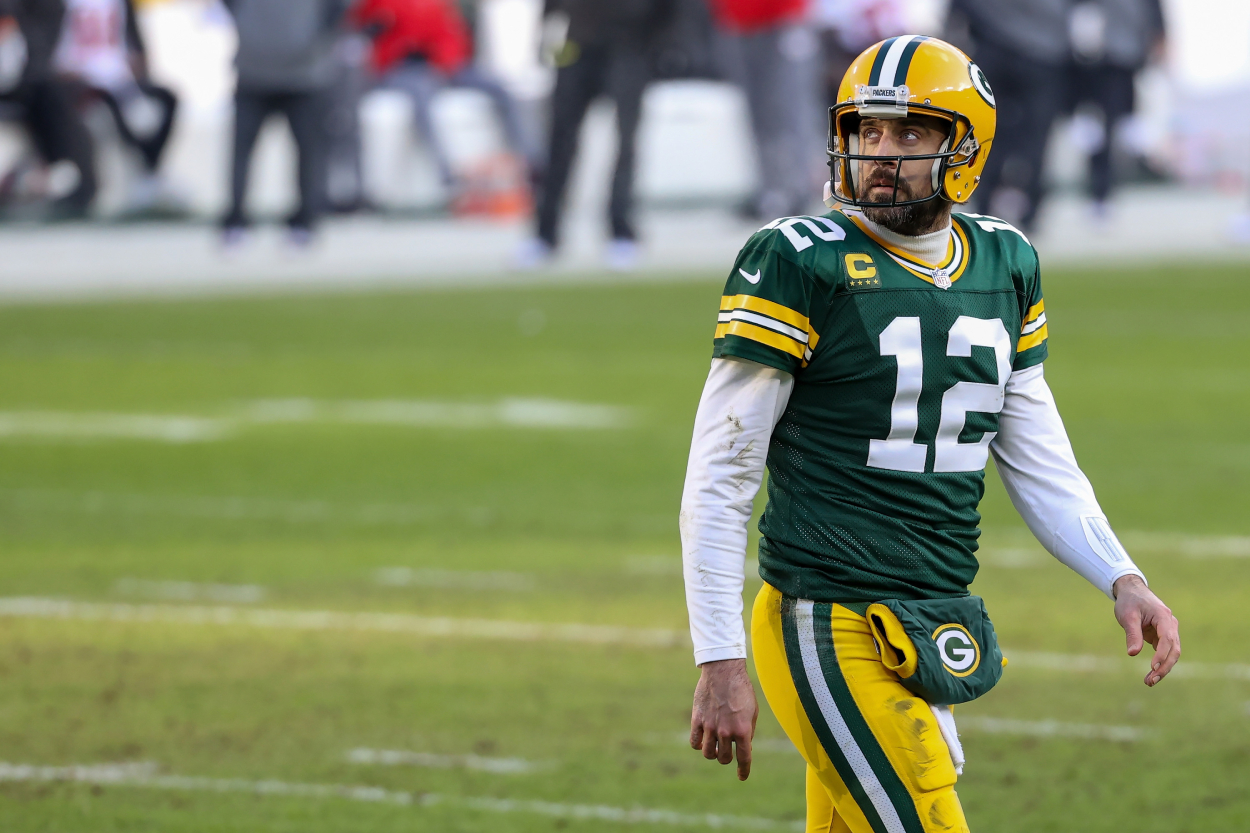 Aaron Rodgers' Packers Teammate Says He Thinks His QB Will Be at Training Camp … But Doesn't Sound Too Confident in His Answer
Aaron Rodgers' Green Bay Packers teammate recently said he thinks his QB will be at training camp later in July, despite all this uncertainty surrounding Rodgers and his future with the team. However, the player didn't seem too confident in his answer, as it appears no one truly knows what's going to happen.
If you're reading this, you're probably wondering whether Aaron Rodgers plans to play for the Green Bay Packers in 2021. There's a good chance the storyline has been on your mind throughout the entire offseason. However, you can at least feel comfort in knowing you're not alone; Rodgers' teammates seem to be wondering the same thing.
When recently asked about whether he thinks the QB will show up to training camp or not, Rodgers' Packers teammate said he thinks the three-time MVP will be there, but he ultimately didn't sound too confident in his answer.
That teammate was Marcedes Lewis.
Aaron Rodgers' Packers future is unclear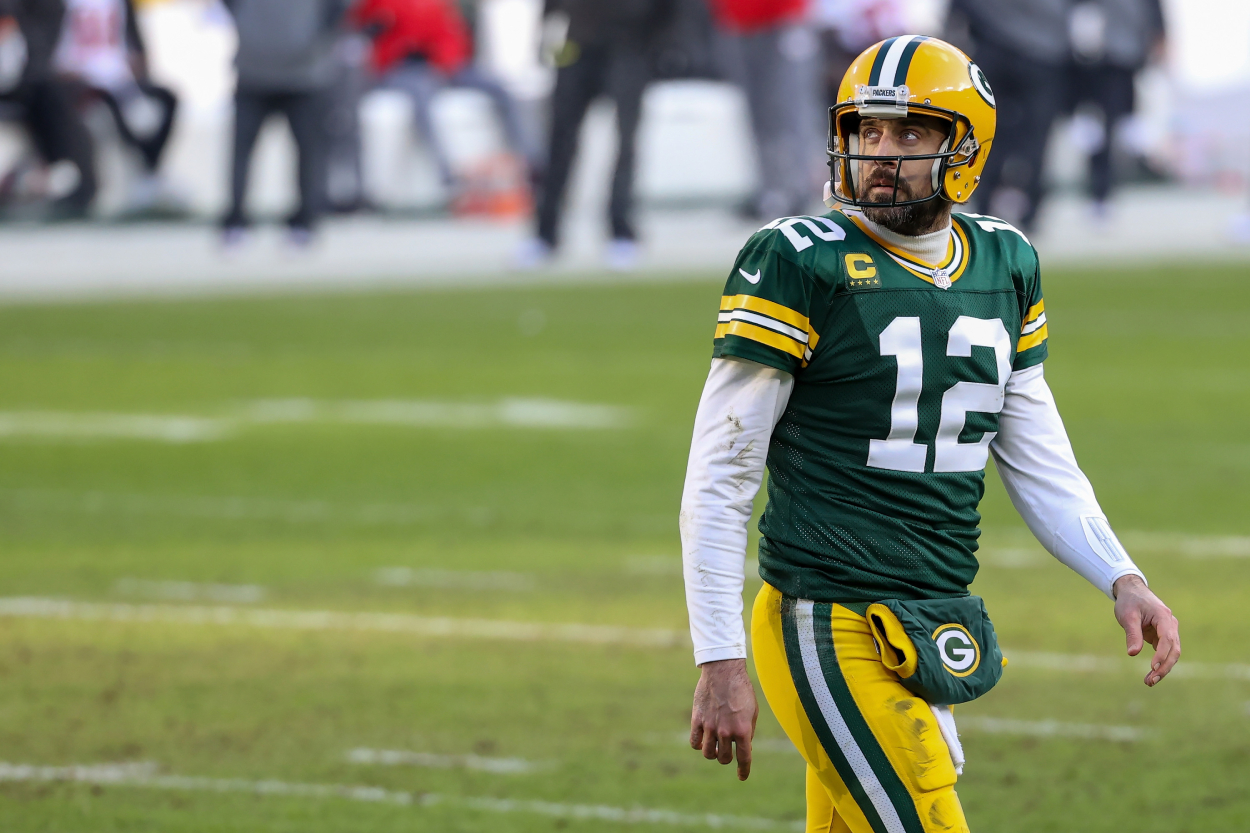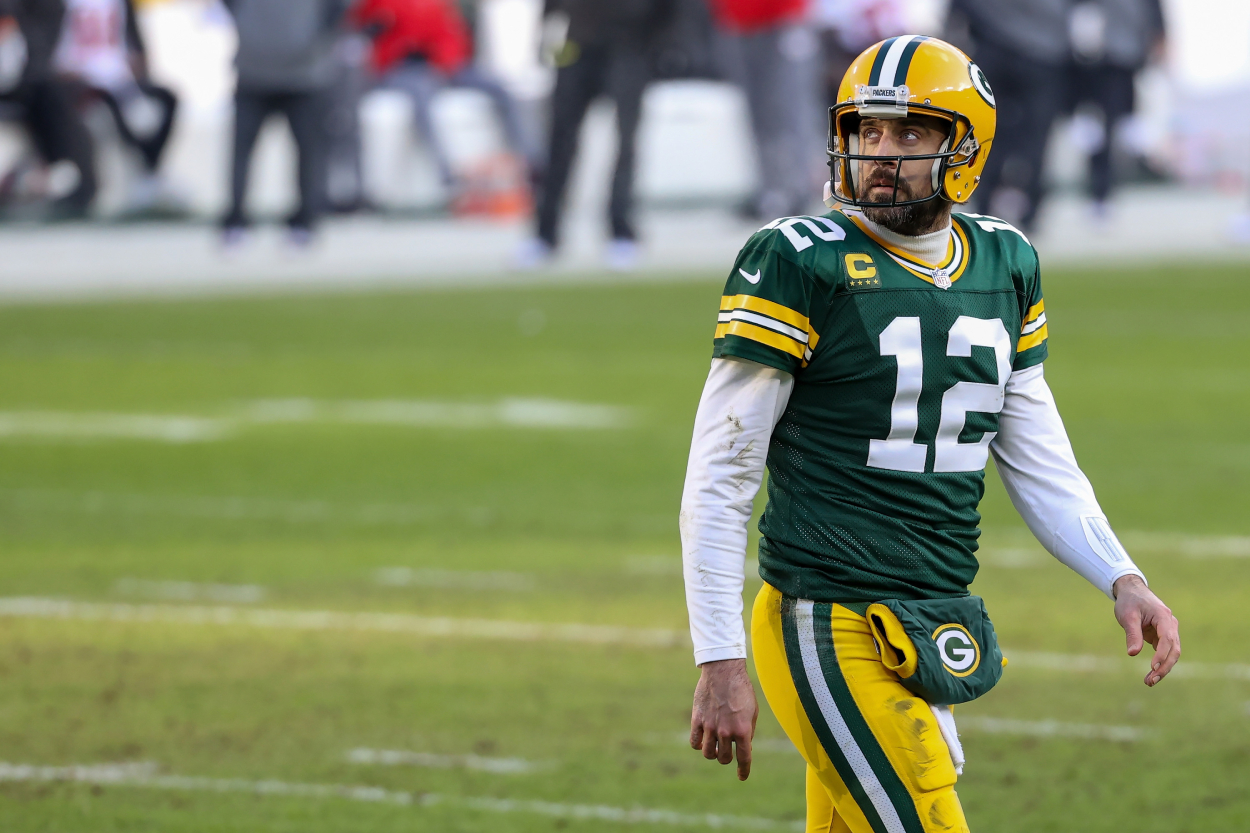 Earlier this offseason, ESPN's Adam Schefter reported that Rodgers had told some within the Green Bay organization that he didn't want to return to the team for 2021. The report came after years and years of the Packers not putting the requisite amount of talent around Rodgers to win a Super Bowl and, of course, drafting quarterback Jordan Love in the first round of the 2020 NFL draft.
Rodgers has since missed the team's offseason program this year, which has only increased the speculation around his future, and the Packers don't seem too interested in trading him. So, it appears both sides have just been stuck in the same position for months.
While at the American Century Championship, though, the reigning NFL MVP gave a timetable for when we can expect him and the Packers to work things out, and it lines up with the start of training camp at the end of July.
"I'm going to enjoy the hell out of this week," Rodgers said, per NFL.com. "And then I'm going to get back to working out and figure things out in a couple weeks."
Marcedes Lewis said he thinks the Packers' QB will be at training camp
Lewis, the Packers tight end, is heading into his 16th NFL season. So, while he may want Rodgers at training camp, it's safe to assume he understands the league is a business.
But he, of course, still wants to see his QB there.
"I hope so," Lewis recently said to TMZ. "I hope to see my guy there. But yeah, I don't wanna think about that right now."
Obviously, Lewis wants Rodgers to show up, but when asked whether he thinks the nine-time Pro Bowler will actually be there or not, Lewis gave an answer that should give Packers fans a little relief — but not much.
"I'm hopeful, and I think so, so we'll see what happens," Lewis said.
While it's nice to hear/read Lewis say "I think so," it's discomforting to see just how little confidence he had in his answer. 
From the outside, it appears no one truly knows what's going to happen with Rodgers in the next couple of weeks. Not his teammates, and maybe not even Rodgers or the Packers. In fact, when recently asked about the quarterback during a financial call, Packers president Mark Murphy said, "I would just say there's nothing new to update on the issue that you raised," per Bleacher Report.
Training camp starts on July 27. We should expect to know a little more by then, but that reality keeps looking less and less likely by each passing day.
The Packers need Aaron Rodgers in 2021
Rodgers is coming off one of the best seasons of his career. He threw for 4,299 yards, an NFL-leading 48 touchdowns, and five interceptions, which helped him win his third NFL MVP award. He also helped the Packers reach their second consecutive NFC Championship Game last year.
If Rodgers doesn't play in Green Bay in 2021, the Packers will have to turn to either Jordan Love, who hasn't taken one NFL snap yet, or Blake Bortles, who has a career 25-49 record as a starter. To put it simply: with Rodgers, the Packers are Super Bowl contenders; without him, they may not even be a playoff team.
Hopefully, Lewis is right and Rodgers does show up to training camp at the end of the month. As of right now, though, nothing is certain.
Stats courtesy of Pro Football Reference