Aaron Rodgers Poured Himself a Glass of Straight Tequila After the Packers Drafted Jordan Love
When the Green Bay Packers drafted Utah State quarterback Jordan Love, an enormous elephant appeared in the proverbial room. While longtime quarterback Aaron Rodgers is getting older, he shows no sign of calling it quits anytime soon. Speculation arose about how the Super Bowl-winner would take the news.
Jordan Love joins the Packers
Jordan Love was a quarterback for the Utah State Aggies for three years. After a tame first season in which he was used more sparingly, Love had a breakout year in 2018 after throwing for nearly 3,600 yards, 32 touchdowns, and six interceptions. It put him on the map as one of the most promising young quarterbacks in the country. 
However, Love ended up regressing quite heavily during his junior year at the school. His touchdowns went down to twenty, and he nearly tripled his interception rate while throwing for 200 fewer yards on more passes than the previous year. Despite this regression, however, Love declared himself eligible for the 2020 NFL Draft. 
Chaos in Green Bay?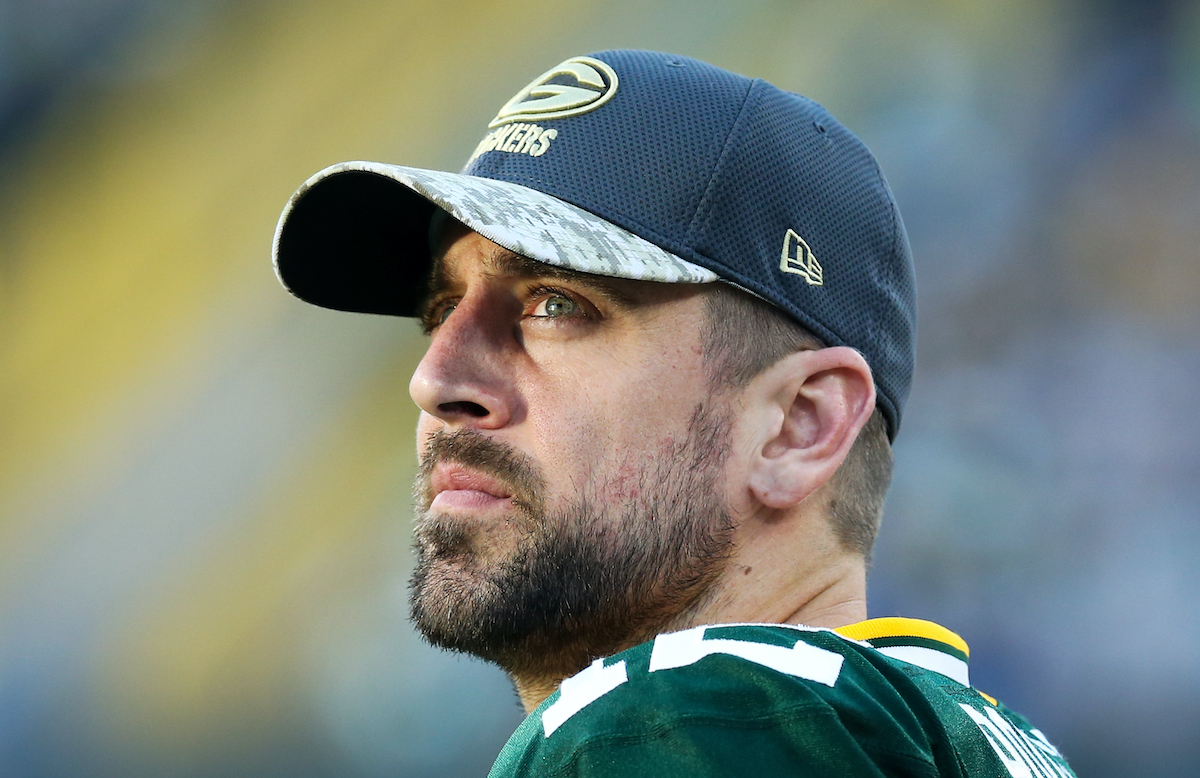 RELATED: Aaron Rodgers Reveals How He Gets His Way With Packers Coaches
Despite a disappointing drop-off between his sophomore year and junior year, Love was a consensus first-round pick, and the Packers even had to move up to secure his services. However, much like the conundrum when they drafted Rodgers near the end of Brett Favre's legendary career. Despite spending his entire career in Green Bay, Rodgers hasn't always had great things to say about the team that drafted him. 
If you ask the Packers, however, Love is a project. With Rodgers turning 37 at the end of the year, his time in the NFL is likely numbered unless he plays well into his forties. If Love can learn behind him on the bench, it can help ease the pain when Rodgers retires or moves along to another team. However, for a big personality like Rodgers to accept such a move, the team may have wanted to check in with him. 
Teams don't typically waste first-round picks on projects, but it's not entirely unheard of. Rodgers spent several years on the bench before getting the keys despite being an early pick, as well. Given his past, however, it's easy to see why many would see the drafting of Love as a cause for concern. Rodgers played it off in a recent interview and explained his reaction to the news with The Ringer. 
Aaron Rodgers comes clean
Rodgers acknowledged that the team's decision to not only draft Love but trade up to get him surprised him. Anticipating the media storm that would follow, he decided to combat the negative feelings with a hefty glass of tequila, according to Bleacher Report.
"I love scotch, but I'd been drinking some sipping tequila as well," Rodgers told Kyle Brandt. " Once I got that text, I went to the pantry, I poured myself about four fingers, and I knew it was going to one of those nights where the people are going to start calling and there was going to be the, 'Hey, is everything fine? You ok?' Yeah, I'm fine.'"
Rodgers went on to push back about how this situation is different than the ones that welcomed him within the league.
"But I will say – as much as people want to make parallels to certain things – in 2004, the Packers were 10-6 and lost in the first round of the playoffs," Rodgers said. "We were 13-3 and one game from the Super Bowl, won a playoff game at home, obviously won our division – a little different circumstances. Not to mention that Brett had talked about retiring for a few years before that, and I've talked about playing into my 40s."
Rodgers' cause for concern is valid, although his candidness regarding his displeasure might be a cause of concern for Packers fans. Nothing is a certainty in the NFL, however, and while the controversy may come back in the future. Now, Rodgers can use this inspiration as fuel to play some of the best football of his career. If he keeps that up, Love might have to wait a little longer or skip town to become the starter that he desires to be.